Lance Reddick was an African-American actor who epitomised dignity, integrity and authority as police chief Cedric Daniels in all five seasons of the landmark drama series The Wire and in a string of other roles as police and military officers and the like, including White House Down and Angel Has Fallen.
And yet it might have been very different, because Reddick came very close to being cast as another character in The Wire – he was first reserve to play the heroin addict and police informant nicknamed Bubbles because of the bubbles that came out his mouth when he was high – not quite so dignified.
And acting was not Reddick's first-choice career. In a weird reversal of the normal scheme of things, he initially saw acting as a way of earning cash while awaiting the breaks that would enable him to fulfil his real dreams.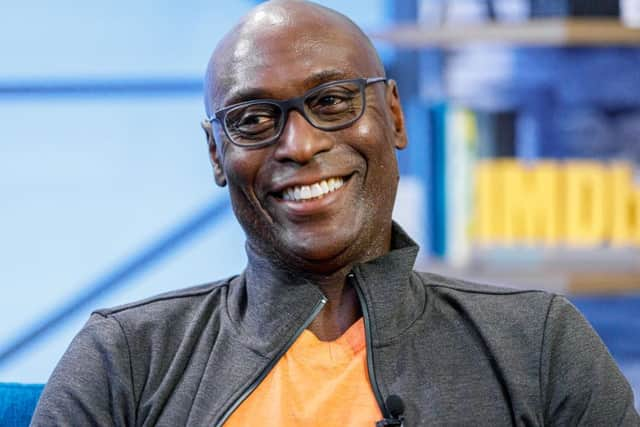 He was writing songs and playing piano by the age of eight, trained as a classical musician and wanted to be a rock star.
"Growing up I always thought I was going to be a musician," he said.
Like a lot of out-of-work actors, he served time as a waiter too, but even then music was an element – he was a singing waiter on a riverboat.
He was born Lance Solomon Reddick into a middle-class Quaker family in 1962 in Baltimore, the city in which The Wire is set.
His father was a lawyer, his mother was a teacher. He had an older brother, but the age gap was such that he felt like an only child and spent a lot of time by himself in front of the television.
He recalled the thrill of acting out Macbeth's soliloquy in class. "I feel like that was always in me," he said in one interview, "but it's not something I ever grew up wanting to be."
Although he repeatedly said in interviews that he always wanted to be a musician, he got cold feet when it came to university and initially enrolled at Rochester University to study Physics. But he applied for a transfer before completing his first year.
He married his college girlfriend Suzanne Louis and lived for a while in Boston.
He wrote songs and played music that drew on such influences as Nat King Cole and Johnny Mathis, but his music career never quite took off.
And with two children to support he took various odd jobs before determining to try his luck as an actor, initially in theatre.
He attended Yale School of Drama in the early 1990s. "I knew I was at least as talented as other students," he said, "but because I was a black man and I wasn't pretty, I knew I would have to work my butt off to be the best that I would be and to be noticed."
His confidence in his talents proved well placed, his assessment of his looks is somewhat debatable, for he had finely chiselled features and coupled with his bald head it gave him the look of a black marble statue.
He also had a distinctive, rich voice that was to bring him a lot of work on video games and animation – he provided the voices of Ra's al Ghul and Falcon in animated series of Batman and The Avengers respectively.
By the late 1990s he was beginning to get work in film and television, including a supporting role in the 1998 modern-day, American-set version of Great Expectations with Ethan Hawke, Gwyneth Paltrow and Robert De Niro.
In the early 2000s he had recurring roles in Oz, as an undercover policeman, and Law and Order: Special Victims Unit.
As a Baltimore native he might have seemed like an obvious candidate for a role in The Wire.
He read three times for the part of the detective Bunk Moreland, before narrowly missing out on that of Bubbles. Two weeks later he was recalled and found himself cast as Cedric Daniels.
Each of the five seasons of The Wire, beginning in 2002, focused on a different facet of life in Baltimore – illegal drugs in the deprived housing projects, the docks, politics, schools and journalism.
It was praised for its tight plotting and tough atmosphere. And Reddick's character Cedric Daniels was a constant throughout, appearing in 58 of the 60 episodes, more than any other actor.
One theme throughout the series was institutional dysfunction and in a codicil to the final season Daniels is seen to have quit the police and retrained as a lawyer.
Despite the success of The Wire, Reddick reckoned he got more recognition from his four appearances as the mysterious Matthew Abaddon in Lost, the series about a plane full of passengers that crashes on a strange desert island.
"I was living in New York at the time, and it seemed like everybody was stopping me to talk about Lost," he told the Baltimore Sun.
"I went from small, niche notoriety to being completely recognisable."
He also had recurring roles in the television series Fringe and Bosch and the John Wick series of hit movies, in which he played Charon, Wick's ally and concierge of the hotel where Wick stays.
John Wick Chapter recently opened in cinemas and is likely to prove especially poignant, given Reddick's sudden death from heart disease.
His first marriage ended in divorce. He is survived by his second wife and by his two children.
If you would like to submit an obituary (800-1000 words preferred, with jpeg image), or have a suggestion for a subject, contact [email protected]