Line of Duty has finally returned to our screens after two long years for an explosive season six.
Sunday's (21 March) comeback episode set the tone for the BBC series, as fans were gripped from the get-go.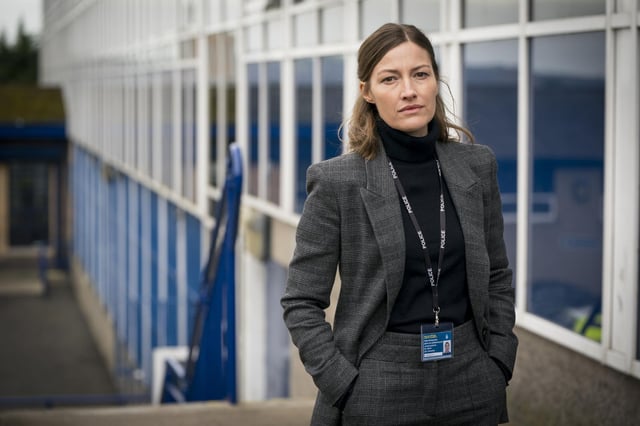 Line of Duty fans were introduced to new character DCI Joanne Davidson, played by Kelly Macdonald (BBC)
Davidson's unconventional conduct raises suspicions at AC-12, as Steve Arnott (played by fellow Scots actor Martin Compston), Kate Fleming (Vicky McClure) and boss Ted Hastings (Adrian Dunbar) continue to hunt down the identity of "H".
So who is Kelly Macdonald and what other shows and films has she starred in?
Here is everything you need to know.
The Glaswegian actress, 45, has plenty of major roles under her belt.
She has starred in well-known movies and TV shows for 25 years - from Trainspotting and Harry Potter to Brave and No Country For Old Men.
Macdonald's acting career kicked off when she was working as a barmaid in Glasgow.
After winning the part of schoolgirl Diane Coulston in the 1996 adaptation of Irvine Welsh's novel, Macdonald shot to fame.
Her first role following Trainspotting was in Stella Does Tricks, in which she played a young prostitute who flees Glasgow for London.
She then featured in Strictly Sinatra, a film directed by former Doctor Who star Peter Capaldi.
A few years later, Macdonald landed a role in popular family comedy movie Nanny McPhee, alongside Colin Firth and Emma Thompson.
Her next major character came in the form of Texan Carla Jean Moss in the Coen brothers' epic western No Country for Old Men.
Macdonald is also recognisable from playing Margaret Thompson in HBO's gangster series Boardwalk Empire.
While she starred in the drama, she appeared in Harry Potter and the Deathly Hallows: Part 2 as the Grey Lady - the ghost of Helena Ravenclaw.
And if some fans find her voice familiar, that could be because Macdonald landed the main role as Princess Merida in Disney's Scottish fantasy film Brave.
Macdonald has a slew of awards under her name, including the Actress Television award at the 2019 Scottish BAFTAs for her performance in The Victim.
Macdonald was married to backing vocalist and bassist Dougie Payne from Scottish rock band Travis.
Both from Glasgow, the pair married in 2003 and lived in New York and London.
They have two children together, Freddie and Theodore.
The couple were famously private, until they announced their split in 2017. They had actually been separated for some time before that.
Macdonald and Payne then moved back to Scotland so they could be closer to family, according to reports.
Who does Macdonald play in Line of Duty?
Macdonald's Line of Duty character is the lead detective on a high-profile unsolved murder.
But DCI Joanne Davidson's unconventional approach to her investigation attracts the attention of the AC-12 team.
While Macdonald may be challenged by her role in the popular BBC drama, she has experience after previously playing a detective in Black Mirror episode Hated in the Nation.
Speaking about her enigmatic character, Macdonald said: "She doesn't give much away and you don't know what to make of her.
"She's this unknown entity, sometimes she seems like a friendly face and other times not so much.
"At the start of the series, she's quite a lonely figure. She's struggling and we don't quite know why that is."
And co-star Compston has spoken out about Macdonald joining the Line of Duty cast.
He said: "A huge part of this show and its success is down to its incredible guest stars. Kicking off with Lennie James, then Keeley Hawes, Danny Mays popping in, Thandie Newton and Stephen Graham, all these legends!
"As a fellow Scot, Kelly Macdonald was one of the ones I was most excited about."
Before featuring on the show, Macdonald was scared she would "break" the series and turned to Keeley Hawes, who played DI Lindsay Denton in seasons two and three, for advice.
Kelly told the Radio Times: "Keeley was brilliant, she talked me down from the ledge.
"She said, 'It might look as though you are being asked to do something completely impossible, but it's not'.
"I joked to friends when they found out I was going to be in the next series. I said I was going to be the one that breaks Line Of Duty, then Covid happened."
How can I watch Line of Duty season 6?
Line of Duty series 6 returned on Sunday 21 March at 9pm on BBC One.
There will be seven episodes airing weekly and also available to catch up on BBC iPlayer.
You can also now watch all previous seasons of Line of Duty on BBC iPlayer.