Former Harrods boss and Highland landowner Mohamed Al Fayed dies aged 94
Mr Al Fayed "passed away peacefully of old age", his family has announced.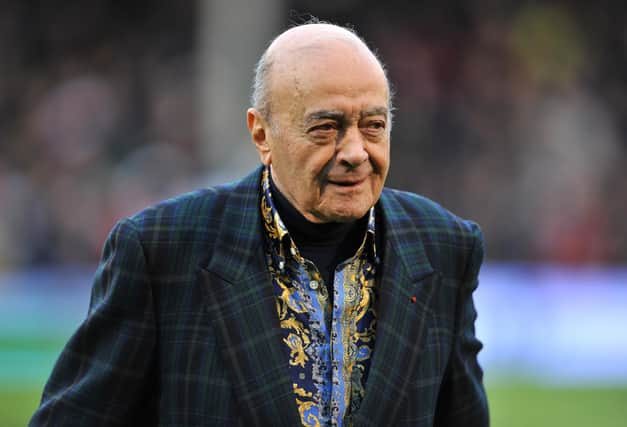 Mr Al Fayed "passed away peacefully of old age," on Wednesday, his family announced, with a funeral reportedly held on Friday at London Central Mosque in Regent's Park on Friday.
Broadcaster Piers Morgan described the businessman as an "extraordinary tour de force" who had struggled to come to terms with the death of his son Dodi in the car crash which also killed Diana, Princess of Wales in Paris in August 1997.
Mr Al Fayed had long ties with Scotland and bought the Balnagown Castle and Estate in Easter Ross in the early 1970s.
He described the 65,000-acre estate as the "most beautiful place in the Highlands"and pledged he would move to Scotland permanently if it became an independent country.
Mr Al Fayed was also the owner and chairman of Fulham Football Club for 16 years.
Shahid Khan, who took over as owner of Fulham in 2013 after a spell which had seen the club rise to the Premier League and reach the Europa League final, paid his condolences in a statement on the club's website.
He said: "The story of Fulham cannot be told without a chapter on the positive impact of Mr Al Fayed as chairman.
"I always enjoyed my time with Mr Al Fayed, who was wise, colourful and committed to Fulham, and I am forever grateful for his trust in me to succeed him as chairman.
"I join our supporters around the world in celebrating the memory of Mohamed Al Fayed, whose legacy will always be at the heart of our tradition at Fulham Football Club."
The family statement said Mr Al Fayed "enjoyed a long and fulfilled retirement surrounded by his loved ones".
Mr Al Fayed, who was portrayed by Salim Daw in the fifth series of The Crown, repeatedly claimed his son and the late princess were murdered in a plot by the British establishment.
Born in Alexandria in Egypt, he came to London in the 1960s taking control of Harrods in 1985 - which he sold to Qatar's royal family for a reported £1.5 billion in 2010 - having purchased the Ritz hotel in Paris in 1979.
He made his first application for British citizenship in 1993 and in 1999, weeks after his brother Ali was granted British citizenship, but was declared unfit to hold a British passport by then-home secretary Jack Straw.
Mr Al Fayed appealed against the decision and Lords Justice Nourse, Kennedy and Rix dismissed Mr Al Fayed's appeal that Mr Straw had been biased when he refused the citizenship application.
He had previously been rejected in 1993 by former home office minister Charles Wardle who joined the Harrods board of directors in 2000, a move which came as a surprise to some.
The Sunday Times Rich List from 2021 reported that Mohamed Al-Fayed and family were worth around £1.7 billion.