Budget announcement: What is the Energy Price Guarantee? How does it differ from the price cap?
The Chancellor confirmed that the energy price guarantee, which caps average household bills at £2,500, will be extended at its current level from April to June.
It had been due to rise to £3,000 in April and the cost of scrapping the planned 20% increase will amount to around £3 billion.
The majority of people in the UK pay the energy price guarantee (EPG) which is the state energy tariff – which is set to increase by 20 per cent on from April.
Earlier this year Martin Lewis joined calls for the Government to urgently consider halting plans to raise energy bills in April, saying any decision cannot wait until the spring Budget.
Here's everything you need to know, what the difference is between the energy price guarantee and the price cap, and what more could be done.
What is the Energy Price Guarantee? How does it differ from the price cap?
The Energy Price Guarantee or EPG is designed to limit what an average household in Great Britain will pay annually for electricity and gas.
First announced October 2022, the Energy Price Guarantee aims to reduce the cost of energy bills after soaring prices on the price cap – with the introduction preventing an 80 per cent price increase.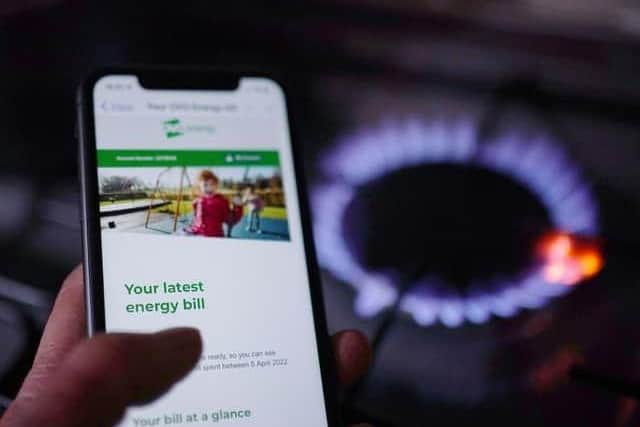 From the 1 July 2023 to 30 September 2023 the price cap prediction will see the bill down by 31 per cent falling £2,201/year on typical use. The energy price guarantee will be £3,000/year.
Energy bills extra support ruled out by Jeremy Hunt
Earlier this year, Jeremy Hunt indicated there is no headroom for a "major new initiative" to help households with energy bills which are set to soar from April.
Asked if he was ruling out more support, the Chancellor told broadcasters at a London science facility: "We constantly keep the help we can give families under review.
However, in a U-turn, it was confirmed that the energy price guarantee, which caps average household bills at £2,500, will be extended at its current level from April to June.
Mr Hunt said: "High energy bills are one of the biggest worries for families, which is why we're maintaining the energy price guarantee at its current level.
"With energy bills set to fall from July onwards, this temporary change will bridge the gap and ease the pressure on families, while also helping to lower inflation too."
Martin Lewis letter on energy price increases
In a letter to Chancellor Jeremy Hunt earlier this year Mr Lewis said that 1.7 million more people could be pulled into hardship if he does not freeze prices in the spring.
Pushing back the looming 20 per cent hike to the energy price guarantee (EPG) from April would be both "practical and fair" and help people survive until bills begin to come down later in the year, he wrote.
The letter says: "This cannot wait until the Budget – in practice, energy firms will need to know much sooner if the planned rise isn't happening on 1 April, or they are bound to have to communicate to customers that it is coming."
He said that the decision to increase prices was made at a time when wholesale rates were looking to be far higher than they are now, and that the underlying price cap currently looked as though it could be cheaper later this year than even the current EPG rate of £2,500 a year for a typical household.
This gave the Government "significant headroom" to enable a postponement, while maintaining a lower EPG would also help reduce inflation, he said.
"Postponing the increase is a practical and fair decision, with household energy bills already double what they were the prior winter.
"Crucially, the damage to people's pockets and mental health of another round of energy price rise letters is disproportionate."
Charities echo calls for Energy Price Guarantee to be delayed
Simon Francis, co-ordinator of the End Fuel Poverty Coalition, said energy customers were facing a "cliff edge" because other support schemes come to an end in March, meaning bills will go up between 19 per cent and 43 per cent depending on how the EPG is set from April.
He said: "Keeping the EPG at current levels is the very least the Government can do to help people manage through the ongoing energy bills crisis.
"The Government has said that it will target more support at vulnerable groups from April, but again this does not equate to the same level of help people have had this winter. And that help has proven to be insufficient with millions spending this winter struggling in cold damp homes.
"As people have run up huge levels of energy debt, the Government will also come under increasing pressure to help households with debt relief – especially in light of the obscene levels of profits energy firms have been declaring."
The charity National Energy Action (NEA) predicts that the number of fuel-poor households will rise from 6.7 million to 8.4 million from April – approaching double the 4.5 million households in this position in October 2021.
The charities Citizens Advice, Fair By Design, NEA and StepChange had also previously urged against the EPG being increased in April.
Emma Pinchbeck, the chief executive of Energy UK, which represents suppliers, told MPs that the industry too wanted to see the Energy Price Guarantee fixed to £2,500 for the rest of the year.