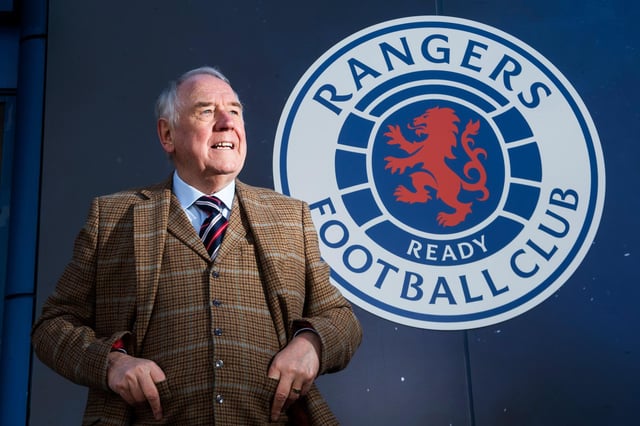 Comedian and avid Rangers fan Andy Cameron at Ibrox. Picture: John Devlin
Cameron, 80, has been a mainstay of Scottish comedy for almost 50 years and had a top ten hit in 1978 with Ally's Tartan Army, the Scotland football team's World Cup anthem ahead of their ill-fated campaign in Argentina.
He was born in London in 1940 but was raised by his grandmother in Rutherglen. He never met his mother and is unsure if she was prosecuted and imprisoned for bigamy.
His father, Hugh Cameron, was serving in the armed forces when Andy was born but returned home when he heard what had happened.
Cameron's mother, Emily Woods, remarried in 1943 without divorcing her first husband.
"Four months old I was found in a bombed out house in London's East End, birth certificate tucked in my blanket," explained Cameron in an interview with Aidan Smith in The Scotsman.
"For a while I thought I'd been abandoned and that my mother must have died. Six months after that, though, I was in Glasgow being looked after by granny.
"My father had been away 'winning the war', as he liked to say, but was given compassionate leave when told what had happened. My mother? I don't know what became of her and, to be honest, have never wanted to find out.
"One bit of information came to light just a few years ago, about my father, by then remarried, being visited by the police: 'Hugh Campbell Cameron?' they said. Apparently he was shaking. 'Who married Emily Patricia Woods in 1939?' 'Yes,' he said, 'but we divorced after the war.' 'Well, she actually married again in 1943 which means she committed bigamy.'
"That was a big crime in those days and I don't know if she did time for it.
"Anyway, I was in Rutherglen, being brought up by a remarkable lady called Bella.
"My granny had raised six children of her own after her husband had been gassed in the first war and yet when I was dumped in her lap she never batted an eyelid. Later my father suggested I go back to London to live with his new family but Bella said: 'He's fine here.'"
A message from the Editor:
Thank you for reading this article. We're more reliant on your support than ever as the shift in consumer habits brought about by coronavirus impacts our advertisers.
If you haven't already, please consider supporting our trusted, fact-checked journalism by taking out a digital subscription.