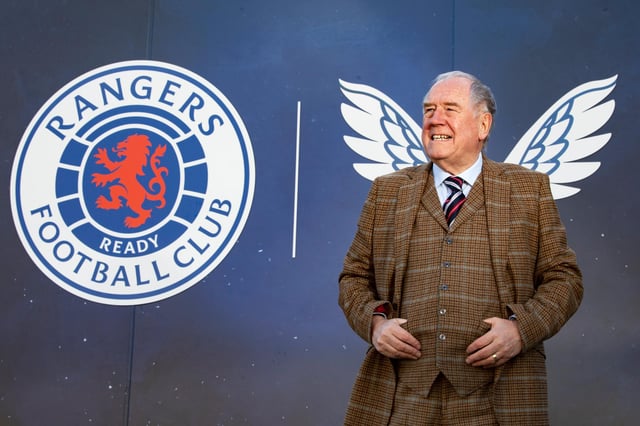 On a wing and a prayer, Andy Cameron is dressed up fine for what he hopes will be a championship-clinching weekend for his beloved Rangers
"Rangers had won nothing the season before but, hang on a bloomin' minute, nine-in-a-row before that," recalls the octogenarian court jester of Ibrox, the Big Hoose. "So I turned round and asked the guy: 'How old are you?' 'Twenty-one,' he said. 'Christ,' I said, 'you've never known a bad Rangers side'."
Ah, the rash and skittery impetuosity of youth. Cameron wonders if the unhappy fan was true to his word. If so he would have missed Advocaat start with a Treble. Since then, the dissenter would have avoided plenty of fun and games, triumph and disaster, East Stirling and Stenhousemuir, rage and fury. And if he's still not back in the fold, someone better tell him that Rangers could emerge from this weekend as champions again. But surely Cameron was young once, was disgruntled once?
There's a smile, then a chuckle. He could at this very moment be reflecting on the Bilel Mohsni era, a mercifully brief interlude which the mad French-Tunisian slugger concluded with a seven-match ban, but then he says: "Your team are your team. Your team play and they might not win. But on the way home you're like: 'What time's the bus on Saturday?' You can't wait to see them again because your team are your team."
Seventy-five years. That's how long Cameron has been getting on the bus. Oldsters are supposed to become scunnered with football eventually, how it's not as good as it used to be and where have all the crazy, mazy dribblers gone? Not this one: "Did you see Rangers' third goal against Royal Antwerp last week? The way [Alfredo] Morelos pushed the ball down this guy's left and ran round the right? Wee Willie Henderson used to do that all the time.
"I tell you, that was as good a Rangers goal as I've seen in those 75 years and for being a great team move it took me back to PSV Eindhoven [European Cup, 1978] and Bobby Russell's winner. We'd gone one-nil down after 23 seconds. At half-time, still losing, I was in the loos, a big line of us like one-armed bandits, when this wee bloke budged up alongside. He had 100 Rangers badges on his tammy, 200 more on his scarf, and he said: 'Ach, they started before we were ready.' I told him to be careful walking past any magnet shops."
There are plenty more where that came from: gags with Gatling-gun delivery as the showbiz trouper, now 80, reflects on the ups and downs of life, with Rangers - despite their ups and downs - being the one constant. "I loved that story about Ian Ferguson," he says. "He turned up late for an Old Firm game and Walter Smith was raging. 'Where the f****n' hell have you been?' 'Sorry, gaffer, I couldnae see a second magpie.'
George McLean, from the 1960s, took plenty of stick from Cameron's predecessor as arch bluenose funster, Lex McLean (no relation): "Lex used to take the stage at the Pavilion with a donkey dressed in George's No 8 shirt. After the Berwick game [1-0 in the Scottish Cup to the wee Rangers, shockeroonee] the players were arguing and moaning about the terrible state of the pitch. George is supposed to have said: 'Well, the bit where I was standing was OK.'"
Andy at the height of Scotland's World Cup fever in 1978. How did that work out again?
Same year, '67 and the Cup-Winners' Cup final, Roger Hynd is supposed to have thrown away his losers' medal: "Someone said to him: 'You should have thrown away your boots.'" Then there was Jim Denny from the following decade: "US astronauts found one of his clearances on the Moon."
Or how about this, gleaned from the big queue outside Ibrox for another Old Firm conflagration: "This bloke turns up on crutches. 'What happened to you?' says his mate. 'Ach, a big iron fell on my foot at work.' 'Got the tickets?' 'Shite, they're behind the clock on the mantelpiece.' The pal runs to get them. He comes back all flustered: 'I don't know how to tell you this, Bobby, but I've just seen your wife in bed with another man.' The guy with the crutches says: 'I've got worse news for you: Baxter's no' playing.'"
Jim Baxter was highly influential in Cameron's all-time favourite Rangers team while Jimmy Millar from the early 60s line-up remains his all-time hero. So what's he made of Steven Gerrard? "First day in the Blue Room the manager was asked: 'What have you come here to do?' 'Put a team on the park that wins football matches.' 'And what's your message to the Rangers supporters?' 'Let's go.'
"Simple stuff, but it clicked with me. I think maybe his only mis-step was the game at Pittodrie when he came out with a line he'd obviously been fed: 'Everybody hates us.' He probably went away thinking: 'I need to be me.' Overall, though, he's been hugely impressive."
Andy singing "Ally's Tartan Army" on Top of the Pops including the classic line: "England cannae dae it coz they didnae qualify".
This is a good moment for the blue half of Glasgow and potentially a momentous one, but Cameron remembers the bad ones, not least for their comedy potential. So Andy, 1957 League Cup final vs Celtic, were you there? "Ach I was and I stayed right to the end and saw all their seven goals. I know Rangers supporters are notorious for leaving games early - the Subway Loyal, they're called - but in 75 years I've never done that. Willie Fernie slotted away his penalty with two minutes left and my pal said: 'Come on, Andy, time we got the hell out of here.' 'No way,' I said, 'we'll fight back'!"
Amateur psychologists like your correspondent might wonder what drives this blind devotion. And when Cameron describes his first days on earth we may conclude: "Aha, cracked it." He's clung to Rangers because at one desperate juncture his life appeared to have absolutely no permanence.
"Four months old I was found in a bombed-out house in London's East End, birth certificate tucked in my blanket," he says without melodrama, fully aware there's no need to add any. "I don't think the birth certificate being there was so unusual - during the Blitz anything could have happened to anyone - but for a while I thought I'd been abandoned and that my mother must have died. Six months after that, though, I was in Glasgow being looked after by my granny.
"My father had been away 'winning the war', as he liked to say, but was given compassionate leave when they told him what had happened. My mother? I don't know what became of her and, to be honest, have never wanted to find out. One bit of information came to light just a few years ago, about my father, by then remarried, being visited by the police: 'Hugh Campbell Cameron?' they said. Apparently he was shaking. 'Who married Emily Patricia Woods in 1939?' 'Yes,' he said, 'but we divorced after the war.' 'Well, she actually married again in 1943 which means she committed bigamy.' That was a big crime in those days and I don't know if she did time for it. Anyway, I was in Rutherglen, being brought up by a remarkable lady called Bella. It always puzzled me when women were referred to as the weaker sex. My granny had raised six children of her own after her husband had been gassed in the first war and yet when I was dumped in her lap she never batted an eyelid. Later my father suggested I go back to London to live with his new family but Bella said: 'He's fine here.'"
Andy Cameron outside Ibrox. Picture: John Devlin
Cameron loved his stamping ground. "Up these closes everyone looked out for everyone else." Money for sweets came from returning beer bottles to the Quarry Bar and alerting the bookie at the big quoits tournament about lurking policemen. He played football with "wee Bobby Murdoch" - wonder what became of him? - but which team to support? "Rutherglen was walking distance from Hampden, Shawfield and Cathkin Park. My father, who went to London to work on the buses as a grease monkey, followed Third Lanark and everyone else in the extended family supported Clyde. But when I was five Uncle Joe said: 'Come on, we're going to Ibrox.' The famous Moscow Dynamo game - some start."
When Cameron thinks about how he got into comedy he remembers from a young age enjoying the humour in the everyday. Wasn't it funny that one of these quoiters was called "Sparra" Lawson? On a supporters' bus to Motherwell in a pea-souper the driver quipped: "If this fog goes it'll no' be missed." Once he'd worked it out he thought that a clever quip. He signed on at an engineering firm as an apprentice plater where Danny Irving, welder, would amuse the tea-break with yarns such as: "I was on a tram the other day when this wifie shouts to the conductor: 'Do you go to Bellahouston?' 'No,' he says. 'But your car says 'Bellahouston' on the front.' 'It says Omo on the side but we don't take in washin'." Another wag was Mick Cassidy, slinger, who fought Benny Lynch in the boxing booths, hence having a mug like "a blind cobbler's thumb". A Celtic fan, he painted "7-1" on Cameron's toolbox in green and white after that League Cup final.
While waiting for a job to come up our man worked as a conductor on Glasgow's buses but then when one did materialise he didn't take it - he was having too much fun on the No 5 from St Enoch Square to Castlemilk, nicknamed the "bingo special".
"Everyone had two carryout bags - matching luggage. It would be: 'How you doin', wee man, want to come to a party?' 'Aye, where about?' 'Your house!' There would always be a few who had no money left for the fare. I'd go: 'Right then you lot: give us a song.'
"Everybody sang. It's said that all Glaswegians are natural comedians but when you went to a party you sang. No one told gags, at least not with the idea they might be regarded as funny. Humour was just the language. At a stag night at the Glencairn Club in Rutherglen someone put my name forward for a song. I went with 'Delilah' but started too high. I was never going to make it to the end so I did a few jokes. A booker was there and he invited me along to a showcase at Cambusnethan Miners' Welfare Club. I was terrified but from that I got 21 gigs. Up until that point I'd been selling bread."
Comedy may have been the language but suddenly for Cameron it needed to be the livelihood - he had a divorce to pay for. Father to five and grandad to seven, he credits second wife Norma with steering the showbiz career along a rewarding path, leading to a long-running radio knockabout and quiz and sketch shows on the box. Before then, though, with football a big part of his act in clubland, there was 1978, Argentina and "Ally's Tartan Army".
The tune was traditional, part of the Copland Road songbook, never mind that it was ripped from "Jesus Loves the Little Children", and Cameron came up with the lyrics about how Scotland were going to win the World Cup and - immortal lyric - "England cannae dae it coz they didnae qualify". It climbed to No 6 in the Hit Parade and royalties still trickle in - "The last cheque was two years ago: £7.14p.
"It was just a laugh. I thought Top of the Pops was a wind-up. When I phoned my father asking for a lift to the studio he thought the same. So there I was under all these lights, 38 years old, sweating in my kilt, tammy, Lion Rampant over my shoulders and waiting on my big moment when along comes Billy Idol of Generation X. 'Who the f**k are you?' he said. My father was going to hit him. He had to be held back by my brothers.
"Elkie Brooks was performing that night, too, but she was too snooty to sign autographs. These kids probably had to wait three years to get on the show so I was signing everything. Admittedly some of them said: 'Sorry, but who are you?'" Come the Iran game Cameron was nervous about taking the stage at the Tartan Arms in Bannockburn - with good cause. "This voice rang out: 'Wee man, tell all the jokes you want but if you sing that f****n' song you're right oot the windae.'" He got caught up in the post-mortem, too: "I was in Argyle Street when a bloke shouted over: 'Why did Derek Johnstone no' get a game in Argentina?' 'How would I know?' I said. 'You should: you sang that f****n' song!'"
Back to the present: was Cameron worried at the start of the season about Celtic achieving the magic ten? "Well, I think in the minds of some of their fans they'd already done it before a ball was even kicked. They were having parties: 'Here we go, ten in a row.' I think they were even singing about ten when they'd only won six. Maybe that got to the Celtic players. Mind you, Rangers supporters at nine did the same."
Some of his best friends, though, are Celtic fans. During our rollicking 90 minutes together on Zoom he applauds many Parkhead greats. "I talk to Bobby Lennox once a week. Myself and John Greig went down to Saltcoats for the unveiling of his statue. He was pleased we came. 'Had to Bobby,' I said, 'to make sure you're wearing a Rangers scarf when the wraps come off.'" And, when it was still policy, he questioned why his club would deny themselves a good player just because he was Catholic. "For that the tabloids claimed I was jostled, spat at and punched - not true. The then Rangers chairman, John Paton, told me: 'You said the right thing, Andy, just at the wrong time.' Aye there's been the sectarianism but, between the two clubs, humour and respect."
The timing of this soon-to-be title has been perfect; just a shame the club's wisecracking cheerleader can't be at the Big Hoose to acclaim it. He was, though, on "the journey".
"That was what they called our route back to the Premiership. So I was in Barcelona but I was also at Brechin where we lost three balls in a hedge. I was at Peterhead and came back smelling of fish. I was at Airdrie where I bowed at the feet of Ian McMillan, the Wee Prime Minister. I was at Montrose and Elgin and Stranraer, bumping down that coast road with my pal, the Glasgow sheriff Lindsay Wood, for nuts in tupperware bowls before the game. But - and please put this in - the half-time spread was fantastic. And the welcome at all these wee places, who Rangers aren't supposed to care about, was fantastic. And I loved that journey and so did the rest. I never once saw an angry supporter from our club."
A journey right enough, but nothing compared to Andy Cameron's own.
A message from the Editor:
Get a year of unlimited access to all of The Scotsman's sport coverage without the need for a full subscription. Expert analysis of the biggest games, exclusive interviews, live blogs, transfer news and 70 per cent fewer ads on Scotsman.com - all for less than £1 a week. Subscribe to us today