My GP won't prescribe Valium, so this will be a white knuckle flight - Gaby Soutar
Fear of flying: As Gaby Soutar prepared to board a plane for the first time in five years, she found her doctor had kicked away her crutch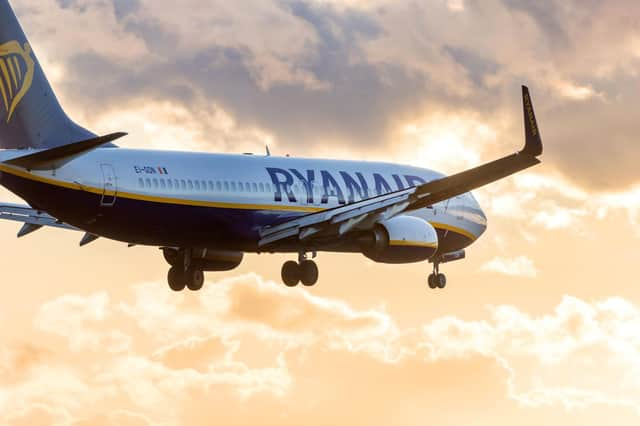 By the time you read this, my outbound flight will have landed. I'll be in Portugal, and hopefully not fretting about the journey home. It's been nearly five years since I last boarded an aeroplane. That was for a weekend city break to Madrid, a few months before Covid hit and life became as chaotic and strange as the Bosch paintings that hang in the Museo Nacional del Prado.
Since the end of lockdown, I've dragged my feet about going abroad again.
I would say it's for environmental reasons, but that's just a peripheral benefit. I'm more selfish than that.
It's true that I enjoy holidaying closer to home, but that's partially because I detest flying. I hesitate to call it a phobia, because that makes it seem irrational, when it seems perfectly sensible to me. I'm freaked out by the loss of control, and not being able to get off when you want to.
"We're going on a lovely sunny trip, not to the gallows," says my husband, as the holiday approaches and I get paler and tremblier, like a 26-year-old chihuahua.
He's used to my neuroses. I make Woody Allen seem totally chill.
It doesn't help when the news is focused on air traffic control system failures and Wagner chief Yevgeny Prigozhin dying in a crash. I hone in on every detail.
At least I have my crutch. Usually, once we've arrived at the airport, I'll pop a couple of low dose Valium (or Diazepam).
Contacting my GP to get a small sedative supply is part of my regular pre-holiday organisation, along with wondering if my decade-old Factor 50 sun-cream is still usable.
I put that medication request in earlier this week, then quickly received an automated text message reply that made my heart lurch. It said that my surgery has a new practice policy of no longer prescribing this drug for fear of flying.
After a quick Google, it seems that plenty of other GPs in the UK went down the same route, mainly sometime last year.
Fair enough, as these benzodiazepines are potentially addictive. I always remember doing work experience, when I was about 14, in my GP dad's surgery and his patients getting angry with me because I couldn't dispense their Temazepam (dubbed 'jellies' in the Eighties). That drug is in the same family. However, I can't, to quote The Rolling Stones song, rely on "running to the shelter of her mother's little helper" anymore.
It looks like I'm going to have to go cold turkey. Ironically, I've never seen one of those birds flying either.
My doc also emailed over a few self help links to Fear of Flying courses, with the next Scottish one taking place in a few months time. That's no use for this week's journey.
They also explained why they'd taken this decision. One reason was, if there was an emergency, the drug might slow your reaction and that could have "serious safety consequences". Unfortunately, a sentence like that doesn't land well with the neurotic. I read it six times.
What emergency? Is there really likely to be one? I thought most accidents happened at home, and the odds of being in a plane incident were one in 11 million. Was I mistaken? Am I going to have to react fast? I better craft a parachute from old bed sheets.
This train of thought led me to wondering, if there was a scenario, like the 1993 film, Alive, when they're all stranded after a crash, could I really resort to cannibalism. It's worth thinking about, because you might have to munch someone's wristies if you're stranded at the end of the Andes.
I take a pre-prandial look at him, but I don't think my husband would taste particularly nice. He's thin and sinuous, though maybe human biltong could be scrumptious in a starvation situation.
Maybe I'll pack a 100ml bottle of tomato sauce, for emergencies.
Anyway, let's worry about that later.
The doctor also provided some jolly chat about Valium making it more likely that you get deep vein thrombosis on a long flight, and that it could make it harder to breathe, what with the lower oxygen levels on the plane.
Oh goodie. Another thing to worry about. No air. I'll remember that, when I'm trying to turn the overhead blower on and it doesn't work.
Now I'm phobic about planes AND medication. Anyway, they can keep their drugs. The Valium didn't do a lot anyway. It only took the edge off.
Even after taking the pills, I still had the palpitations, nausea and sweaty hands, and kept asking my husband what every clank meant, as if he's some aerospace engineer and not as gormless as me.
At least I won't cry, or make a scene. I'm quite talented at suffering in stoic silence. I just wish I had a minor celebrity to help me. My sister is also scared of flying, and Christopher Biggins was once very kind to her, when she was randomly sitting next to him on a plane. He held her hand on take-off. Maybe Timmy Mallett will be in my cabin.
It might seem strange, but I am glad we're flying Ryanair.
Yes, we'll be in a claustrophobically tiny space, with the chair in front mere inches from our noses.
However, I find their relentless trolley service with perfume and scratchcard sales to be very reassuring. Nobody would be flogging a pink bottle of something that smells of candy floss if the wings were hanging off and there was a seagull mangled in the propeller.
Valium or not, when you read this, hopefully I'll have made it to Portugal (and not be stuck in the Andes).
Comments
 0 comments
Want to join the conversation? Please or to comment on this article.