This time next week, I'll be at the Scottish destination for my annual week-long sojourn. The Soutars have been visitors since the early 1980s.
Even our old rescue cat, Guinness, used to come with us. I'm the only allergic one in our family, but it was decided that he'd have to sit on my lap, like a set of broken bagpipes, for the journey. There would be sweaty paws, claws anchoring onto my jeans, and the occasional accident – firing out of both ends – en route.
It was torturous for us both. If he'd had fingers, he would've called the RSPCA.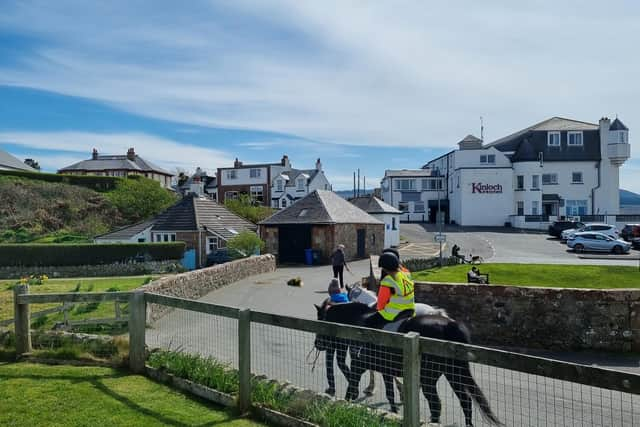 At least he lived his best life when he got there. This involved staring into a busy hedgerow for a fortnight, and fishing out the occasional mouse or bird. Heaven for an urban Tom.
Often the trip rolls around and I feel frustrated. Why can't we go to Skye, Islay or even somewhere hot? After all, it's later than you think, and we keep Groundhog Day holidaying in the same place.
But, no, it is rote. They will wheel me across when I'm 97, such is the gravitational pull.
I suckered my husband into the trips about a decade ago. He quickly decided that 'Scotland in miniature' was also his spiritual home. He cycles round the island every year and comes back with wild garlic stuffed into the back pocket of his jersey. This time, he's doing the clockwise route.
As a group, there is always a timetable that involves Arran Cheddar buying, Auchrannie swimming, the summerhouse at Brodick Castle, the King's Cave walk, where magical-looking plants grow in the Gulf Stream, chasing hermit crabs in the tide and navigating the clothing requirement of every season in one day.
I don't think I'll climb Goat Fell again though. That night, I dreamt of grey rocks.
My island memories are like the pods on a very long string of bladderwrack. It's strange what my brain has chosen to hoard. They wouldn't be my conscious choices. These are snapshots of half a lifetime of holidays past.
Whenever we get aboard Calmac MV Caledonian Isles, we'll always say 'ferry nice' in tribute to my late dad, who was the king of irritating puns, especially this one, which he'd use for the duration of the entire fortnight. We'd always laugh obediently. I hope it's not speaking ill of the dead if I call him a total wind-up merchant.
As kids, we'd immediately request polystyrene cups full of pale chips that were saturated with vinegar. Then, we'd feed the remaining ones to the seagulls, by flinging them into the air as they flew pillion alongside the boat.
Now, the nieces and nephew want sausages in a roll. Or they did, though, this year, the middle child has gone veggie. Back to chips.
We'll go out onto the deck, to get whipped around, and clutch the three-year-old tightly.
When we dock, we're off to Whiting Bay, which has been our favourite since my eldest niece was born. The kids love being so near the beach, as well as getting to pet the plump horses that live in a field beside our accommodation.
We've stayed in various villages through the decades, though never Lochranza, Corrie or Lamlash.
It used to always be Blackwaterfoot, which gets the most dramatic sunsets. Dad, who also holidayed here as a child, was a fan of their golf club.
In the summer, we'd stay in a relatively remote house beside a working farm for a whole two weeks.
When my sister and I were teenagers and our parents were glued to Wimbledon on the only telly, the boredom was immense. In the days before mobile phones and tablets, that sensation was suffocating. I would get the urge to swim back to the city. There would be angry missives in my diary.
We'd desperately try to find something to do, like catch the long-suffering hens. Or even speak to their ancient sheep, who we named Mr Chamberlain, after one of our very elderly neighbours. I'd rescue the shrews from Guinness's clutches. Whatever we did, it was bo-ring.
We'd always end up walking for 30 minutes to the nearest hotel, to buy Coca-Colas and see if there was talent on the boy front. We never had much luck. Well, my sister was always a hit, I wasn't. Sometimes we'd spend our pocket money on admission to the neighbourhood Portaloo, since they played chart hits in there. Five minutes of intense dancing beside a toilet was better than nothing.
At least we had the summer disco in Shiskine Hall as the highlight of our social calendar.
Whenever holiday time comes, I always get a wave of nostalgia, for some who are long gone, like my granny.
As an octogenarian, she'd leave her Glasgow flat to come with us, but she'd be so quiet. I barely remember her being there. I think she'd try to make herself invisible, presumably because she wouldn't want to be any 'trouble'.
There is a photo of her, in her wool pencil skirt, bowling shoes and sun hat, drinking a sherry in the garden. On the last day of the holiday, as we waited for the ferry back to Ardrossan, she'd sneak off to buy my parents a thank you gift.
She always loved the island bakery Wooleys. So there might be strawberry tarts and tattie scones too.
I never spent any proper time with her, because those were my selfish years, though I happily ate the cakes she bought us. I'll be revisiting them this year, since we're back to the island. Yet again.