Scotsman Letters: UK should have a 'recession' as bad as Germany's
Having been to Germany just last week on one of my frequent visits, and having family who live there, I had to laugh at columnist Brian Monteith's latest blinkered, anti-EU nonsense in Monday's Perspective.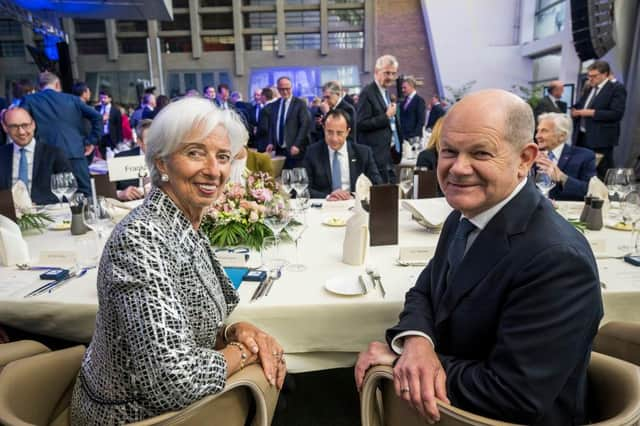 He says the German economy is "really in trouble" While official figures have indicated a technical recession, I can assure him and all others in ignorance that the German "recession" is an economic state of affairs that Britain would love to have. The standard of living is higher across the board, there are no empty shelves in supermarkets, wages and pensions are higher, the health service isn't in meltdown… and the weather's usually better too.
Mr Monteith and his ilk should ditch their prejudices and take a trip to see what life is really like in a country that's committed to being in the EU and making it work.
Bill Cooper, Kinross, Perth and Kinross
Reports in the press that Labour leader Sir Keir Starmer is planning an "under the counter" attempt to return the UK to EU membership, or at least to adherence to EU law, are only matched by his comments about blocking new licences for North Sea oil and gas development.
Up until now Labour has been building up a decent lead over the Conservatives. However, the "Red Wall" seats are still as implacably opposed to the UK being part of the EU as ever they were. The Conservatives will make much hay from this as the sun is beginning to shine over them, though many could be forgiven for not noticing.
Not only that, but in Scotland, where Labour has been trending as a strong alternative to the badly damaged SNP, the north-east is still very much dependent upon the tens of thousands of jobs directly and indirectly related to oil and gas. The SNP have already killed their chances in the north-east over their support for the know-nothing Greens.
Having every chance of trumping the other parties, including the Tories, however, Sir Keir intends to trumpet his aim of knocking that industry on the head in Aberdeen, of all places! Has he been smoking magic mushrooms?
I am old enough to remember when Neil Kinnock was the bright young hope for Labour in 1992. Mr Kinnock was shown addressing the Labour Sheffield rally in tones of expectant victory, saying (in a hideous, pseudo-American drawl) "All right! All right!" Labour bombed.
I think that Sir Keir has not learned the lesson. You don't say stupid things in public, because you will be found out. And he has been.
Andrew HN Gray, Edinburgh
Will our children and grandchildren suffer a repeat of the 20th century of Kaiser Wilhelm, Lenin, Hitler, Stalin and Mao, given our 21st-century legacy to them of the nightmare Orwellian axis of the history-falsifying Putin's Russia, Xi's China ("together we are driving changes unseen for 100 years"), Kim's Korea, Lukashenko's Belarus and Khamenei's Iran, effectively backed by India, Bangladesh, Syria, Iraq, Pakistan, South Africa, Algeria, Brazil et al. The West's naïve, myopic, head-in-the-sand, short-termism politicians, diplomats, academics and business leaders from Clinton onwards are facilitating in a single generation a more dangerous, uncivilised world than that well before Gorbachev's tragically short years of civilising enlightenment.
John Birkett, St Andrews, Fife
As Chancellor of the Exchequer, and later UK Prime Minister, Gordon Brown could have worked to replace the unelected House of Lords, as he now advocates. But he failed to do so.
In his Scotsman article of 30 May the abbreviation "UK" appears only once, in the phrase "UK-wide", and the words "Northern Ireland" do not appear at all. He writes about "Britain", and only Wales, Scotland and England. Perhaps this is because the Labour Party did not stand candidates in Northern Ireland in the 2019 UK general election. Or perhaps he expects that Northern Ireland will leave the UK and join Ireland.
E Campbell, Newton Mearns, East Renfrewshire
I know that Gordon Brown is a serious man and a heavyweight politician. The fact that Mark Drakeford, the Welsh FM (and a Corbynite), Andy Burnham (former Blairite, now radicalised and refreshed as Manchester's Mayor) and Tracy Brabin (looked on favourably by my radical friends in West Yorkshire) are all coming to Scotland in a period of 48 hours to shore up Anas Sarwar and give him a radical edge despite Starmer's Tony Blair Tribute Band is tragic. Do they think people are stupid?
Britain is falling apart! Our cities lack infrastructure, parts of the North look more like war zones in what are euphemistically called developing countries and the idea that this is "just a problem with London" when London makes the decisions and holds the purse strings is just weird, frankly.
As a former 40 year-resident of London, user of its public services and transport and witness to its impoverished areas, Scotland is so much better off, despite "BritNats" going on about the ferries and other perceived failings of the Scottish Government.
I started off with Johnny Mathis' Too Much, Too Little Too Late running through my head. I am closing, optimistically, with The Who's Won't Get Fooled Again: "A change it had to come, we knew it all along… then I'll get on my knees and pray, we don't get fooled again".
Marjorie Ellis Thompson, Edinburgh
Commenting on the ongoing police investigations into SNP finances, Nicola Sturgeon's close friend and fiction writer Val McDermid apparently believes what this is really about is that "a lot of...people... hate Nicola... [with] much of it to do with misogyny".
Seriously? I have zero interest in Sturgeon's gender. What bothers me – and so many others – is her ceaseless obsession with separating Scotland from the rest of the UK against the democratically expressed will of the majority.
Martin Redfern, Melrose Roxburghshire
Consider all the political disasters of recent years: the Census; the shipyard/ferries; the pretend embassies; the Gender and DRS bills; ad infinitum. All of which were undoubtedly brought about by attempting above all else to be uniquely Scottish, even to the abandonment of logic and common sense.
One thing strikes me. Hapless and incompetent nationalist ministers, fathoms out of their depth and trying to convince their core voters about how Scottish they are is one thing. But where were the supposedly neutral Civil Service throughout all this?
Were they not supposed to be guiding and recommending? Did they meekly pass blunder after blunder with not a word of advice or criticism? Were they afraid of the powers that be and kept their common sense and intelligence under wraps for fear of appearing anti-Scottish and perhaps hampering their careers?
How could Scotland have possibly descended into such a state of affairs?
Alexander McKay, Edinburgh
We know about the constitutional dimension of the proposed deposit return scheme and its impact on industry. What about the effect on householders?
In Edinburgh, at present (apart from the paid-for collection of garden waste) there are three separate kerbside collections: recyclables, non-recyclables and glass bottles, jars etc. If the glass collection ceased, would the householder be expected to arrange transport to a collection point? If so, what means of transport would be likely to be used, with what estimated environmental impact?
I wonder how many of the Celtic, or any other football fans or idiotic revellers who litter our streets and countryside would be interested in the few pounds they'd collect if they staggered along to one of Lorna Slater's bottle banks and dumped their litter?None, I bet. And she must know that.
Allan Sutherland, Stonehaven, Aberdeenshire
We welcome your thoughts – NO letters submitted elsewhere, please. Write to [email protected] including name, address and phone number – we won't print full details. Keep letters under 300 words, with no attachments, and avoid 'Letters to the Editor/Readers' Letters' or similar in your subject line – be specific. If referring to an article, include date, page number and heading.
Comments
 0 comments
Want to join the conversation? Please or to comment on this article.