Readers' Letters: Residents have had enough of roadworks
I write in support of David Lowe (Letters, September 14). For some months now Corstorphine in Edinburgh has suffered what might be described as a plague of roadworks.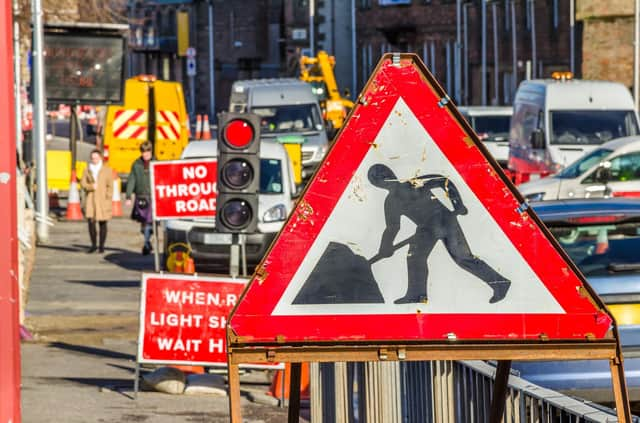 Some admittedly the result of repair service to utilities (gas, water etc) but other work related to early development of the Corstorphine Low Traffic Neighbour Hood scheme (CLTN) ( Manse Road Bus Gate and narrowing of Corstorphine High Street), a scheme firmly rejected by the people of Corstorphine.
All this work has given Corstorphine residents a foretaste of the confusion, chaos, inconvenience, stress and increased pollution which the council, in full knowledge of these factors, insists on imposing with full implementation of CLTN.
Access to medical facilities, dentists, churches, and other local amenities will become difficult if not impossible, particularly for disabled and elderly people. Quiet residential streets will become alternative streets for traffic, and St John's Road, already one of the most polluted roads in Scotland will become even more so.
None of this is of benefit to Corstorphine residents.This town council seems like the previous council, more intent with creating difficulties for council tax-paying residents in pursuit of their own ideology and philosophy than managing the city for the overall benefit of her citizens.
Were the council interested in limiting traffic within Edinburgh and reducing pollution, they might consider devising and developing methods to reduce road traffic entering the city and passing though her suburbs, which is the main cause of road pollution.Yes, that is hard, and might require some bold measures, unlike discommoding local residents who are easy targets.
I have not mentioned the cost involved in implementing the CLTN. At a time when justifiably the council pleads poverty, my sympathy lessens significantly when money is squandered in pursuit of this scheme beloved by so many councillors.
I note and welcome your article on September 16 by Alison Campsie on the visitor levy plan. As one of the Highland councillors representing the largest size area (18 times Edinburgh) of North, West and Central Sutherland, this visitor levy plan is to be welcomed.
The route extensively covers a large part of the North Coast 500 widely chosen by visitors – and especially by motorhomes.
Much has been said in the press that these visitors cause wear and tear on our roads, many with deteriorating surfaces. They are welcome to visit our wonderful scenery, breath in clean air but not leave behind their waste for others to pick up!
Many of the shops miss out on food items because these are purchased before going on an excursion being of a short or long duration.
It is only fair that some kind of levy or tax should be imposed to keep our cash-strapped council afloat.
Cllr Michael Baird, North, West and Central Sutherland
Your report (September 15) on the 2021 census release correctly emphasises the increase in population over 65 years old from 0.9m in 2011 to 1.1m, over 22 per cent. One in five people living in Scotland are now over 65, putting a significant strain on services such as care homes and the NHS, especially as the working population has fallen.
This increase of around 200,000 is about the same as net migration, and while some of the increase can be attributed to the baby boom and people living longer, some is over 65s entering, mainly from other parts of the UK.
The NRS reported a death rate rise of 6 to 7 per cent in 2023, so while the long-term trend is that we are living longer, average life expectancy is now 77 for men and 81 for women, this may not last. In 2011 it was about a year less for both sexes, so very similar, given pressures on healthcare it may have peaked. It is inaccurate, as your editorial, states that we are much healthier.
While we will need to wait for the next iteration of the census it is likely that the trend of increased migration from other parts of the UK continues. This is hardly surprising, given that Scotland enjoys additional benefits like free personal care, free prescriptions and free bus travel for over-65s. Dumfries & Galloway and Scottish Borders are amongst the top five of 29 Scottish council areas with the highest proportion of over-65s.
With Scotland the highest taxed part of the UK, perhaps those over 65 moving in should pay a contribution towards premium benefits or at the point of use, otherwise taxpayers are effectively subsidising over-65s moving in from outside, adding to the huge burden on the NHS and care providers.
As we are told of more problems with the abominable new ferry contract, now involving safety certification, as well as eye-watering rental of temporary vessels, most Scots – who are paying for all this through their taxes – are no longer even surprised.
Resignation to the so far yet-unplumbed depths of crippling incompetence of the SNP would more accurately describe their feelings. People around the world must look on in awed disbelief. If for this and nothing else, the SNP deserve to pay very heavy price at the next election.
The loss of life-saving cash that could have been infinitely better used elsewhere is heart-breaking to contemplate. But more so is the reputation of Scotland. There is no forgiveness for the SNP for what they have to done to that.
Alexander McKay, Edinburgh
Does the UK's chief veterinary officer not realise that in watering down the prime minister's proposal on American bully dogs by allowing such unmuzzled dogs inside the house, albeit neutered, she will facilitate continued attacks on babies, children and adults?
Surely any dog which can bite through human bone should be banned?
We welcome your thoughts – NO letters submitted elsewhere, please. Write to [email protected] including name, address and phone number – we won't print full details. Keep letters under 300 words, with no attachments, and avoid 'Letters to the Editor/Readers' Letters' or similar in your subject line – be specific. If referring to an article, include date, page number and heading.
Comments
 0 comments
Want to join the conversation? Please or to comment on this article.