Scotland census data confirms the major demographic challenges - the key takeaways on migration, ageing population and urban growth
Results highlight issues around nation's ageing population
It is a long awaited confirmation of what was already known – Scotland is facing major demographic challenges. On the face of it, the major takeaways from the first results of the 2022 census offer reasons for optimism. Scotland's population has risen to 5,436,600, the highest on record, confirming that many people are living longer. But beneath that headline figure, there are numerous areas of concern. Here are the key takeaways:
Migration is key
While attention is understandably focused on the record population, the drivers behind that number are crucial. The country's population may have increased by 141,200 (2.7 per cent) since the last census in 2011, but that is a slower rate of growth than the 4.6 per cent between 2001 and 2011.
Notably, other UK censuses carried out recently also showed higher rates of population growth than evidenced in Scotland. In England and Wales, the population jumped by 6.3 per cent between 2011 and 2021, with growth of 5.1 per cent in Northern Ireland.
Why is Scotland behind? The simple data-led answer is that since 2011, there were more deaths (634,800) than births (585,000). Without migration, there would have been a decline in the population of almost 50,000. No wonder that in wake of the results, Emma Roddick, the minister for equalities, migration, and refugees, argued a "tailored migration policy" for Scotland is essential if communities are to thrive.
Ageing population
If those people in Scotland aged 65 or over took their place in Hampden, the stadium would be straining at its capacity for 21 consecutive nights. That demographic is now 1,091,000 strong. Not only is this over a quarter of a million higher than the number of children under 15 (832,300), it ensures older people make up a record proportion of the population at large. Back in 1971, those aged 65 or above made up just 12.3 per cent of the population. But with post-war baby boomers getting older and a decline in the number of births since the 1960s, that figure has reached 20.1 per cent.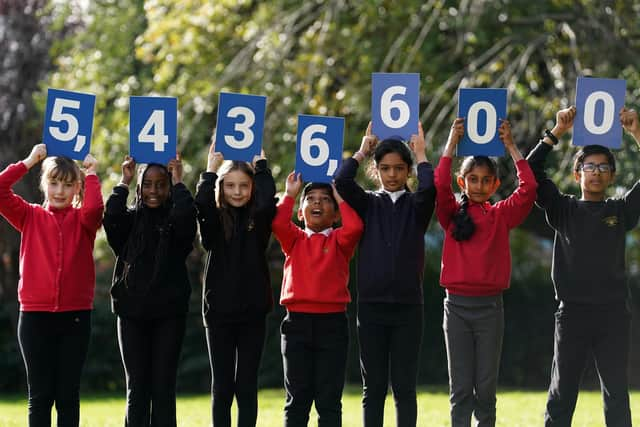 These are acute changes that have have accelerated in recent years. In 1971, there were twice as many people under 15 than 65-plus, while in 2011, the two age groups were of a broadly similar size. The number of people aged 65 or above has increased by 22.5 per cent since 2011. By contrast, the population of children under the age of 15 fell by 2.5 per cent.
Scotland is far from alone in having to mitigate this shift. Globally, the 65-plus population is growing faster than all other age groups. According to data from World Population Prospects, by 2050, one in six people in the world will be over the age 65, up from one in 11 in 2019.
It poses fundamental questions for governments, local authorities, and health boards tasked with planning and funding key services. "It is important that we understand how our population is ageing so we can prepare for it," said Jon Wroth-Smith, director of census statistics at National Records of Scotland (NRS). "These changes will put greater demand on health and social care services."
Service demand more acute in some areas
The initial tranche of census data offers a blunt snapshot of how certain areas face sterner tests than others in providing such services. Generally, there is a pronounced urban/rural divide, with the latter regions more likely to have a larger proportion of older people.
The four largest cities in Scotland were amongst the areas with the lowest proportions of people aged 65 and over. The council area with the lowest was Glasgow (14 per cent), followed by Edinburgh (16 per cent) and Aberdeen (17.1 per cent).
By contrast, the areas with the largest proportion of people aged 65 and over tend to be in the west or south of Scotland. The council area with the largest proportion was Argyll and Bute, where more than one in four people (27.2 per cent) are older. Close behind are Dumfries and Galloway (27.1 per cent), Na h-Eileanan Siar (26.6 per cent) and South Ayrshire (26.5 per cent).
Urban growth
Most council areas in the Central Belt saw population increases, with cities contributing to that rise. In Edinburgh, growth of 7.6 per cent saw its population spike from 476,626 to 512,700, while in the Glasgow area, the population was 620,700, up 4.6 per cent from 593,245 in 2011.
Demographers will no doubt help flesh out the data, but even a cursory look at the growth in some Central Belt local authorities suggests certain trends. Midlothian saw the largest population increase up 16.1 per cent from 83,187 to 96,600, with high growth also seen in East Lothian (12.7 per cent). Could those rises be attributable to unaffordable house prices in Edinburgh and changes to work practices accelerated by the pandemic?
What is clear is that while the larger populations in such areas have been driven by people moving from other parts of Scotland and elsewhere, the reverse is not always true. The NRS said councils that saw a fall in population, such as Dumfries and Galloway, Angus, and Argyll and Bute, had a higher number of deaths than births between censuses.
Space for all
For all the attention given over to Scotland's record population, it should be noted that it remains sparsely populated, at least compared to other European nations. The 2022 census shows there were 70 residents per square kilometre in Scotland. While that is up from 68 per sqkm in the 2011, it is notably lower than England and Wales (395 per sqkm) and Northern Ireland (140 per sqkm)
Unsurprisingly, population density varies by council area. Glasgow has the highest 3,555 per km², but Na h-Eileanan Siar has the lowest density of 8.6. Such statistics should not be blithely interpreted as a sign that such rural communities have it better. Beneath that number is buried a slew of information still being fleshed out, such as the impact on working age population. The NRS will begin publishing more detailed data in the coming months, but even from its first headline release, it is clear there are difficult decisions ahead.
Comments
 0 comments
Want to join the conversation? Please or to comment on this article.