Exclusive:

Tourist tax Scotland: Pressure grows for tax on motorhome users in Scotland as Highland Council calls for levy

Pressure is mounting on the Scottish Government to apply an overnight tax to all motorhome users given the growing phenomenon of the style of travel and warnings over the collective impact on local communities and infrastructure.
Calls for the tax come amid consultation on the Visitor Levy Bill, which would allow councils to collect a fee from those in overnight accommodation, including bed and breakfasts and campsites. The money raised would be invested back into local tourist facilities.
However, there is growing frustration that motorhomes which do not stay on a site, but pull up in car parks, laybys and on roadsides, have been left off the list of accommodation that would qualify for the levy.
Highland Council has urged the Scottish Government to revisit the issue, suggesting the levy should also be extended to both motorhomes and wild campers. Meanwhile, residents living on the North Coast 500 driving route claim the omission of motorhomes is "unfair" given the increase in vehicles, which has intensified post-Covid, and their daily impact on residents.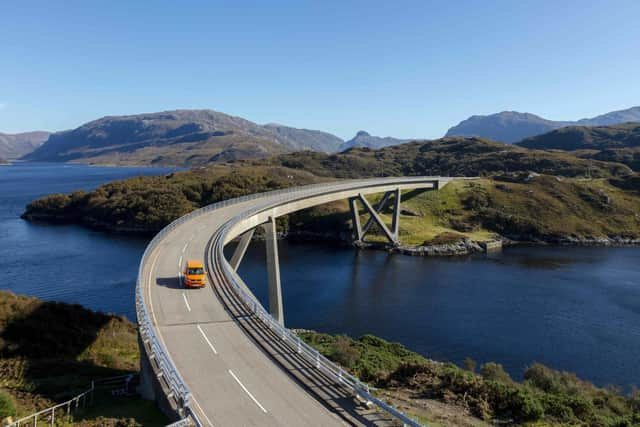 Margaret Meek, co-founder of the NC500 The Land Weeps, a Facebook-based campaign set up to share information about issues on the driving route, said there were ongoing problems with some motorhome users when it came overcrowding, overnight parking, driving standards and toilet disposal.
Ms Meek described the visitor levy as an "excellent idea", but said it was "unfair" if it did not apply to all tourists, including those who did not stay in paid accommodation.
"It is unfair that those who park overnight outside organised sites are not covered in current proposals," she said. "This includes all vehicles that are used for overnight accommodation by visitors – motorhomes, campervans, caravans, those with roof top campers, vans and cars."
Ms Meek, who lives in Kinlochbervie on the North Coast 500, said: "I am not against a levy at all. What is unfair is this one group is left out and it is not a small group – it is a substantial group.
"Any time you are having an informal conversation with somebody, one of the first things that anyone says is a comment about a campervan, whether they followed one for 40 miles and they wouldn't pull over or they were camping in their driveway.
"I would like to think that someone in the Scottish Government is looking at how to tax the tourists who don't stay in paid accommodation. It is obviously so unfair. The ones causing the most grief are the ones who pay nothing – and they are the ones who would benefit the most for money raised by a levy."
Anecdotal reports suggest there is a misconception among motorhome users they have access rights under Scotland's coveted 'right to roam' legislation. But the Land Reform Act 2003, and the associated Scottish Outdoor Access Code (SOAC), which sets out guidance on responsible access, does not apply to motorised vehicles. Stopping overnight in a motorhome outside a formal site is not wild camping as permitted by the SOAC as it takes place in a motor vehicle.
Motorhome users can park in marked laybys or some car parks overnight in line with the Road Traffic Act as long as activities are confined to the vehicle, with no awnings, tables, chairs or cooking facilities placed outside.
The value of the tourist levy has been proposed as a small percentage of the cost of an overnight stay for accommodation such as hotels and bed and breakfasts, although the pricing structure has yet to be set.
Malcolm Roughead, chief executive of national tourism body VisitScotland, said work was ongoing with the Scottish Tourism Alliance, the Confederation of Scottish Local Authorities (Cosla) and other organisations to find best practice on a visitor levy.
He said: "The difficulty is which local authority do you charge with levying a motorhome? If we are trying to get people travelling around the country and they are going into three or four, five different local authority areas, it is not the same as accommodation."
VisitScotland has worked with motorhome rental and car hire companies, among other channels, to spread messages surrounding responsible tourism. Research into motorhomes was due to be completed by the end of the year, Mr Roughead said.
"The research is necessary mainly because of the amount of people travelling around in motorhomes, which has seen a huge amount of growth," he said. "Quite suddenly people are quite happy to try something different and I think it has become a very important part of the overall mix and we don't know enough, frankly, about it.
"We need to understand what the needs are going forward, so we can make sure that everything is in place."
Mr Roughead said £18 million has been awarded through the Rural Infrastructure Fund to 74 projects across Scotland to improve the visitor experience and community benefit in rural areas since 2018.
Highland Council, in its proposed submission to the Visitor Levy Bill consultation, which closed yesterday, said such funds had been "greatly welcomed" and had an "important impact" in some parts of the Highlands.
But the council said: "However, they have only delivered part of the solution and grant funds such as these are often only temporal, and there is a reliance on the Government to make them available.
"The council is the most appropriate and well-placed organisation to implement and collect a visitor levy. Concerns of over-tourism is an ongoing issue in certain areas. The marked increase in visitor numbers have increased these concerns and demonstrated the need for investment in tourism infrastructure to ensure the visitor experience is a positive one for tourists and for our communities."
A statement from the local authority added: "The council ... does not agree with the list of 'types of accommodation' as it currently excludes wild campers and motorhomes when not staying in paid sites, as well as cruise visitors who berth in the Highlands. The council urges the Scottish Government to revisit this issue."
Former SNP Westminster leader Ian Blackford has openly called for more restrictions on motorhomes, suggesting they should be banned from travelling in convoys.
The MP for Ross, Skye and Lochaber last month called for the introduction of a code of conduct for motorhomes that would also compel drivers to pull over if they are causing a tailback of traffic.
Mr Blackford, who raised his concerns in writing with transport minister Fiona Hyslop, said: "Our roads, with limited dual carriageway and a lot of single track, are not geared up for such traffic. So I am asking both the Scottish and UK governments to look at the issue.
"I want to see a code of conduct made statutory where rental companies must display stickers on the vehicle's windscreen to remind drivers to drive on the left and all motorhome drivers must be told not to drive in convoy. So many people have told me of near misses. This dangerous situation cannot continue."
The Federation of Small Businesses (FSB) said respondents to a recent survey had been relatively evenly split on the introduction of a visitor levy, but stressed organisations were anxious about any further increase in administrative costs.
FSB Scotland policy chair Andrew McRae said: "Get this wrong and it will create further burdens for accommodation providers, who are already grappling with everything from staff shortages, to rising costs to, in some cases, the impending short-term lets licensing scheme."
Mr McRae added: "Our recent survey showed that the majority of small businesses want to see this [a visitor levy] invested in local infrastructure and facilities, which will boost the attractiveness of their area to tourists, while improving the overall environment for everyone."
The Scottish Government has been contacted for comment.
Comments
 0 comments
Want to join the conversation? Please or to comment on this article.