Readers' Letters: Politicians wrong to pose by extreme placard
On Saturday, SNP MPs Stewart McDonald, Kirsten Oswald and Alison Thewliss – along with MSP Kaukab Stewart – showed their true colours when they were happy to be interviewed at the top of Buchanan Street in Glasgow at the vanguard of a seething mob waving placards containing such classic "Be Kind!" phrases of the Trans Covenanters as "Decapitate TERFs".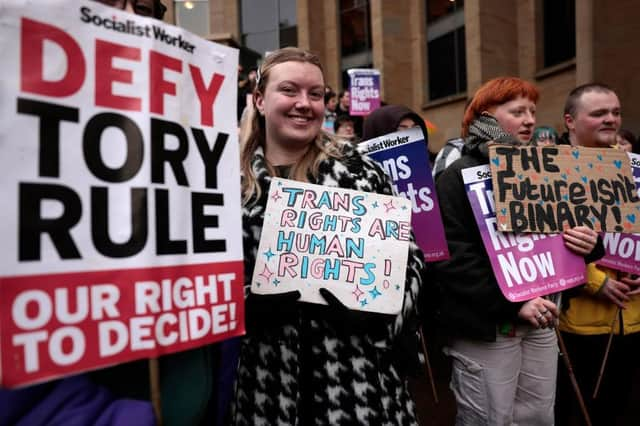 Whether man or woman or "it's complicated, bro", one is known by the company one keeps, and by their attempts to justify the unjustifiable thereafter.
Mark Boyle, Johnstone, Renfrewshire
All women in Scotland should vote Conservative at the next election, they have just saved your right to safe, women-only spaces. The SNP, Greens, Labour and Liberal Democrat parties will take that from you if you let them. Sturgeon, Harvie, Sarwar and Rennie will bring back this daft idea of letting penises into your toilets if women vote for anyone other than a Conservative. It is a basic human right to have a place for privacy. The SNP, Greens, Labour and Lib Dems will abolish that right for women.
Stan Hogarth, Strathaven, South Lanarkshire
The rising pension age in the UK is certainly an issue for thousands, but the Government has had a relatively easy ride
The exception to this was the WASPI (Women Against State Pension Inequality) women, women who have been disproportionately disadvantaged due to the equalisation of the state pension age for men and women. Those women even took their case to the courts. The current retirement age in the UK is 66 and is due to rise to 67 by 2028. But it doesn't stop there for future pensioners in the UK, by 2046 retirement will be 68 and this is currently being reviewed by the current government and could be brought forward to 2039.
Compare this to the current situation in France, protests on the street at the French Government's plan to increase the state pension age to 64 (currently 62)! This rise in state pension age in France is as a result of a manifesto commitment given by French President Emmanuel Macron. But as seen before, French workers don't take change sitting down, they make their protest known and are often heard and get results.
The current cold snap with severe winters in Scotland, punishing and extreme, temperatures plummeting, begs the question: how can the Government expect those who daily keep the infrastructure of our country ticking over, out working in harsh and cold conditions, be expected to work until 68? It is an outrage, so unfair and surely adding to the pressures on our health services and ultimately our care sector. Our health services are struggling, as is our social care sector, surely the state pension age must be taken into consideration in any future review of our NHS and Care Sector going forward.
Catriona C Clark, Banknock, Falkirk
The primary problem with using a referendum to initiate major constitutional change is identified by John Cutland (Letters, 21 January). People change their minds, whereas fundamental constitutional changes cannot be easily reversed. Brexit demonstrates this very well – a clear majority now recognise it has been a disaster, but we are stuck with it, at least in the short term. Switzerland has frequent referendums, but only for topics which can be readily altered. Recent ones, for example, related to banning experiments on animals, restricting tobacco advertising and amending taxation.
Since 2014, polls show that support for independence has remained around 50 per cent – sometimes slightly above, sometimes slightly below. There should be no question of seeking independence on the basis of a single referendum – there needs to be evidence that an appreciable majority (say 60-65 per cent) of the population are in favour – and, furthermore, that this proportion is stable over time.
Fraser Grant has excelled himself with his latest sermon for an Independent Scotland away from the shackles of Westminster (Letters, 21 January). He says: "Scotland produces the vast bulk of the UK's oil and gas" but the Scottish Government has just announced a presumption against new oil and gas exploration.
He then says: "Per head of population Scotland exports twice as much as the rest of the UK, mainly due to our food and drinks industries". Does he not realise that there is a Scottish Government consultation on a crackdown on alcohol advertising and promotion underway?
He says that Scotland has vast renewable sources of electricity; presumably he means when the wind blows. However, these wind machines are not owned by the Scottish Government but by companies, mostly foreign, who supply the UK National Grid with electricity.
But Mr Grant kept his best until last. He talks about Scotland's "highly educated population". Education standards have been falling for years and the Organisation for Economic Co-operation and Development found in 2021 that the Scottish education system had failed to keep pace with best practice and had no long-term strategies or vision. This under SNP leadership since 2011.
Clark Cross, Linlithgow, West Lothian
Last week former Labour Defence Minister and Nato Secretary General George Robertson suggested that the next time Prime Minister Rishi Sunak meets Ukraine President Volodymyr Zelensky he should take Labour leader Sir Keir Starmer with him to show UK solidarity.
Similarly the Times, prompted by Starmer's offer of support in solving the Irish Brexit issue, recommended the two attend the next EU meeting together, and the Labour leader and prominent colleagues such as Rosie Duffield are supporting many of the reasons for the UK Government's blocking of the SNP GRR Bill.
At last leaders of the UK's two main parties are realising common sense and compromise can not only help them deal with damaging factions in their own party – not least sections of Scottish Labour that seem soft on independence and ignore public opinion on GRR – it enables them to get real and agree on the priorities and policies to get the UK moving.
These included reform of funding and operation of the NHS and care services, education, good affordable housing and industrial policy.
Both parties benefit from this approach: more people will vote, they can campaign on who can best implement the agreed approaches, and delivery will be easier because the electorate will have voted for similar strategies.
It will also eradicate the "we won't put forward our policies until the election because the Tories/Labour/SNP will steal them" excuses we hear from politicians and force them to fine tune their ideas well before polling day.
Allan Sutherland, Stonehaven, Aberdeenshire
While Fife Council has never been renowned for road maintenance, the present examples of road-surface dereliction are shockingly outstanding in the south-west of the Howe of Fife.
The main A914 road between Cupar and Muirhead has been flooded for a fortnight between Kettlebridge and Muirhead to such a degree that temporary traffic lights have been installed, reducing traffic flow to half the width of this major road. This flooding should not have come as some surprise because at that very spot, literally for years, an area of official off-road parking gets repeatedly flooded by several feet of water... and no one seems to do a thing about it!
Simultaneously, about a mile or so to the north of this disastrous area the Tarmac under the Ladybank railway bridge is so potholed and broken up that, I'm told by a local tyre company, between January 5 and 12, 16 cars have been in to have their tyres replaced! Today, I am told that that number has risen to 22 cars!
In order to quantify the potential for damage I went to the site today with a long spirit level and a measuring tape and found that the major pothole was 3.5 feet long by 1.5 feet broad and 5.5 inches deep. Even at a low speed the potential for damage to a tyre from such a gaping pothole is enormous! (I did not measure the other potholes present at the site.)"Get a grip!" Fife Council.
Archibald A Lawrie, Kingskettle, Fife
Editorials perform an important role in providing independent assessment of important issues of the time intended to make you sit back and think. In the last five days, The Scotsman has published four outstanding examples dealing with voting age not being an appropriate criterion for Gender reform; the factual acknowledgement of the constitutional rationale behind the appropriate and reasoned use of a Section 35 Order under the Scotland Act, exposing the flagrant rejection by the First Minister of opportunities to consider with Westminster potential conflicts between the draft provisions of the Gender Reform Bill with existing UK legislation, to allow her spin doctors to invent the groundless fiction that use of the Section is an attack on devolution; and the exemplary leadership and principles displayed by Jacinda Ardern in stark contrast to the Machiavellian leadership and tactics applied in Scotland and elsewhere.
The impartial editorials are to be lauded and today's meaningful leader taking Rishi Sunak to task (20 January) shows the real meaning of independence, something lacking in Joyce McMillan's "smoke and mirrors" article on the perceived misuse of the Gender Bill by the Tories as a distraction (Perspective, same day). Which is the pot and which is the kettle? The Tories or the SNP ?
Fraser MacGregor, Edinburgh
We welcome your thoughts – NO letters submitted elsewhere, please. Write to [email protected] including name, address and phone number – we won't print full details. Keep letters under 300 words, with no attachments, and avoid 'Letters to the Editor/Readers' Letters' or similar in your subject line - be specific. If referring to an article, include date, page number and heading.
Comments
 0 comments
Want to join the conversation? Please or to comment on this article.