Gender Recognition Reform Bill is being used as a culture war distraction by the Tories, who are no champions of women's rights – Joyce McMillan
These are troubled times, no question. In Davos, the world's great and good are discussing the end of the age of globalism and free trade we have taken for granted for so long, scuppered by a combination of pandemic pressures and looming war.
In the UK, vital public services weakened by more than a decade of austerity are on the point of collapse; and across the planet, humanity faces the ever-growing cost of climate change, as once-habitable regions are ravaged by floods, wild fires or drought – yet still, global carbon emissions increase.
So you will forgive me, I hope, for feeling until now that the row over Scotland's gender recognition legislation, which has generated so much heat and so little light over the last two years, is relatively speaking a storm in a teacup; a measure which will affect the legal status – although not the lifestyle – of a few hundred people a year in Scotland, and which reflects changes already made without difficulty in many countries across Europe.
I also recognise – although I do not share – the concerns about the legislation expressed by many women whom I know and respect as fellow feminists; and have been further alienated from the debate by the ferocious aggression of some on both sides, and by the fact that I can recognise, when I see one, an attempt by right-wing media to whip up a convenient culture war against a vulnerable minority, and do not wish to contribute to that process.
There are strict limits, though, to my tolerance for the present Conservative government's deployment of the same distraction tactics; and I reached that limit when I heard the Secretary of State for Scotland, Alister Jack, citing concern for the rights and safety of women as one of his reasons for issuing an unprecedented section 35 order preventing this piece of Scottish Parliament legislation from receiving royal assent. For if there is one thing that is certain about the Conservative party, it is that it has never, as a body, given a good god-damn about the real rights and welfare of women; except when – as now – it sees an opportunity to divide and rule.
In saying this much, I don't of course mean that there are no individual Conservatives who care about women's rights; of course there are. At the level of policy and its real-life impacts, though, the Conservatives' record in supporting women, their welfare and opportunities, ranges from poor to atrocious; and has been particularly damaging over the last 13 years.
In 2018, the House of Commons Library estimated that no less than 86 per cent of the impact of the UK Government's chosen policy of austerity, since 2010, had fallen on women; and it takes only a glance at the unrest now sweeping across Britain's public sector now to see how accurate that figure is likely to be, from the growing scandal of poverty pay in female-dominated sectors such as nursing and social care, to the increased pressure for women, in particular, to become unpaid carers and community workers, following drastic cuts in vital local services including social care.
British women at work endure the highest childcare costs in Europe, while our pensions – when we get them – are among the lowest. And now, women are treated to the spectacle of the UK Government trying, through its Retained EU Law Bill, to abolish at a stroke thousands of pieces of EU legislation which guarantee many of our basic employment rights, including the right to paid maternity leave.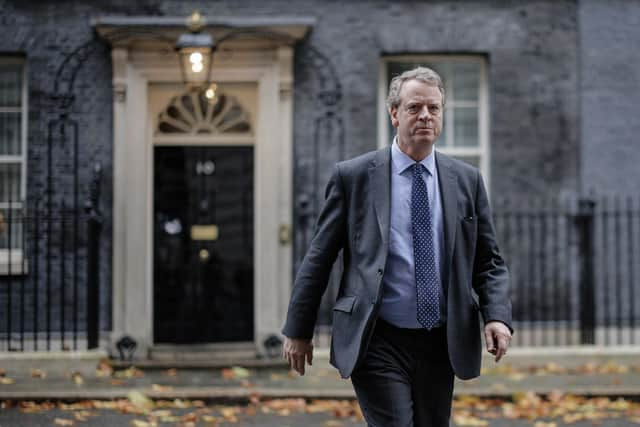 The Scottish Government, by contrast – while clearly responsible for many problems which flow from the decline in local services – has at least tried to use its powers at national level to mitigate some of the worst of these impacts on women and their lives, notably through the substantial Additional Child Payment, through slightly higher pay for carers and nurses, and through additional free nursery education, and free school meals up to the age of nine – the kinds of practical support which, while undramatic and minor in some eyes, actually help to make millions of women's lives less stressful and more manageable, from day to day.
So whatever now ensues in what will doubtless be a bitter legal tussle over Alister Jack's section 35 order, let us at least hear no more nonsense about how the Conservative government is riding gallantly to the rescue of Scotland's women, while Holyrood has "turned its back" on them. As feminist campaigners from Govan's magnificent Mary Barbour onward have understood, the empowerment of women requires a strong public realm that enables them to raise and educate their children in good health and reasonable economic security, that provides well for the elderly and infirm, that guarantees women's rights at work both in general and during their childbearing years, and that protects them from violence both in the home and in the public places.
And it follows that every ideologically driven Tory attack on that public realm – every decision, for example, to prioritise tax reductions over social spending – has a disproportionately negative effect on women, curtailing their freedom, limiting their opportunities, and leaving them more vulnerable to bullying and violence, both at home and in the workplace.
If Alister Jack and his colleagues are seriously interested in the welfare of women, those are therefore the issues to which they should address themselves, first and always. And if – as seems almost certain – they fail to do that, they should at least lay off a tiny trans minority who have worked hard and long to achieve the minor easing of the administrative hurdles they face enshrined in the Scottish Bill; and who certainly do not deserve their current position as the distraction of choice for a UK Government now increasingly notorious for the protection of wealth and privilege, at the expense of everything – and everyone – else.
Comments
 0 comments
Want to join the conversation? Please or to comment on this article.