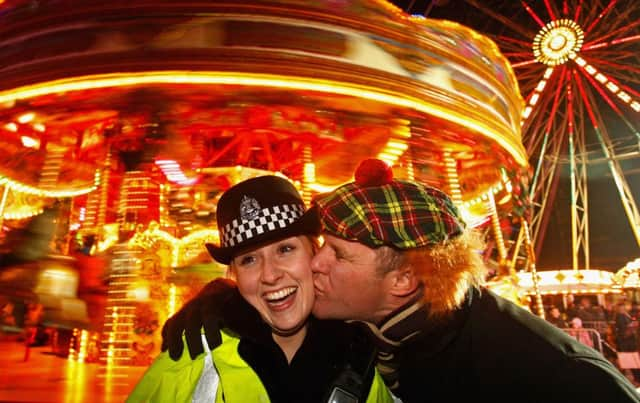 However, I am sure that many former police officers like myself who experienced working under the old set-up hold different views and consider the change as having been intended to bring about greater central control, affect the operational autonomy of the Chief Constable and save money – which it apparently has not.
One could argue that local accountability has been eroded and police officers appear to be virtually invisible on the streets and unresponsive to local policing needs.
As regarding stability at senior levels, Police Scotland's first Chief Constable, Sir Stephen House, left his job after certain policing problems and decisions appeared to be affecting public trust. His successor, Phil Gormley, left his position early and Chief Constable Sir Iain Livingstone, who recently announced his retirement, has warned that budget restraints could affect the level of policing in the future. All in all, it's hardly the rosy picture that Mr MacAskill paints.
Bob MacDougall, Oxhill, Stirlingshire
I note the reference in yesterday's Scotsman that transport has been dropped from the title of the Cabinet secretary believed to be responsible for it.
This would suggest that transport is not viewed as a priority by new First Minister Humza Yousaf's administration. I would suggest that sends out a worrying message that Mr Yousaf's administration has no desire to spend money upgrading and improving roads.
The SNP once pledged that they would dual the A9 between Perth and Inverness by 2025. 2125 might now seem an optimistic date for completing that project.
Scotland is in a calamitous situation but it's not one a Keir Starmer Labour government will reverse.
The problem is simple. Scotland is a de facto colony of Westminster. The devolved Scottish Government does Westminster's bidding because it's a creature of the Union. England, not Scotland, controls the key areas of governance. Westminster controls economic policy where ruinous interest rates and austerity are crushing people; it controls energy policy where Scots pay more than rUK despite producing most of the energy; it dictates foreign policy where Scotland's vote to remain in the EU is ignored; it decides defence policy where WMDs are sited on Scotland's soil against the wishes of its people.
It's hard to imagine a more incompetent and callous government. Unfortunately, Labour subscribes to the same lie that "taxes fund spending". The reality is that the UK Government can spend all the money needed to fund decent public services, including paying people enough to live on. It created plenty of new money to provide Covid support, tax breaks for corporations, bank bailouts, Ukraine, more nuclear weapons. No one asked "who is going to pay?" But when it comes to helping people, the answer is invariably, "we don't have the money".
Labour has morphed into the Tories, making the UK a US mini-me, where the choice for voters is between two right wing corporate lobbying groups.
The Scottish people have suffered long enough under UK hegemony. The path to restoring Scotland's sovereignty, just as it was for England's former colonies, is not through Westminster but through the UN and ICJ. We need a national liberation movement and we need it now.
Leah Gunn Barrett, Edinburgh
LBC's Iain Dale recently interviewed SNP Westminster leader Stephen Flynn. When asked how an independent Scotland would defend itself, "apply to join Nato!" was the reply. He is maybe the one who wants to put all our 18-year-olds in uniform to act as cannon fodder for any Nato conflict. I'm sure all parents and grandparents would be rather concerned at this state of affairs.
This was only eclipsed by his deputy Mhairi Black confronting Tory MPs over their greed in asking for extortionate fees as advisers outside Parliament. She would be better employed asking her chums in the Holyrood chamber how they manage to squander millions of taxpayers' money on misguided projects like unbuilt ferries and other fiascos too numerous to mention.
Never mind Mr Flynn, if you fail in your pursuit of trying to be a credible MP you can always join the list of comedians at the Apollo Theatre in London.
Alexander Sutherland, Aberdeen
The SNP owes its days in office always and only to the inability of its Unionist rivals to agree to stand down in constituencies in favour of the party more likely to win that seat from SNP.
Despite the overriding importance of us remaining within the UK it is a tragedy that it looks like party and personal ambition will continue to be placed above priority and principle. As the nationalists succeed only via "divide and rule", why is this obvious method of dealing with them not being pursued by statesmen and women with Scotland's best interests at heart? Collaboration, not competition, please.
Tim Flinn, Garvald, East Lothian
The Ministry of All the Talents was a government of national unity by William Grenville following the death of Pitt the Younger. Humza Yousaf has done the opposite with his first cabinet. He has appointed a government of none of the talents. Yousaf has promoted a Cabinet of lackeys for whom mediocrity is an aspiration.
The appointment of Shona Robison as finance secretary and Deputy FM, and Shirley Anne Somerville as social justice secretary is beyond parody. Yousaf didn't even see fit to appoint a Minister for Transport.
The hubris and sense of entitlement the SNP payroll faction has is disgusting. MP Alyn Smith has said that anyone who does not support the unpopular and controversial GRA should leave the SNP. This must serve as a warning to Joanna Cherry, Ash Reagan and Kate Forbes and others that expulsions are being planned for those who refuse to fall into line. This has long been the goal since the woke cult captured the SNP. They will tolerate no dissent.
The next "progressive" policy that Yousaf intends to ram through is abolition of trial by Jury in sexual offence cases. This will hand power over to the Crown and is an attack on individual rights. This policy has not been discussed or debated by the SNP membership. Opponents will be smeared, ignored and their concerns dismissed.
Self-righteous sanctimony won't win elections. The SNP payroll faction whose income stream depends on Westminster will be in for a shock. Alienating the base risks them staying at home.
This will then open the door for the return of Unionist MPs to Westminster.
It was good to hear ham radio amateurs broadcasting from the BBC studios in Glasgow this month to mark the centenary of the corporation broadcasting in Scotland. This was a salient reminder of the role of public service radio in a healthy liberal democracy.
Meanwhile, Auntie's own output from those massive studios falls increasingly short of the Reithian ideal.
Let us consider a typical Radio Scotland schedule for one week this month as an example. By my calculation it consists of the following original content: news and news discussion, 51 per cent; pop and rock music, 11 per cent; magazine discussion, 11 per cent; sport (in fact, mostly football), 10 per cent; music request shows, 8 per cent; comedy, 3 per cent; Scottish traditional music, 2 per cent; classical music, jazz, country music, folk music, contemporary music and outdoors pursuits, 2 per cent each; in-depth interviews, religion and food, under 1 per cent each.
The news and football numbers are actually understated as most hours of programming include a bulletin of news, weather and sport (for which, again, read football).
Although classical music and jazz each just represent 2 per cent of output, the station reportedly plans to reduce this to zero by dropping the excellent shows Classics Unwrapped and Jazz Nights. Both highlight local events and artists. The station's only dedicated piping programme is also at risk.
Meanwhile, even before these barbarian cuts, there are gaping omissions from the schedule. There is hardly any religious content. There are no shows devoted to topics relevant to many listeners including farming, business, science, history, literature, education, family life, skills building and health.
So what is all that bandwidth, airtime and money being used for?
Sports coverage is dominated by football with the occasional mention of rugby and nary any of other athletic pursuits (the predictable exception being a recent investigation into allegations of racism in Scottish cricket, which received much more coverage than I ever recall the station giving the game).
I suggest a morning, lunchtime and evening bulletin of factual news reporting would keep listeners happier, healthier and better informed than the current hours daily of reactionary whining, often pointless conjecture and opinionated posturing.
To merit its radio bandwidth and extensive funding, Radio Scotland ought to do a far better job of educating, enlightening and entertaining its listeners across a wide variety of subject areas. Alas, it proposes to do the opposite and make an already lopsided schedule even more so by axing three fine specialist music shows.
Christopher Ruane, Lanark, South Lanarkshire
We welcome your thoughts – NO letters submitted elsewhere, please. Write to [email protected] including name, address and phone number – we won't print full details. Keep letters under 300 words, with no attachments, and avoid 'Letters to the Editor/Readers' Letters' or similar in your subject line - be specific. If referring to an article, include date, page number and heading.