Labour leader Sir Keir Starmer says SNP has 'run out of road' in Scotland
Sir Keir Starmer has moved to seize momentum on the back of the SNP's increasingly fractious leadership contest, insisting that the party has "run out of road," and is no longer at the centre of the argument about change in Scotland.
The Labour leader said the "spectacle" of the candidates "tearing bits out of each other" had laid bare the party's woes, with the race to succeed Nicola Sturgeon "collapsing into itself" even before a single vote has been cast by its members.
Speaking during a visit to South Lanarkshire alongside shadow chancellor, Rachel Reeves, and Scottish Labour leader, Anas Sarwar, Sir Keir also dismissed calls to rejoin the EU single market. He insisted that his party had a "laser focus" to deliver the highest sustained growth of any G7 country, which would be "transformational for Scotland."
With the SNP leadership contest dominating headlines, Sir Keir said the quality of the debate demonstrated that the party was out of ideas. He said Humza Yousaf, Kate Forbes, and Ash Regan were focused on an "inward facing argument" about "how bad their record in government has been," instead of addressing the concerns of the wider public.
"For people in Scotland who know very well that their living standards aren't where they need to be, and the health service isn't where it should be, the spectacle of these candidates tearing bits out of each other on just how bad they've been in office tells you all you need to know about how far the SNP has run out of road," he told reporters.
"It was in a cul-de-sac, it's now completely stuck, and that means the argument about change in Scotland is no longer an argument that belongs anywhere near the SNP. The change in Scotland is not, 'Who's going to be the next leader of the SNP?' It's the Labour party taking us forward."
Asked for his view about the SNP contest, Mr Sarwar said Labour "do not fear any of the candidates," and suggested that even the most ardent SNP supporter" would accept that none of them are "of the calibre of Nicola Sturgeon." He added: "If Nicola Sturgeon can't fix our NHS, how's Humza Yousaf going to fix our NHS? If Nicola Sturgeon couldn't fix our economy, how is Kate Forbes going to fix our economy? If Nicola Sturgeon couldn't pull our country together, how's Ash Regan going to pull our country together?"
In a visit designed to set out Labour's commitment to help Scottish businesses, bolster start-up enterprises, and revitalise the nation's economy, Sir Keir and his Labour colleagues toured Siemens' rail automation depot in Cambuslang, and met with some of the firm's young apprentices.
Only last week, Juergen Maier, the former chief executive of Siemens UK, said it should be possible to ensure Scotland and other parts of the UK receive the same access to the EU single market as enjoyed by Northern Ireland. Mr Maier has previously called on Labour to shift to a European Economic Area model that would allow freedom of movement for workers.
Asked by The Scotsman how he could win the support of businesses in Scotland without addressing the issue of Brexit, Sir Keir said: "Of course everybody recognises that the deal Boris Johnson got with the EU is not good enough, and that's why we've said that we would improve on that deal with a closer relationship with the EU. That's been very well received by businesses here in Scotland, they know that we've got to do that - fixing the protocol was step one of that.
"But equally, if you look at the problem with living standards, productivity that's lower than it should be, and start-ups failing at a greater rate than the rest of the UK - this is in Scotland, which has a strong economic history. Most people acknowledge that's not just a Brexit problem, that's been going on a lot longer than Brexit, and therefore we've got to fix the fundamentals."
Mr Sarwar was also asked how Scottish Labour would fix the issues around the Scottish Government's Gender Recognition Reform Bill, legislation that was supported by the vast majority of the party's MSPs, including Mr Sarwar. Since being passed by Holyrood, it has been blocked by the UK government. Whoever succeeds Ms Sturgeon as first minister will have until mid-April to decide whether to challenge that position.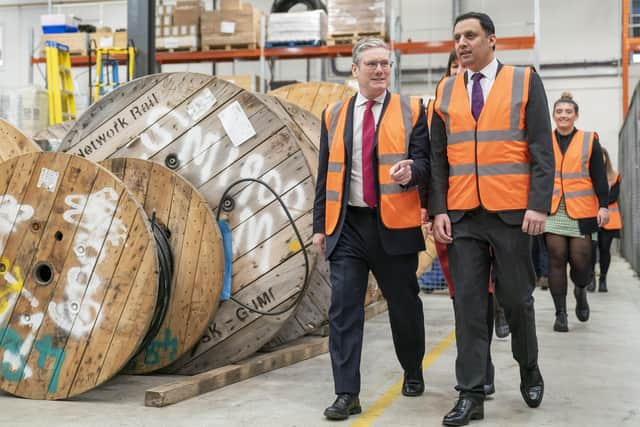 Mr Sarwar said the current impasse represented an opportunity to "reset the entire debate," explaining: "If we're being honest with ourselves, nobody feels like they've won. Everyone feels like they've lost.
"I don't think anyone in our trans community feels like they're any more protected since the passing of the GRR bill. And I don't think any of the women that had legitimate concerns feel any more protected or reassured since the passing of the bill. I think a new leadership is an opportunity to reset and to try and change the way this is going, so we can find the consensus way forward, rather than pitting community against community."
Sir Keir, asked if he would pursue gender self-identification legislation if he becomes prime minister, said the issue was "not a priority" for Labour. "I've made absolutely clear what my priorities are," he added. "We will inherit a very badly damaged United Kingdom, a badly damaged economy, public services on their knees, and living standards that have been, at best, stagnant for well over a decade."
Comments
 0 comments
Want to join the conversation? Please or to comment on this article.