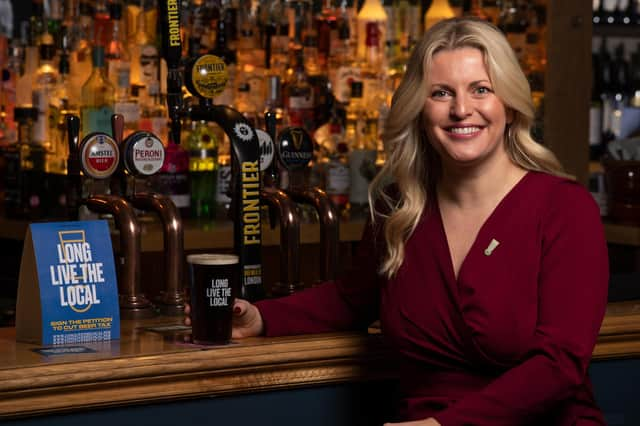 Twelve months on and these things still hold true, but the impact of Covid-19 on our sector has been devastating.
In a normal year, pubs contribute over £1.1 billion to the economy and employ more than 45,000 people across Scotland. Since the first lockdown over 7 million pints have been poured down the drain, the vast majority of employees in the sector have been furloughed, 4% of Scotland's pubs have closed for good and many more are teetering on the edge.
Even closed, pubs have played a vital role supporting communities during the pandemic, donating food to those in need, being a friendly neighbour to the lonely, volunteering and rallying morale, albeit digitally or from a distance. The pub sector, which is ordinarily a thriving part of the fabric of society, is facing a threat to its very existence and will need support from parliamentarians and policy makers to recover.
Despite the challenges of the pandemic pub companies have stepped up to support their tenants. They have provided financial support ranging from complete cancellations of rent to substantial discounts, guidance on the myriad of rules, and supported tenants with managing stock levels, maintaining closed premises, and mental health wellbeing.
Pubs were also at the forefront of creating safe spaces for the public to meet with pub companies investing almost £7 million installing Covid-friendly measures such as Perspex screens, sanitisation equipment, signage and staff training.
We've welcomed the support the Scottish Government has provided to our sector, and the success of the vaccination roll-out gives us cause for hope that we can turn our attention to the safe reopening of society and of pubs that are fundamental to our communities and economy.
To achieve this, we need politicians to work with industry to safely reopen and institute policies to help it recover; and just as importantly, not hinder this vital recovery.
The Tied Pubs (Scotland) Bill currently going through the Scottish Parliament is a significant and unwelcome intervention into the market which will damage industry confidence, halt investment, add to taxpayer burden, close off a route to market for budding entrepreneurs, and create an expensive levy on pubs.
The Bill passed Stage 1 against the recommendation of the Economy, Energy and Fair Work Committee which said there was no evidence the legislation was required. And yet, the Bill continues to progress against the will of both tenants and pub companies. Parliamentarians need to wake up to the ruinous impact this legislation will have on the sector and ensure they take steps before it's too late.
Firstly, MSPs should remove the arbitrary deadline the Bill imposes on the Scottish Government to implement its most complex clauses. This will give the Government the time to focus on ensuring the recovery of the Scottish economy.
Secondly, MSPs should remove the market-rent only clause and give pub companies confidence that Scotland is a place where industry investment is encouraged.
Finally, MSPs should create a cross-party 'Scottish Pubs and Brewers Sector Strategy and Recovery Plan' outlining a roadmap back to success for the sector.
As an industry we have shown ourselves to be adaptable throughout the pandemic, and our pub companies have demonstrated their commitment to sustaining the industry. Scotland's economy benefits when there is a thriving beer and pubs sector. So, let us work together to foster our vibrant Scottish pub sector back to health. The pub as we know it could be changed forever by these last 12 months. We need to focus on rebuilding the beer and pub sector not adding further risk and harm.
Emma McClarkin, CEO, Scottish Beer & Pub Association