Just Stop Oil's protests are even annoying people who agree with them about climate change – Aidan Smith
It's rich of the Tories to call Just Stop Oil 'clowns' when they gave us Boris Johnson and Liz Truss but the protesters should rethink their strategy
My wife never tells me how much she spends on her pilgrimages around the country to pledge undying love to Gary Barlow, either solo or with Take That, and I really don't want to know. But I never miss a chance to remind her that until just a few years ago, before they sadly split up, a band called Wolf People playing my kind of music in a dingy basement in Glasgow's Sauchiehall Street cost just £9.
Each to his or her own. We sign up and save up. Cultural events are ringed in the calendar for many months hence. Possibly they're bucket-list, the act or show we've always wanted to see. Or big sport, a visit to one of the great arenas. Plus, to make the treat extra-special, dinner and a nice hotel. This has been a tough year. We deserve it. Can't wait…
And then the eco-warriors go and spoil it all by saying something stupid like: "The planet is dying! We must act now!" Not stupid. The cause is valid and vital. But how the activists are going about promoting it simply isn't working.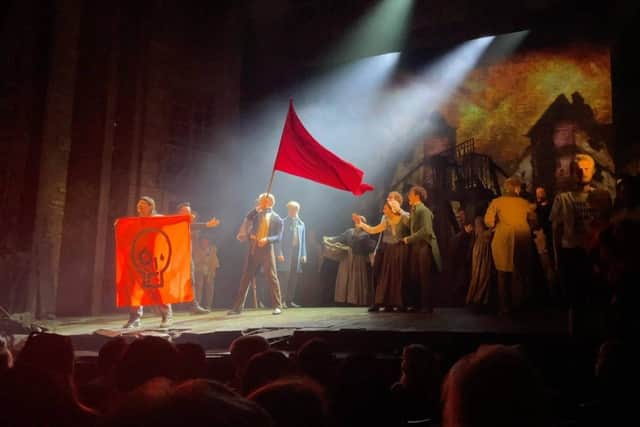 Last week Just Stop Oil (JSO) disrupted a performance of Les Miserables in London. This followed similar direct action demos during The Ashes, Wimbledon, the World Snooker Championships and when tomato soup was flung at Van Gogh's Sunflowers.
Les Mis has been a West End fixture for decades and yet some in the audience will have been seeing it for the first time, involving much anticipation and no little expense. Maybe a few superfans were seeing it for the 57th time but no one in the audience wanted their evening ruined. How many, though, left a musical about an anti-monarchist revolution in 19th-century France vowing to join the climate revolution in 21st-century Britain? None, probably.
The fallout of negativity from the Les Mis incident was typical. The "climate catastrophists" were "selfish". They were "attention-seeking". They were "clowns". They were – damning, this – "middle-class". One right-wing columnist counted in the Hannahs, Noahs and Zoes and counted them out. Previously, in the same paper, a fellow ranter 'n' raver had come up with this insult: "trust-fund toddlers with mental health issues" who were full of "self-importance and entitlement".
At the same time as the musical was being stormed, Rishi Sunak at the Conservative conference was justifying why he's pushing back climate-related targets. And then the green energy magnate who'd been backing JSO announced a halt to his funding. Dale Vince, who will instead funnel money into Labour's general election campaign, said the group's tactics were not having the desired effect. "Anything that could feed the Tories' culture-war narrative is counter-productive," he said.
It's a bit rich, by the way, that the government's loyal opinion-formers should throw around insults like "attention-seeking" and "clowns" when Sunak's predecessors were Liz Truss and Boris Johnson. Critics of JSO and its make-up can be as catty as they like but, certainly, if you study reportage from the earlier struggle – Insulate Britain, some of whose members later joined JSO – then a different picture emerges.
Here were ordinary folk in community-spirited jobs and positions: care worker, teacher, councillor. For Biblical resonance, there was even a carpenter. They were not instinctively looking for trouble, agonising beforehand about the planned motorway sit-downs. One asked himself: "How has it come to this point in my life when the most useful thing I can think to do is try to stop people going to work?"
They handed out leaflets explaining their actions – buildings are responsible for a quarter of greenhouse emissions, Britain's homes are some of the least energy-efficient in Europe, insulation would also save lives – and apologised for the inconvenience caused. Lanes were left clear for ambulances and fire engines. There was a belief that because the disruption would get attention, the public would take the protestors more seriously if they saw they were willing to make the sacrifice of being arrested and jailed.
JSO then upped the ante. This probably had to happen. But, more than holding up commuters, disrupting showpiece sport and theatrical performances has jarred. And, if you've been a spectator when things have come to a juddering halt, it's enraging.
Fundamentally I sympathise with the struggle but have also been amused by the biteback of prankster Archie Manners. He's sympathetic too, saying: "Obviously, climate change is real and needs urgent solutions, but [Just Stop Oil] are not achieving anything. They're just p***ing people off." And he turned his statement into a T-shirt slogan, recruiting actors to disrupt JSO's disruption of traffic.
It was the snooker protest which moved him to act. "I don't know the last time snooker caused an environmental problem," he said. "As far as I can tell, it's people gently tapping balls around on green baize. It's not as if anyone from the United Nations was there. Who's at a snooker tournament who is either responsible for climate change or can do much about it? There was no royal box with Rishi Sunak in it. [JSO] are well-meaning but their tactics aren't working."
Manners reckons some of the eco-warriors attended his posh public school. He's a smart fellow with a flair for a witty stunt. Could they perhaps convert him to the cause?
Comments
 0 comments
Want to join the conversation? Please or to comment on this article.