Patrick Harvie says he 'will never condemn' climate activists who break the law
The Scottish Green co-leader also attacked Rishi Sunak's watering down of climate policies.
Patrick Harvie said he would "never condemn" those who break the law as part of campaigns designed to push governments to take more action on climate change as he faced criticism for what critics said are "reckless and dangerous" protests.
The Scottish Green co-leader also labelled Rishi Sunak's speech announcing the watering down of key climate policies as "profoundly worrying" and accused the Conservatives of taking advantage of "outright climate denial".
The zero carbon buildings minister added the Prime Minister's pledge to delay the ban on sales of petrol and diesel vehicles by five years – to 2035 – will have a knock-on effect on Scotland's net zero ambitions.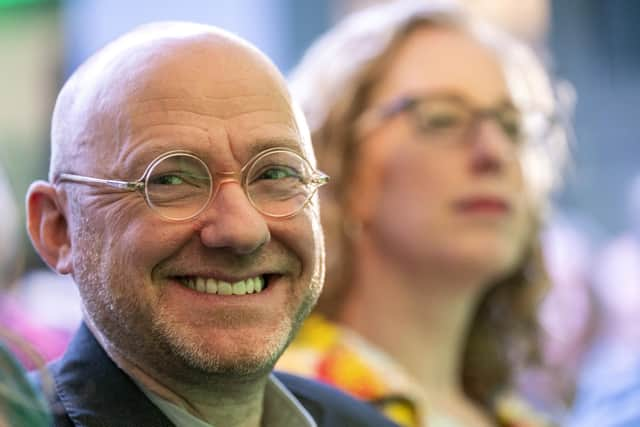 Last week, Mr Sunak also weakened the plan to phase out gas boilers from 2035 to require households struggling the most to refrain from the change, with Scottish ministers now "urgently" assessing how the news will impact targets north of the border.
Mr Harvie's failure to condemn those who break the law as part of climate protests comes as TV naturalist Chris Packham's documentary Is It Time To Break The Law? aired on Wednesday on Channel 4, exploring the issue of whether environmental activists are right to break the law in their pursuit of climate action.
Suella Braverman, the home secretary, labelled the tactics raised by Mr Packham and campaign groups such as Just Stop Oil as "a militant, aggressive approach to prosecuting their cause" and said they were "totally unacceptable".
Asked by BBC Scotland's Sunday Show whether he agreed with Mr Packham that it was time for activists to break the law or whether the rule of law should be followed, Mr Harvie said he had "immense sympathy" with those who are faced with the question.
"Many people have found themselves effectively feeling disempowered and feeling the only way they can take some power into their hands is to take part in direct action," he said.
"I will never condemn that. It should be peaceful direct action. I've taken part in peaceful direct action myself in the past."
Pressed on whether he would condone lawbreaking, he added: "What I would say on this is that the only thing that is going to prevent people from taking ever more desperate action is government bringing the urgency to this that it demands.
"The Scottish Government is determined to, but we're being held back by a UK Government that is saying climate change is our next wedge issue, the next front in the culture war."
However, Scottish Conservative net zero spokesperson, Douglas Lumsden said such a response was "weak" and "irresponsible".
"It's no wonder extremist protesters think they can get away with law-breaking, when these are the comments from a government minister," he said.
"Publicity-seeking protests such as those witnessed at the World Cycling Championships last month are reckless and dangerous, often putting the life and limb of both protestors and the public at risk.
"It's disgraceful and downright irresponsible for the Green minister to refuse to condemn disruptive and dangerous law-breaking, simply because it comes from hard-line climate activists."
"People in Scotland are sick and tired of these childish stunts, and will be shocked by Patrick Harvie's weak refusal to denounce these acts."
Mr Harvie also labelled the Prime Minister's changes to climate policies as "profoundly worrying" and "deeply irresponsible", and criticised the failure of the UK Government to speak to the devolved administrations before making his announcement.
The Scottish Government is to undertake a review of its climate policies and whether they are impacted the announcement following the speech by Mr Sunak, but it is clear that many of the ambitious targets – which have been missed in eight of the last 12 years – are highly likely to continue to not be met following the change in policy.
The Scottish Green co-leader also attacked what he characterised as "outright climate denial", suggesting the Conservatives "love" taking advantage of those sceptical of Net Zero policies.
He said: "What the UK Government wants is to use this as a wedge issue between those who say we need to take action and those who say no, we don't need to.
"As a result, within minutes of him making that speech, the phrase 'Climate Scam' was trending on Twitter.
"We're now seeing outright climate denial on a scale we haven't seen before and the Tories love it."
Mr Harvie also added that businesses would be put off investing in the required infrastructure around electric vehicle charging points because of Mr Sunak's comments, saying: "I think they've got a damn nerve, to be honest.
"What we need if we're going to see not just public charging points, which we have been rolling out, but you need all sorts of other organisations to start installing their own charging points as well.
"Without that sense of when policy changes are coming, when regulatory changes are coming, why would they bother investing in the UK given that lack of clarity?"
His comments came after Scottish Tory figures showed the Scottish Government's target to install 30,000 electric car-charging stations could be missed by 12 years, with the party urging the Scottish Government to follow in the footsteps of the Prime Minister.
Scottish Labour's net zero spokesperson Sarah Boyack said "Both of Scotland's governments are failing on the climate emergency and we are all paying the price.
"The Tories have simply stopped trying while the SNP-Green government scrambles to hide their own dismal record with excuses and spin.
"They have both missed key climate targets and worsened the cost of living crisis by pushing up bills and sending quality green jobs abroad."
Comments
 0 comments
Want to join the conversation? Please or to comment on this article.