Libya floods: 'Calamity of epic proportions' as floods claim more than 5,200 victims
A spokesman for Libya's eastern government said a quarter of the city of Derna had been swept away
Rescuers have found more than 5,200 bodies in the Libyan city of Derna alone, with thousands more people still missing after floodwaters broke through dams, washing away entire districts.
The United Nations said the deadly floods in Libya were a "calamity of epic proportions" and warned 30,000 people had been displaced from their homes.
Three aid workers have died while rescuing survivors. More victims are expected to be found in other eastern settlements, including Shahhat, Al-Bayda and Marj, which were also hit by the flooding after Storm Daniel swept through the country.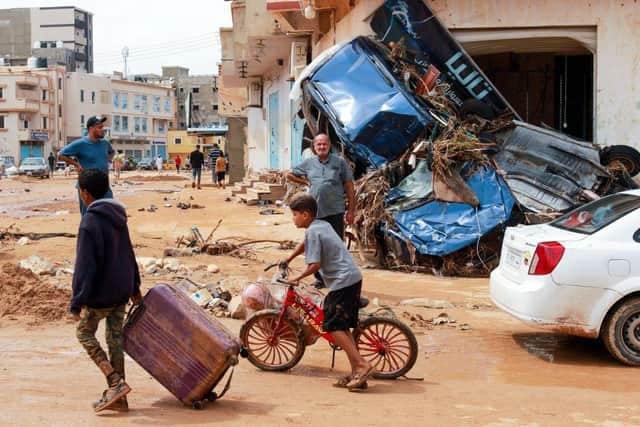 Tarek al-Kharraz, a spokesman for the interior ministry of the government that oversees eastern Libya, told Libyan media that a quarter of Derna had been destroyed or washed into the sea.
Hampden Park fell silent on Tuesday night as those watching the Scotland-England football match remembered victims of the flooding, as well as the recent earthquake in Morocco.
As the storm pounded the coast on Sunday night, Derna residents said they heard loud explosions when the dams outside the city collapsed. Floodwaters washed down Wadi Derna – a river running from the mountains through the city and into the sea.
"There's not been a storm like this in the region in living memory, so it's a great shock," said Margaret Harris, spokesperson for the World Health Organisation.
Local rescuers used inflatable boats and helicopters to retrieve bodies from the water and inaccessible areas.
They said some bodies had to be buried before they could be identified due to conditions in Derna, adding they had photographed them to allow identification at a later time.
The International Federation of Red Cross and Red Crescent Societies (IFRC) said aid workers Hamdi Belaid, Khaled Adwal and Abadi Al-Kharm died while helping some of the Derna town residents trapped by the floods.
IFRC secretary general Jagan Chapagain said: "I express our profound sadness and send my deepest condolences to their families and our colleagues at the Libyan Red Crescent."
Aid efforts are hampered by turmoil in the country, which is split between the interim, internationally recognised government in Tripoli, headed by prime minister Abdul Hamid Dbeibah, and a rival one in the east, where the flooding took place. A 42-year rule by former leader Muammar Gaddafi came to an end in 2011, when he was overthrown in a major uprising.
The floods also damaged or destroyed many access roads to Derna. This has hampered the arrival of international rescue teams and humanitarian assistance to tens of thousands of people whose homes were destroyed or damaged.
Elie Abouaoun, country director of charity the International Rescue Committee, said: "Ambulances are in need of repair, [while] physical access challenges and needs for logistical support are making it difficult for health volunteers to reach affected areas."
Known for its white-painted houses and palm gardens, Derna is about 560 miles east of the capital Tripoli. Much of Derna was built by Italy when Libya was under Italian occupation in the first half of the 20th century.
"The city of Derna was submerged by waves 7m high that destroyed everything in their path," said Yann Fridez, head of the delegation of the International Committee for The Red Cross in Libya. "The human toll is enormous."
Libya's internationally recognised government sent planes with aid supplies to the eastern part of the country, where the flooding took place, in a sign of solidarity and unity across the divided country. However, the Tripoli government appeared conflicted on whether international aid was necessary.
Muhammed Al-Manfi, chair of the Presidential Council of the State of Libya, said in a speech on Wednesday morning the catastrophe was beyond Libya's capabilities and called for more international aid.
Meanwhile, prime minister Mr Al-Dbeibah insisted Libya did not need aid.
"We do not need aid, not even medication or equipment, nor doctors or ambulances", he said. However, he admitted rescuers "have a problem in retrieving the bodies from the sea".
He also confirmed that 2.5bn Libyan dinars (£413m) have been allocated "to kick off reconstruction in those areas".
Aid workers also disagreed with Mr Al-Dbeibah.
"The response in Libya for so long has been underfunded," said Dax Bennet Roque, the Norwegian Refugee Council's country director for Libya. "There's an urgent need for international help."
Libya's Al-Wasat news website has quoted experts saying a delay in rebuilding the eastern Libyan city of Derna and maintaining proper upkeep of its dams contributed to the disaster.
Two Libyan analysts were quoted as saying proper maintenance had not been carried out at the facilities.
"The security chaos and Libyan authorities' laxity in carrying out close monitoring of safety measures, of the dams, led to the catastrophe in Derna," it quoted economic expert Mohammed Ahmed as saying.
"Both factors will continue to lead to more catastrophes, not only in relation to the water sector, but also energy."
Comments
Want to join the conversation? Please or to comment on this article.