Humza Yousaf's SNP government may not be as business-friendly as it claims – John McLellan
A slump in advertising jobs in Scotland contrasts with big increases in parts of England, in a worrying sign for the wider economy
When businesses hit choppy waters, the first belts for tightening are usually expenses and marketing; no more pre-match lunches at the football or rugby, economy travel only, no tables at charity bashes. And if things don't pick up, the bean-counters' unforgiving gaze falls on the advertising budget.
There will be boardroom arguments about not being able to ride out a slump by stopping pushing the products, debates about trading off research budgets to pause new product development, and counter-arguments that if existing lines are struggling despite marketing, then new products are essential. The chief executive faces tough choices; we're losing money and we don't want to sack people because that costs money too, but if we cut costs now to consolidate our position, we'll review conditions in six months' time and hopefully we can reboot the company, recharge our batteries and return to market with a fresh approach.
Then the sales and marketing director picks up the phone to the advertising agencies. "Really sorry, but we're putting the new campaign on ice. We might come back to it in six months, but let's keep the conversation going. Maybe see you at Luffness on Saturday..." Multiply that across the sector, and the creative companies who devise campaigns and the buying agencies who place the ads have a big problem, and if trading conditions don't pick up, fewer commissions mean fewer employees. A growing, confident, entrepreneurial economy will support a thriving advertising sector, but as a bellwether industry which feels the first effects of headwinds, a significant drop in advertising employment is a symptom of a wider malaise, with those at the sharp end ideally placed to identify the causes.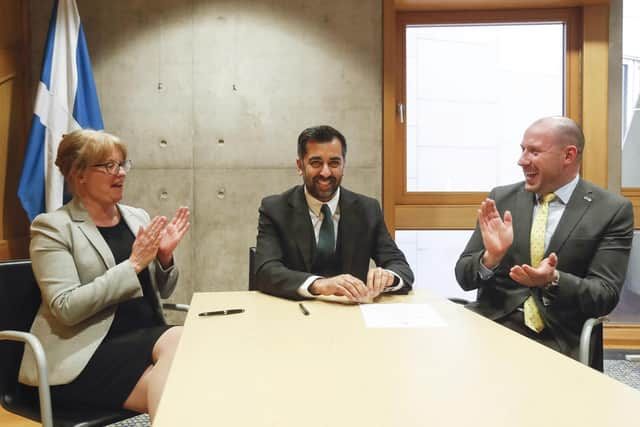 Where better to find out what's happening at the heart of Scotland's economy than the largest annual gathering of advertising executives, the Advertising Association's LEAD conference at the Royal Museum of Scotland last Thursday, and it opened with sobering statistics. According to analysis of Office for National Statistics data, direct employment in the Scottish advertising sector fell from 4,500 in 2015 to 3,000 in 2021, and related media representation posts from 700 to 300, a total decline of 34.6 per cent.
But advertising jobs in Britain grew by four per cent in the same period, with 12,000 more in London, so the problems are closer to home than UK factors like Brexit or other global influences beyond Scotland's control. Nor is it the Imperial capital sucking all towards it like an economic black hole, because the biggest percentage growth was in North-West England with 7,250 more jobs, giving it a 13 per cent share of all UK advertising employment compared to Scotland's two. Manchester alone attracted 4,550 new advertising jobs.
The numbers don't lie, and the inescapable truth is Scotland is a less attractive place to invest and live than other parts of the UK, and declining advertising employment is one result. Advertising Association research estimates that every pound spent on advertising in Scotland generates £5 for the whole economy ─ pre-pandemic, £1.7 billion was spent on marketing, generating an estimated £8.8bn for the wider Scottish economy ─ so the reverse must be true, that every pound not invested in advertising results in the economy being £5 worse off than it might otherwise have been.
At least First Minister Humza Yousaf appeared to recognise part of the problem in his Programme for Government statement two weeks ago. "Scotland has long been a nation of innovation and invention. But for all the excellent success we have had, we also have to be honest, we haven't always managed to retain that entrepreneurial talent, and the jobs that they create, here in Scotland," he said. Not surprisingly, there was no acknowledgment that the promise of even higher taxation might be part of the problem.
But there was denial, claiming "Scotland's economy already performs better than most parts of the UK", as if drawing comparisons with the poorest-performing parts of England can be counted as success. It is true, as the First Minister said, that Scotland has world-class universities ─ St Andrews beating Oxford to the top of the new Sunday Times Good Universities league ─ but if one regional English city can attract 4,550 new advertising jobs while the whole of Scotland loses 1,900, something is going badly wrong at a fundamental level, and Mr Yousaf's government should be doing all it can to identify the causes.
Indeed, Neil Gray, the Cabinet Secretary for Economy, Fair Work and Culture whose responsibility this is, said three weeks ago they were "looking to make sure that we are doing what we can…supporting our first-class business, ensuring that they have a good operating base, a good landscape within which to do business". Against that background, Mr Gray could have found the time to visit the LEAD conference, to speak to delegates and understand what Manchester is doing that Scotland isn't.
But he was nowhere to be seen, despite having been invited to attend, and its importance emphasised at the highest levels. It was an opportunity to show the advertising sector the Scottish Government has got its back, and as it spends £23 million a year on marketing itself, it has a direct interest. Appearing instead to turn its back, suggests the new, supposedly business-friendly SNP hasn't changed much at all.
Comments
 0 comments
Want to join the conversation? Please or to comment on this article.