Humza Yousaf's SNP conference speech may have sounded good, but fundamental questions about competence remain – Scotsman comment
Some politicians appear to confuse good government with spending large amounts of public money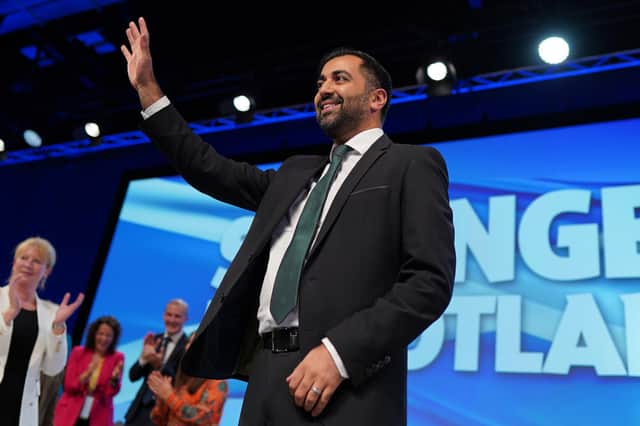 In his speech to the SNP conference, Humza Yousaf came across as a decent man with many of the right instincts. However, while it was well-delivered in the hall, a dispassionate assessment of the actual content of his speech produced a much less appealing impression – one of a badly organised laundry list of eye-watering spending pledges.
In a sense, this was a sign that the First Minister understands that the public mood has shifted. In urging nationalists to stop thinking so much about the "how" of independence and start trying to convince others about the reasons "why", he was essentially telling supporters to put their ultimate goal on hold and wait until support rises higher before renewing efforts to quit the UK.
In the meantime, his speech seemed to say, Yousaf would focus on providing his version of good government – reducing NHS waiting lists, tackling the cost-of-living crisis and trying to improve the economy. There was an extra £300 million for the NHS over the next three years; "up to" £500 million over the next five years "to anchor a new offshore wind supply chain right here in Scotland"; a doubling of government funding for the arts and culture sector; and, on top of all that spending, council tax is to be frozen again.
If this money is well spent, Scotland should see a real difference, we should all notice. However, Yousaf appears to be among those politicians who confuse 'good government' with making massive spending pledges. What this actually does is significantly up the stakes. If it is badly spent – as seen with the two delayed, over-budget ferries in the government-owned shipyard on the Clyde and the shambolic deposit return scheme – it could leave the Scottish Government's finances in an even worse state than they are today.
While you might not have guessed it, the government is facing a considerable hole in its budget next year, with estimates in May putting the gap between revenue and spending at £1 billion. So the obvious question is how do ministers plan to pay for all this spending and will it require swingeing cuts in other areas? Local authorities' finances have been cut to the bone by years of underfunding and the previous lengthy council tax freeze. Will they be fully compensated as the government insists or could they be forced to slash vital services yet further? Is that a price they must pay for a feel-good announcement ahead of next year's expected general election?
The major problem is that the SNP's track record in government is simply not good enough, not competent enough, to provide much confidence that all this extra spending will make a real difference and not be wasted. We hope to be proved wrong but our pessimism is based on experience.
Nicola Sturgeon's infamous admission that her government took its "eye off the ball" over Scotland's shocking drugs-death rate as it soared to by far the highest in Europe is a case in point. Everyone knows the SNP's eye is always on independence, a constant preoccupation that is also a constant distraction from the everyday business of government.
After 16 years in charge, the SNP have realised that voters are deeply unhappy and are attempting to avoid taking any blame by insisting this is a "Westminster cost-of-living crisis", as Yousaf did yesterday. Letting our leaders have such an easy way out would be a mistake. Voters should insist their politicians are obsessed with the 'day job' of government. Those who belatedly seek to convey this impression by resorting to largesse at the public's expense should be treated with, at the very least, caution.
Comments
 0 comments
Want to join the conversation? Please or to comment on this article.