HS2, ferries and the A9: Scottish and UK governments are a national embarrassment – Euan McColm
It's downright embarrassing that UK and Scottish politicians cannot do what other nations across the world can
Given the already chaotic history of the project – construction of the first section between London and Birmingham has been riddled with delays and cost increases and a plan to link the Midlands to Leeds was axed two years ago – it's perfectly reasonable for us to assume the line will not proceed north of Birmingham. Sunak's failure to deliver a definitive answer is a tawdry bit of political game-playing.
Here in Scotland, we've had time to get used to the idea we won't benefit from this new piece of transport infrastructure. A proposal to run HS2 north of the Border was killed off long ago. Not that we Scots have much of a moral high ground upon which to stand when it comes to the completion of transport projects.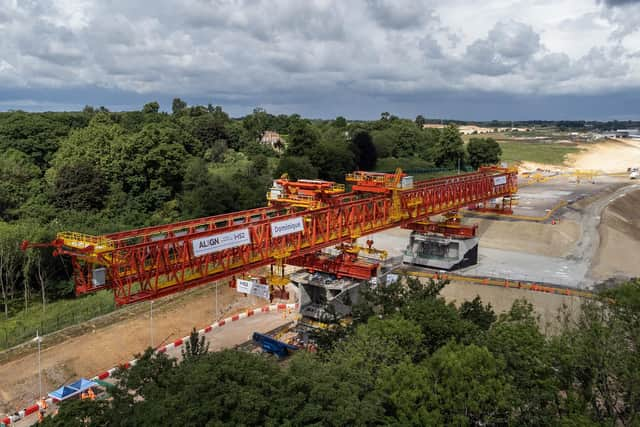 The Scottish Government's plan to build new ferries serving the islands has been an absolute fiasco, with delay upon delay and soaring costs. We've reached the stage where it would be more cost-efficient for ministers to scrap the second ferry and put a new contract out to tender.
Meanwhile, promises to fully dual the A9 have been repeatedly broken. Sure, some sections of the trunk road – which runs from Falkirk in the Central Belt to Thurso in the north – have been widened but huge swathes of it remain single-carriageways. It is not merely frustrating that both the UK and Scottish governments are so spectacularly inept when it comes to completing these crucial infrastructure projects, it's downright embarrassing.
Nations across the world are capable of improving and maintaining transport links. That they routinely do so is unremarkable because – and this might come as a surprise to ministers at both Westminster and Holyrood – ensuring people can move around freely is one of the minimum requirements of functioning governments.
It's entirely reasonable for us to expect those we elect will ensure that transport networks are fit for purpose. I'm afraid both of our governments have been putting political point-scoring above national need when it comes to recent projects.
The SNP wished to be seen as the party which revived Scotland's shipbuilding industry and so awarded ferry contracts to Ferguson when it was clear that a more cost-effective – and efficient – decision would have been to have the vessels built overseas.
Meanwhile, Sunak leads a Tory party languishing in the polls and prefers to devote his attention to voters in the south who might still be persuaded to back him at the next general election than to proceed with an HS2 project that will serve voters in the north of England who've long since given up on the idea they're more than an afterthought to the current UK Government.
Whether it's HS2, Scottish ferries, or the long overdue dualling of the A9, politicians woozy on a cocktail of cynicism and incompetence have let us all down.
Comments
 0 comments
Want to join the conversation? Please or to comment on this article.