Exclusive:

Ferguson Marine ferry fiasco: Work rate must 'increase considerably' to meet completion deadline – Scottish Government buyers

Caledonian Maritime Assets raises alarm over shipyard's 'ambitious target'
Fears have been raised about a further setback to one of the two hugely-delayed Ferguson Marine ferries being built for CalMac after it emerged the Scottish Government's vessel-buying firm warned two months ago that the work rate would have to "increase considerably" to meet its completion deadline.
News of Caledonian Maritime Assets Limited's (Cmal) concern about hull 802 comes days after the Port Glasgow shipyard announced the ship's launch into the water during construction had been put back by up to four months.
The ferry, whose name is due to be unveiled this week from a shortlist of Glen Cloy, Glen Rosa and Claymore, is due to be completed at the Scottish Government-run yard by December 2024 to serve the main Arran route to Brodick.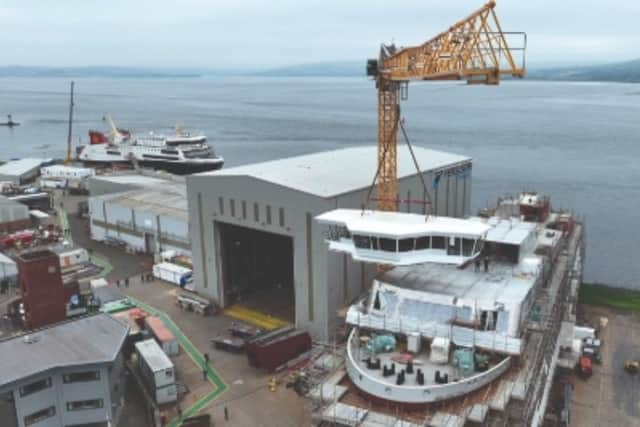 It will operate with sister vessel Glen Sannox, which Ferguson Marine said last week would not be finished until at least March – three months later than the previous target date and six years after it was originally due to have been completed.
The two 102m (335ft) long vessels, which will be CalMac's second largest with a capacity for 127 cars or 16 large lorries, are also more than three times over their original combined £97 million budget.
The latest delay to Glen Sannox is partly because of last-minute modifications ordered under a rule change by the UK's Maritime and Coastguard Agency (MCA).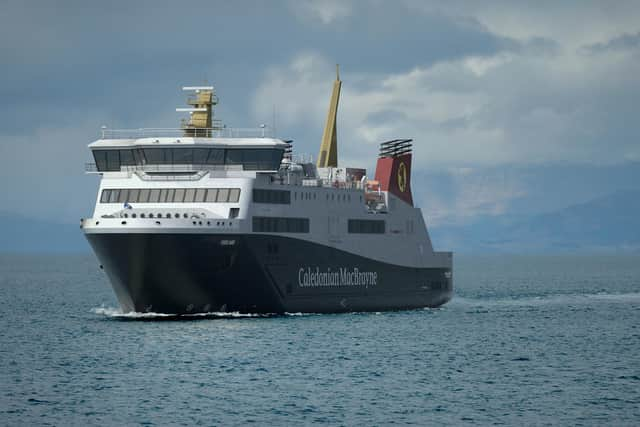 Ferguson Marine announced the new hitch on Wednesday but has now admitted it had known about it since June. This has caused the latest setback for 802, whose launch has now been put back from November to February or March.
However, minutes of a Cmal board meeting in June revealed its chief executive already had disquiet over the progress on 802. They stated: "KH [Kevin Hobbs] noted that H802 has had more limited progress that MVGS [Glen Sannox] and the level of activity would need to increase considerably in order to achieve the target delivery date of December 2024."
The minutes also revealed the Cmal board's doubts about the yard's previous hope of completing the ferry by summer 2024. They stated: "We have raised our concerns about this ambitious target given the lack of progress on this vessel, given the resources are being focused on MVGS [Glen Sannox]."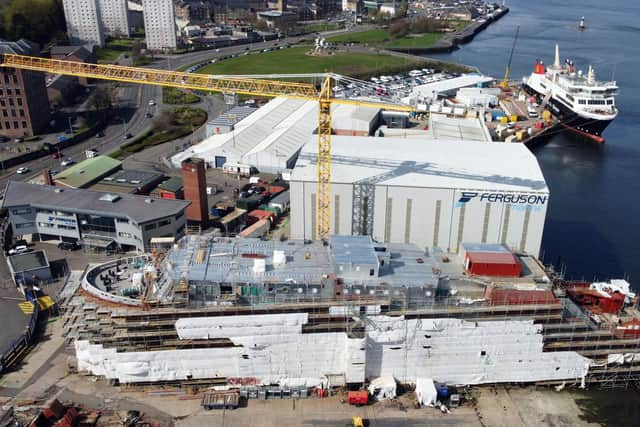 The official Isle of Arran Ferry Committee said the news would cause islanders further worries. Secretary Bill Calderwood said: "It adds to our concerns, and any further delays of these vessels is regrettable.
"The community are anxious to get a firm indication of when the vessels will be released to CalMac and when they can deploy them into service. The uncertainty of the introduction dates adds further uncertainty to the island's plans for summer next year and our business plans."
Scottish Conservative transport spokesperson Graham Simpson said: "Given this week's announcement of even more delays and additional work on the Glen Sannox, it's no wonder Cmal raised concerns about the delivery date for 802.
"They describe it as 'ambitious' when it's already years late, and Kevin Hobbs says activity is going to have to increase considerably. That's the very least islanders expect, but they also deserve a full and detailed account of how this whole affair became one of this Government's most disgraceful scandals."
Cmal said Mr Hobbs' views had not changed since the June meeting but Ferguson Marine had not informed it of any change to the December 2024 delivery date, "so that is the date everyone involved in the project it still working towards".
Its spokesperson said: "We continue to have a strong working relationship with the team at Fergusons, and everyone involved in the project to deliver the two LNG vessels [liquefied natural gas, which they can run on as well as diesel] is working hard to ensure they enter service as soon as possible.
"While we are disappointed that hull 802 won't be launched until early next year, we understand that safety, MCA approval and high-tide timings all play a part in the delay. We remain confident in, and committed to, the delivery of both vessels."
A spokesperson for the shipyard said: "The team at Ferguson Marine Port Glasgow, together with everyone involved in the project, are working extremely hard to deliver Glen Sannox and hull 802 as soon as possible, and despite these recent challenges, are continuing to make positive progress on both vessels."
They said the yard was first made aware of the MCA's revised requirements for crew spaces, which affect all passenger ferries, "earlier this summer". This will involve changes to some doorways in crew corridors and the installation of three extra staircases.
The spokesperson said: "For the past two months, we have been creating a work plan based on the MCA's requirements, to close the impact of this. We hope to reach final agreement with the MCA within the next two weeks, and will update on how these agreed changes will impact on the delivery dates for both vessels by the end of September."
The yard said this was the first time it had had to make retrospective changes to meet MCA requirements and the agency had previously approved other parts of the ship which had been built as designed.
Comments
 0 comments
Want to join the conversation? Please or to comment on this article.