Patrick Harvie, minister for tenants' rights, is driving up rents and making more homeless – Murdo Fraser
The effect of the rent cap on existing leases is to make growing numbers of landlords sell up, reducing the supply of properties and increasing rent levels for new contracts
There are unintended consequences of well-intentioned deeds. And then there are easily predicted consequences of stupid acts, if one has half a brain.
Rents in the private sector are rising faster in Scotland than in any other part of the UK. Data from the agency Homelet revealed that the average rental value of new tenancies in Scotland rose by 14.4 per cent in the year to August, the highest leap of any region in the UK. That's after Patrick Harvie, minister for tenant's rights, announced a cap on rents.
He told the Scottish Parliament that his rent cap for private tenants of three per cent a year would be extended until March next year, with a view to a new system of rent controls being introduced thereafter. It really hasn't worked.
His policy has instead led to dramatic rises in the cost of renting. It is the outcome of a series of policy interventions from an SNP-Green administration which has no understanding of how the private rental sector operates, nor indeed of the basic laws of economics.
What we have seen over the past few years since the Scottish Government started intervening in the private rental sector is a reduction in supply of available properties, meaning that demand now substantially outstrips it. Letting agents report that whenever a property becomes available they are swamped with enquiries from prospective tenants looking for homes. That drives rents up.
Private sector landlords are caught in the curious position that if they have a sitting tenant, they can only increase the rent by up to three per cent a year, which may not cover their rising costs, particularly if they have a mortgage on the property. However, should their tenant move out and the property go back on the market, they are likely to see a major increase in the rent that they can achieve.
Needless to say, this creates a major incentive for existing tenants to stay put rather than seek to move. At the same time, landlords whose costs now exceed their rental income are looking to sell up, all of which has the cumulative effect of substantially reducing the supply of rental properties. Patrick Harvie may quote Karl Marx but he would be better quoting Homer Simpson: "D'oh."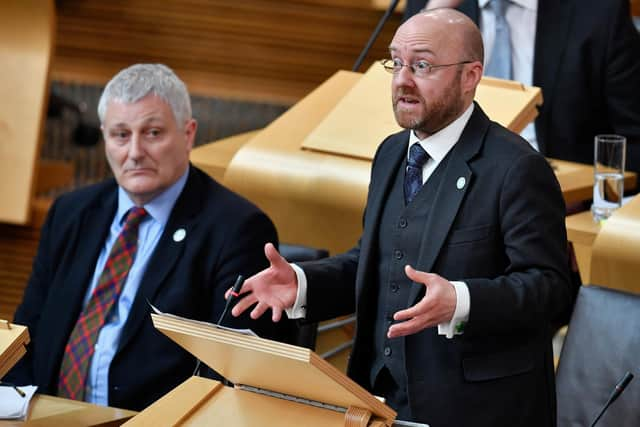 Perhaps this could be most easily illustrated in the case of my constituent Lachlan (not his real name). He is a self-employed tradesman who has no access to a workforce pension that many other workers enjoy. He therefore decided a number of years ago to use his skills to invest in small, run-down properties, which he would spend time and effort in renovating, and then let on a private basis, with a view to creating an income stream for his old age.
Lachlan now has five small properties, all with sitting tenants, but is finding with the increase in interest rates and other costs that the rental income he is receiving barely covers his outgoings. With the prospect of substantial additional expenditure required to bring properties up to EPC rating C or above in the next few years, and without additional capital to invest, he now fears he must sell his investments and look for pension provision elsewhere.
Lachlan won't be alone if he sells up. Landlords have made up 12 per cent of property sales in Scotland so far this year, the highest proportion since records began in 2009, and up a third from nine per cent in 2022. Scotland is the only part of the UK where the share of homes sold by landlords is on the rise.
Patrick Harvie seems totally oblivious to the havoc he is wreaking in the private rental sector, and the harm being caused to tenants. Or perhaps he enjoys it in a perverse way. Those who need to find private rented accommodation, possibly because they are moving on a short-term basis to another part of the country to work or study, are facing real problems finding somewhere to stay. Particularly in our cities, there is a crisis in the lack of appropriate accommodation for students.
Tenants are in a hole. Landlords are in a hole. But Patrick Harvie has a sharp spade and keeps on digging. The level of rents in the private sector is driven by the simple equation of supply and demand. With more properties available to rent than people seeking them, rents will fall. Similarly, a shortage of available property compared to the number of potential renters leads rents to rise, as we are currently seeing.
The solution is a simple one, and that is to make available more properties for rent, not fewer. It seems an obvious conclusion, but one which our current Scottish Government seems unable to reach for itself. We should be actively encouraging investment in the private rental market, not least by financial institutions. And yet what we have seen, as a direct result of the rent cap, is the loss of developments which would provide new homes.
In the summer, we learned that a £200 million residential development in Glasgow City, which would provide 1,500 homes, had been dropped by the developers Get Living, due to uncertainty about potential future returns. This was a specific, and inevitable, consequence of Scottish Government policy that drives rents up. We will simply not see new homes being brought forward for rent unless there is a dramatic change in direction.
Last weekend Patrick Harvie refused to condemn, and appeared to condone, illegal activity by environmental protesters. It is remarkable to see a government minister encouraging people to break the law. I wonder whether he would take an equally sympathetic view towards those furious with him and his government over his destruction of the rental sector in Scotland, and the expansion in the numbers of homeless people that it will cause.
Murdo Fraser is a Scottish Conservative MSP for Mid-Scotland and Fife
Comments
 0 comments
Want to join the conversation? Please or to comment on this article.