Cost-of-living crisis: Tory cut to energy support for small firms shows they are no longer 'party of business' – Douglas Chapman
There will be no Happy New Year for many businesses thanks to the UK Government's cuts to energy support this spring.
In fact, Jeremy Hunt's decision to scale back the Energy Bill Relief Scheme at the end of March will be particularly "catastrophic" for smaller firms according to the Federation of Small Businesses, with many unable "to survive on the pennies provided through the new version of the scheme".
The FSB's own research has shown that 24 per cent of the small businesses they spoke to will need to drastically restructure, shrink their businesses or worse, actually close up completely without the current level of support. In addition, as result of these changes, they estimate that two thirds of these small businesses will only receive, on average, £200 towards staggering energy bills now in the region of four times as much as they were in the past year.
None of this is sustainable and the government's response is as far from grounded in reality as is possible in these days of chaos and ineptitude at Westminster. It's also extremely tin-eared.
James Cartlidge, the Exchequer Secretary to the Treasury, was quoted in the Guardian as saying, "it is not for government to habitually pay the bills of business". No prizes there for sensitively handling a catastrophic situation for many people's livelihoods, or recognition of what many businesses, particularly small and micro businesses have had to do to stay afloat these last few years against the volatility of a global market shaken to its core by the Covid pandemic and war in Ukraine, not to mention the wrecking ball of Brexit at home.
But I would argue that it is most definitely the job of government, and in particular a government led by the so-called "party of business", to ensure that the environment for business is as stable and predictable as possible given unforeseen events, and that conditions for resilience to withstand these shocks are embedded in government policy.
We've seen the very opposite of this with the Tory party these last horrendous 12 to 13 years, first with "cutting the green crap", which has left a gaping hole in the net-zero agenda, failing miserably on creating energy efficiencies, the transition to renewables and the wholescale destruction of energy storage. If they'd dealt with this as they promised in manifestos of yesteryear, we would have been in a far better situation when gas prices went through the roof.
I would also argue that it is the responsibility of government to create a positive and prosperous trading environment with our nearest partner countries – and not crash out of the European Union while roaring Rule Britannia at top volume to drown out the endless negative headlines on the catastrophic effects of "Leave meaning Leave" for business, for manufacturing, for exports and imports, and for our international standing and reputation.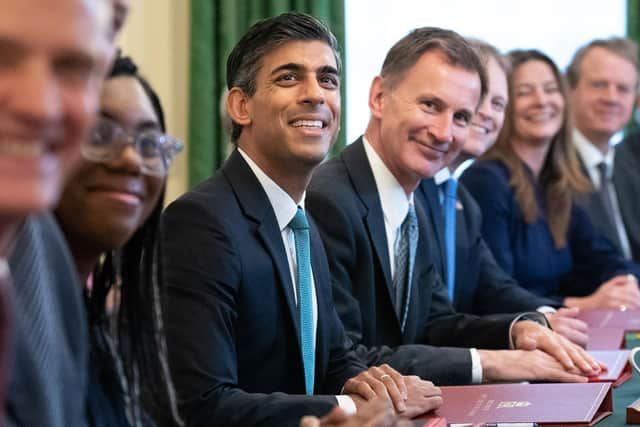 And now it looks like the UK Government's much-celebrated new trade deals with countries beyond Europe are not worth the paper they are written on. Not so much 'Global Britain', more 'Little Britain' thanks to this Tory-style hard Brexit. And all the while, the Brexit blunderbuss continues to career downhill, gathering little attention from either blue or red parties at Westminster for the damage it has left in its wake.
And I would argue it is very much "for" ministers to ensure that when there are internal, petty fights about who should be in charge, the job of government continues and that it does not lie languid for a whole summer during a cost-of-living crisis and looming energy crisis while the party membership decides on who to elect as PM and then puts in a grand disruptor like Liz Truss, who managed to add £30 billion to her government's burgeoning so-called fiscal black hole.
Finally, I would argue that it is very much "for" the government to act quickly to address the big crises we face, and not dither over Christmas on important announcements such as this new reduction in support, leaving small businesses in the lurch once again and with very little time to make more contingency plans. Many small businesses will now have to raise their prices to cope with this change in support, risking further inflation and another hit to customers who have already cut back hugely to cope with the cost-of-living and energy crisis.
I've heard Tory ministers stand up in Parliament and chant the mantra "small businesses are the backbone of our economy" umpteen times, but it's all just whistling in the wind if this rhetoric isn't backed up by practical support at times of intense crisis. None of Rishi Sunak's "five points" can be realised without supporting those at the thin end of the wedge of the economy.
There can be no growth or prosperity without a long hard look at the facts on the ground and practical steps put in place to address this truth, and there can be little of the "peace of mind" or optimism he mentioned for firms at the end of their tether and the start of a recession. Leaving small businesses without a lifeline at this time is a false economy – we can't stand on our own two feet without a full, working backbone, literally and figuratively.
Small to medium businesses and their employees are being cast to the four winds by a totally avoidable, unrealistic, impractical, and deeply ideological decision by the UK Government. It doesn't have to be this way. A new year calls for a fresh analysis wedded to reality – time for another big U-turn. Or will Scottish business have to wait until we're an independent nation and in a position to grow our own economy and business sectors?
Douglas Chapman is MP for Dunfermline and West Fife and the SNP's small business, enterprise and innovation spokesperson
Comments
 0 comments
Want to join the conversation? Please or to comment on this article.