CalMac ferry fiasco: Even Donald Trump could learn from the SNP about how to evade responsibility – Brian Wilson
A judge-led inquiry into the awarding of the contract to build two ferries for CalMac to the Ferguson Marine shipyard remains vital
Following Humza Yousaf's conference speech, allow me three predictions. First, we will never know where the "additional £300 million" for the NHS will be conjured up from, if it ever exists.
Second, if the council tax freeze proceeds, services will continue to decline, to an extent Mrs Thatcher's Scottish Office ministers would have declared intolerable. Don't take my word for it. The SNP-controlled Cosla described the commitment, about which they were not consulted, as "regressive, having no impact for the poorest in society and compounding councils' ongoing underfunding". And how the conference delegates cheered!
The third is that "Scottish Bonds" will join the litany of Big Announcements that sink without trace. Why would anyone risk money with a government that exists primarily to create exactly the instability that frightens away investors?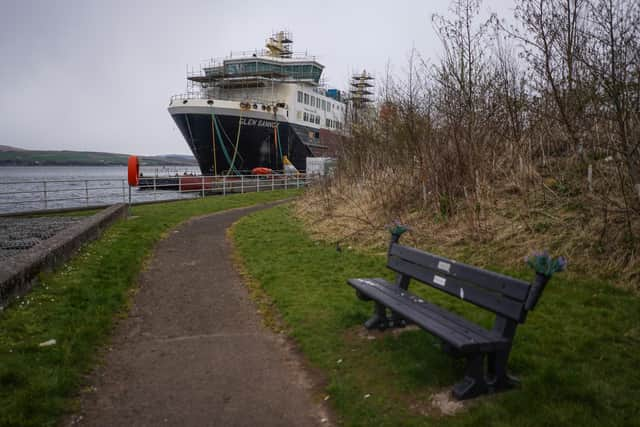 Mr Yousaf has long been part of a machine that survived on headlines and the presumption they will be soon forgotten or, when they turn to dust, someone else can be blamed. Just occasionally, however, they decline to fade away. No sooner had the sun set on proceedings in Aberdeen than we were reminded of where government by headline leads when accountability is held in contempt.
It was nonsensical that this report, on the instruction of ministers, was commissioned by CMAL, the procurement quango, rather than the Scottish Government itself – as if the questions raised were internal to CMAL rather than products of a machine to which ministers and civil servants were central and CMAL a mere cog.
Then it was even more brazen that Mr Smith's inquiry was restricted to investigating "fraud" which the programme had not alleged. Even Donald Trump might have something to learn from this, as a tactic conceived to evade the attribution of responsibility.
In his report, Mr Smith admitted that the journalists who made the programme "expressed surprise that my investigation would not consider the allegations made by the BBC that procurement rules were not followed" but would instead investigate an allegation of "fraud" which they "wished to stress" they had not made. Truly surreal!
I happen to think the programme was drawn down a rabbit-hole with its focus on manoeuvrings within CMAL about how to give Ferguson's the order. Insofar as rules were broken, as they were, this was obviously in pursuit of a political instruction that, come hell or high water, the order was to go to Port Glasgow.
A far more significant story was about the political and civil service collusion which enforced that outcome even after it became inescapable that the preconditions for awarding the contract did not exist. CMAL, to its partial credit and as Mr Smith confirms, "did not wish to award the contract" to a yard that could not fulfil it.
A key passage in Mr Smith's report points to the core scandal: "On 21 August, the CEO of CMAL received a telephone call to report that Transport Scotland [TS] had made contact to intimate that the First Minister (Sturgeon) 'had approved' the contract award and that a press conference would be held at Fergusons on 31 August.
"The CEO of CMAL reported back to TS the risks inherent in pre-empting matters in this way, prior to the CMAL Board approval of the contract award or indeed the procurement process being followed. This aspect of matters is politically charged. It is important to note, however, that CMAL formed the impression – as they had done in 2014 when Ferguson's was purchased by (Jim McColl) – that the Scottish ministers were determined that the contract should go to Ferguson Marine."
The CMAL board continued to protest but Ms Sturgeon's press conference at Port Glasgow went ahead, presenting the contract as a fait accompli and "an excellent result". Mr Smith writes: "At the time of that statement, no contract had been awarded by CMAL to Ferguson Marine."
This, as history has long since confirmed, was for very good reasons. They doubted the yard's capability to build the ferries and were alarmed by the failure to offer the standard builders refund guarantee, to cover them if things went wrong, as they duly have done on a monumental scale.
CMAL was then effectively ordered to award the contract via a ministerial directive which cleared them of liability. The valid criticism of the CMAL board is that they buckled at this point and awarded a contract which they knew better than anyone should not have been awarded.
Never mind. Acquiescence, however reluctant, brought its own rewards. The CMAL chairman, a Danish businessman, Erik Østergaard, became chairman of CalMac – the operator to which CMAL has still not delivered two ferries eight years on. His deputy, Morag MacNeill, an Edinburgh lawyer, became chair of CMAL. Scotland is indeed a village!
The real investigation, as opposed to Mr Smith's deliberately misconceived remit, will only come through a judge-led inquiry into the political manipulation which led to the contract being awarded and in which senior civil servants at Transport Scotland acted as enforcers for ministers without regard to the jeopardy created for the public purse and island communities.
The excess cost of Ms Sturgeon's behaviour on August 31, 2015, is £300 million and rising. Just think what the National Health Service or local government could have done with that hard cash.
Comments
 0 comments
Want to join the conversation? Please or to comment on this article.