Being a fresher at university is terrifying, but so much fun - Gaby Soutar
Scotland's cities are getting their annual Botox-style injection of youth, as university and college freshers' weeks start about now. For those of us who are marking (cough) nearly a quarter of a century since graduation, this might be a time of existential angst. It's another influx of young faces, so different to our increasingly grizzled and knotted ones. Or maybe it's just me who feels like an ancient tree surrounded by saplings.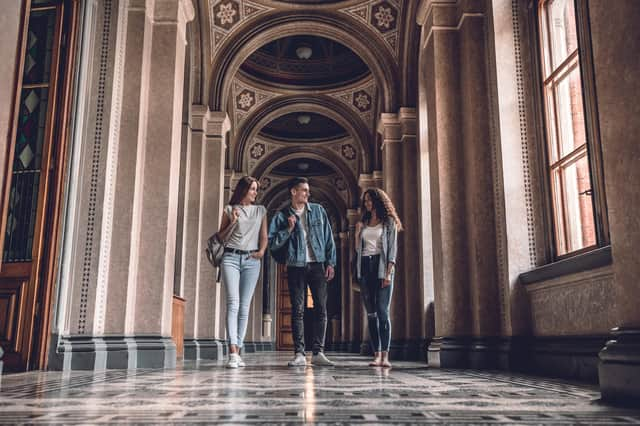 The University of Edinburgh has more than 6,000 students matriculating for the first time.
So many and they're too young, surely, to be leaving home and facing the horrors of adulting.
I'm still trying to dodge the grown-up bullet at 48.
Although I have no progeny, I can totally understand why my peers are getting empty nest syndrome. These are infants. Get back in your bassinets immediately, or you'll be grounded.
They should kick further education down the line a bit. Maybe we could start thinking about it in our early thirties?
I still don't really know what I want to do for a living, though this column-writing gig will do for now.
When I think back to my first year at Edinburgh College of Art, I remember what a baby I was.
I was absolutely terrified, even though I'd endured a very boring year out, to earn money in a shop, procrastinate and get FOMO, in a pointless gap between school and uni. I was chomping at the bit for some direction.
Unlike most friends, I lived at home during my degree, so I'm grateful that I didn't get the ultimate student experience. I didn't have to endure flatmates stealing my cheese in horrible digs, and my parents postponed their eldest fledgling belly-flopping out of the nest.
Still, I counted down the remaining summer days, with mounting horror.
The only thing I remember about day one of ECA was being in the Neoclassical sculpture court – still one of my favourite spaces in the city – flanked by its plaster casts. I was in total awe. Sometimes I think going to this college was more about being in the building than actually getting a degree.
I was also tottering about in a pair of very impractical and uncomfortable shoes, since clothes are important on your first day of study, unless you're a total dork. This was especially important for someone whose mum had made them wear their primary uniform on the first day of secondary school and they'd never lived it down.
Thankfully, I spotted my tribe straight away. It wasn't like high school, when I ate my lunch in the loos in the first weeks, since I had no pals yet.
At college, there were those I gravitated to immediately. They appeared to me, as if in some sort of Vaseline-lensed misty love scene in a film, gradually coming into focus. We chatted. I found my people. When you're young, you have quite an effective friend radar, or frie-dar.
Anyway, everyone was nervous to be doing this grown-up thing, though they acted nonchalant.
There were other buddies to come, later on.
However, my first crew and I were eating baked potatoes in student canteen Albertina's before the week was out.
Soon, it would become a routine to go to a friend's flat and watch Watercolour Challenge – ironically, of course – at lunchtime.
Being at college was a blur of life drawing, installations, lectures, assessments and hanging out in my bright studio. Apart from a difficult final term, when mum was diagnosed with breast cancer, those four years were the best. They went way too fast.
Some people say that about their time in high school. Mine was a huge disappointment. It was art college when I really felt alive, though whether my bachelor's degree in Tapestry – now the department is more appropriately called Intermedia – has helped me in my eventual career choice is debatable. Apart from working in a few galleries, I haven't done anything vaguely arty since graduation.
Still, my undergraduate essays always got better marks than my actual work, so I should've thought more about words back then.
The best thing about student life, learning aside, were the house parties. They stop when you're a grown up. Nobody invites you to their gaff anymore, unless you're there to babysit or feed the cat. I miss speaking to strangers, while a bowl of dubious pink punch sits on the table in a listeria-riddled kitchen.
The queues for the toilets were the only downer in that scenario. That and the meltdowns. There would be a drama in every room of a flat, like some kind of alternative Edinburgh Festival production, and there would always be someone crying by 4am.
Of course, there was boozing. Along with surviving on Pot Noodles and beans on toast, that's what students are really famous for. I'm not sure if the rule still stands today but you were expected to go wild and our generation happily obliged. In contrast to my friends, I was always lightweight, and would coast along on half a bottle of the cheapest white wine known to humanity and any Marlboro Lights that I could cadge.
It was a great time, and, though I'm worried for them, I'm also a little jealous of this new crop of freshers.
I suppose youth is the best time to be leaping out of the nest, and headfirst into a bowl of pink punch.
Comments
Want to join the conversation? Please or to comment on this article.