Teachers' strikes and prelims made me revisit my terrible report cards - Gaby Soutar
This was a quieter week than usual.
I live opposite a primary school and was able to luxuriate in an entire day that was devoid of piercing shrieks. ​When I first moved here, I was constantly poised to call an ambulance, until I realised that these are the blood-curdling noises kids make when they're having fun en masse. Macaques make a similar sound when they spot a lion.
​There have also been fewer opportunities to herd an errant football off the road, before booting it over the Victorian fence. That's a shame, as it gives me a great sense of achievement, especially if I header it back.
​I only realised that teachers were on strike when one wobbled past my house, wearing a mortar board and carrying a placard that was resting on their bike's handlebars.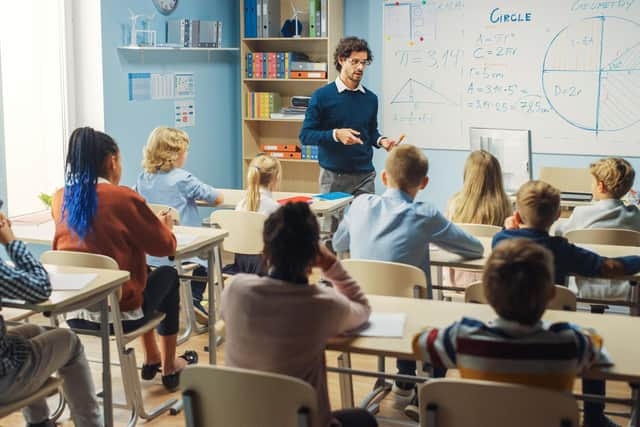 ​She was either on her way to a fancy dress party, a picket line or heading to the Educational Institute of Scotland (EIS) rally on The Mound in Edinburgh.
​I could have shown my support by offering a freshly polished apple from the kitchen, but they have sadly shrivelled due to lack of interest. Not that fruit is going to pay anyone's bills. Good luck to them, when it comes to the push for a pay rise. I suppose that teaching is one of the many jobs, including nursing, that, culturally, is considered to be done for love, not money.
​Nobody could tempt me into the profession. I'm a feeble disciplinarian. On my watch, the small people in my family eat the forbidden chocolate, disassemble the sofa and enjoy telly marathons, since "no" has never been part of my auntie vocabulary.
​I am wrapped round their small and sticky fingers. However, sometimes I will emit a feeble "help" when I've been bashed off the shins with a plastic Spider-Man for the 38th time.
​My nursery, primary and high-school-aged nieces and nephews – a clever bunch – have some brilliant teachers. The children call some of them by their first names. At their age, I didn't even know that teachers had those.
​Their schools are supportive and nurturing environments.
​When my young relatives told me that they'd been off for the strike days, I thought they might be stoked, like I always was, when the pipes were frozen. But, no, they actually enjoy their term-time routine. The shiny apples have fallen far from the tree, in this case.
​Mind you, things have changed so much from the Grange Hill times, when teachers were stricter and more Mr Bronson-like and we were only a couple of years on from the belt. Now it's like all the best bits of Good Will Hunting.
​The curriculum has changed so much, too. My eldest niece has just completed her prelims and, for English, she was studying the poetry of Scottish writer Jackie Kay.
​As part of her revision, she read us a stanza from the poem Lucozade and we talked about what "dandelion hours" might mean. It was so engaging. When I did my Standard Grades, I'm sure that we studied First World War poet Wilfred Owen. He's wonderful, but he had already been dead for nearly 70 years. The most contemporary we ever got was probably Harper Lee's To Kill a Mockingbird.
​I can't say I particularly like reminiscing about those times. For the most part, primary school was wonderful, but high school was meh.
​Anyway, it's all a bit of a blur. Memory-wise but also literally. I was as myopic as a mole. I refused to wear my embarrassing NHS glasses, because there was no such thing as a hipster back then and contact lenses were just giant chunks of glass. Nobody seemed to notice me squinting at the blackboard. If I'd been in the wild, the teenage me would have fallen into a ditch and been unable to scramble out. I've always been a likely candidate for the posthumous Darwin Award.
However, this week prompted more reminiscing since I also discovered a box full of paraphernalia which included my school reports. I don't know why mum kept them. There's absolutely noting in them to make her proud.
​I found it a bit depressing to read my teachers' thoughts. Yes, I was better at maths and science than I remembered. However, generally, I was passive and a bit useless. I was so shy that The Smiths and Kajagoogoo could have written songs about me.
​English: "In group talk, Gabrielle is content to sit and say nothing."
​French: "Gaby continues to make encouraging progress in this subject despite her apparent unwillingness to speak the language and almost total inability to volunteer answers in class. Speaking a foreign language incorrectly is preferable to saying nothing at all."
​Drama: "Gaby is self conscious and quiet."
​There is one memorably positive comment, from the teacher who I remember as being a good egg. It made zero impression on me at the time, but has now.
​"Quietness can be a difficult habit to break but my advice to Gaby would be to not let the less intelligent hog the stage."
​However, my favourite report of all has to be the PE one, which makes special mention of my excellent badminton skills. I think I will have it framed.
​"Gaby had some difficulty in this element. Spatial awareness and timing of racket and shuttle was a concept she worked hard to grasp."
​Specs might have helped. Anyway, decades down the line, I feel that I have developed some sporting prowess.
​Next time I boot the ball over the wall, I do hope they're watching.
Comments
 0 comments
Want to join the conversation? Please or to comment on this article.