Widespread anger greeted the announcement that the north east consortium had lost out in the race to host the one of the special economic zones, which would allow authorities to offer tax incentives and lower tariffs. Those behind the bid said that, if successful, it would have transformed the region into a "net zero capital of Europe," creating up to 32,000 jobs.
Amid the ongoing fallout, Aberdeen & Grampian Chamber of Commerce has now urged both governments to bring forward an additional freeport award, while also questioning the original assessment process. It comes as a leading expert in energy transition said the Scottish Government's newly announced plan for a presumption against oil and gas exploration risked undermining investor confidence.
Those two announcements dealt a blow to a regional economy anchored to the oil and gas sector for the past half century, but which remains committed to an ongoing energy transition. Some of those who supported the failed freeport bid believe there is a renewed need for support.
Ryan Crighton, policy director at the chamber of commerce, said: "Both governments should have revisited the green freeport criteria following the escalation of the conflict in Russia and the impact that it had on global energy prices. From that moment on, we needed greater energy security and to accelerate the energy transition – you cannot do either without the companies and skilled workers of the north east of Scotland.
"The world changed, but the bidding process did not. Instead, they remained wed to scoring criteria heavily focussed on levelling-up and fair work agenda, a scoring system which was never going to favour Aberdeen and Aberdeenshire."
The disappointment of the freeport announcement comes 15 months after the pioneering Acorn carbon capture and storage project in Aberdeenshire failed to receive Westminster financing. Although the initiative could yet receive investment via a second wave of funding, delays on the part of the UK government have led to anxiety.
The cumulative impact for the region is concerning, according to Professor Paul de Leeuw, director of the energy transition institute at Robert Gordon University. "The energy economy is crucial to this part of the world," he said. "There are scenarios for the future, and you get it right, the future looks pretty exciting. If you don't, it looks pretty grim.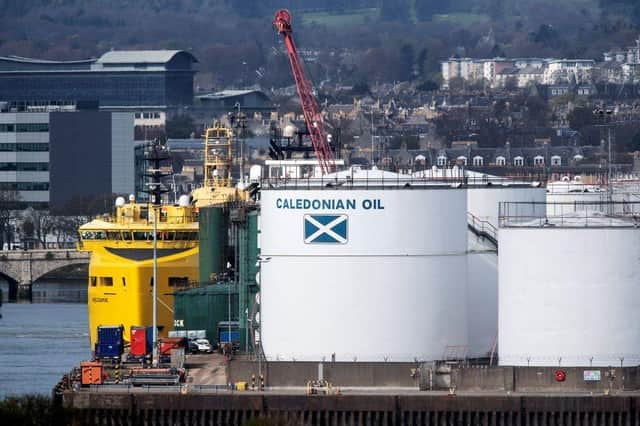 "What we've seen playing out over the past 12 to 18 months is no progression of the Scottish cluster, two types of additional tax levies on the industry, and the green freeport not happening. If you put it all together, it's a real, real challenge for the north east of Scotland."
Indeed, the wider economic concerns are laid bare in the latest Aberdeen Economic Policy Panel report, published last month. It found that while average earnings and GVA remain higher than the national average, employment rates were falling faster, with demand for business properties weaker than in other cities. It also pointed to signs that real median pay has declined faster in Aberdeen than in the UK as a whole.
The independent report also flagged deeper concerns, not least skills shortages. Growth in the region's working age population is estimated to have turned negative, and six out of ten energy companies say access to skills will be one of 2023's defining issues. Prof de Leeuw estimates that in addition to induction training required for around 30,000 workers expected to join or move within the offshore energy industry by 2030, there is a need to upskill around 10,000 people in adjacent sectors.
He has set out scenarios for the regional energy sector's future. The worst case would see the workforce shrink by up to 40 per cent - a loss of up to 28,000 jobs - by the decade's end. But if there is investment to turn the area into a modern global energy hub, the total could grow by around 9,000.
As things stand, he points to an 'incremental progress' scenario, which assumes there will be only modest investment in hydrogen generation and carbon transportation and storing capacity, and an inability to offset the workforce decline in oil and gas via emerging renewables roles.
"There is huge potential to get it right and build on strengths, but there is a consequence of doing nothing and drip-feeding investment in," he explained. "If you don't invest, you don't get activity, you don't get jobs, you don't get economic prosperity."
Prof de Leeuw also said that while the Scottish Government's "ultimate destination" of net zero had not changed, its stance on oil and gas exploration could have repercussions. "There is a risk when you come out with presumptions against oil and gas exploration," he said. "It undermines investor confidence. Companies have a choice where they put their money, we already see a dramatic reduction in activity, capital investment, in the industry in the UK.
However, the academic stressed there were opportunities to grasp, and suggested that components of the freeport bid could be repackaged by Aberdeen City Council in a new city region deal. A spokesman for the local authority said that its economic plan had already highlighted the importance of developing a "special economic zone" to target inward investment. The freeport bid's partners, he added, would be working on alternatives with both governments through any "emerging mechanisms."
Mr Crighton also called both governments to do more, criticising the SNP administration's "nonsensical presumption" against future North Sea oil and gas exploration, and the UK government's "over zealous application" of the energy profits levy. "It is now incumbent on both governments to right these wrongs and demonstrate a renewed commitment to the region, preserving its position at the forefront of Europe's energy sector," he added.