The Scottish Government announced on Friday that Inverness and Cromarty Firth Green Freeport and Forth Green Freeport had been jointly selected to become Scotland's first Green Freeports.
The Aberdeen City & Freeport Consortium involved Peterhead Port Authority and Aberdeen International Airport along with Aberdeen City Council and Aberdeenshire Council as well as industry representatives.
A total of 10 new freeports are planned for the UK as a whole. In Scotland, five applications were made, and with Leith/ Grangemouth having been widely tipped as the front-runner, competition for the second spot was fierce.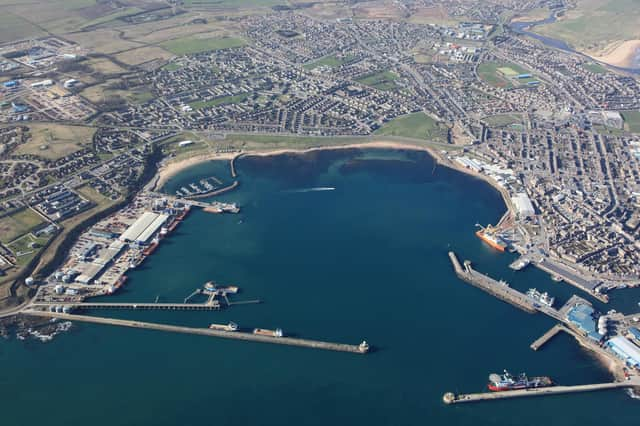 The joint Peterhead/Aberdeen proposal, branded as 'North East Scotland Green Freeport', had concentrated on attracting renewable energy investments to the two ports, which it was suggested would create the bulk of the 32,000 new jobs that freeport status could help to create.
Announcing the winners, Deputy First Minister John Swinney said: "The successful applicants showed a strong determination to embed fair work practices, including payment of the Real Living Wage, and to enshrine net zero initiatives in their work.
"We look forward to working closely with them to ensure they deliver maximum positive impact and become operational as soon as possible.
"We will also work with the unsuccessful bidders to consider how they can build on the plans set out in their bids to deliver jobs and growth in their regions outside the Green Freeports programme."
Commenting on the announcement, Banff and Buchan MSP Karen Adam said that the UK Government must now deliver on supporting the Scottish Cluster in regards to the carbon capture project.
"I have been very supportive of our proposals here and have been working to strengthen the case of the Green Freeport to come to the North East of Scotland.
"I will be engaging with stakeholders soon to map out a route forward for the benefit of the North East, Moray and Banffshire and Buchan Coast."
Banff and Buchan MP David Duguid said: "I want to praise the North East Scotland Green Freeport Bid team for the work they put into their bid, which I have been fully supportive of.
"This was a competitive process with both of Scotland's governments measuring the bids by set criteria and unfortunately only two ports were committed to – although the SNP's original commitment was for only one.
"It is a reflection of the quality of all the bids from across Scotland. But that doesn't take away from the obvious disappointment that is being felt by everyone associated with the North East bid.
"I will of course continue to seek support for the development of Peterhead and all our ports across Banff and Buchan."
West Aberdeenshire and Kincardine MP Andrew Bowie said: "Both of Scotland's governments have announced Cromarty and Forth will host Scotland's freeports.
"This was a competitive, non-political bidding process but my sympathies go to those who were unsuccessful, including of course Aberdeen and Peterhead's joint bid.
"But freeports are just one example of what can be achieved when the UK and Scottish governments work together, and I'm confident there will be good news for the North East to come."