Britney Spears: father Jamie Spears files to end singer's conservatorship - what is a conservatorship?
Britney Spears, the worldwide pop icon and celebrity with a net worth of over $60 million, has been appealing against the "abusive" conservatorship over her currently held by her father, Jamie Spears.
In the case's most recent development, new US court filings reveal that the singer's father, Jamie Spears, has filed to end his conservatorship controlling Britney Spears' financial estate.
The conservatorship over Britney Spears has been in place since 2008, when Spears' struggles with her mental health and lack of privacy from the US press and paparazzi peaked.
Her father Jamie Spears was then granted legal power and authority over her life.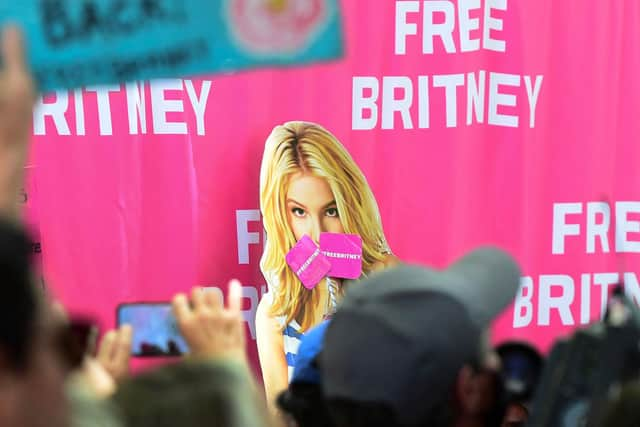 The conservatorship came under increased speculation as fans began to identify signs of Spears' distress and anxiety when posting on social media or appearing publicly – with their concerns coalescing in the 'Free Britney' movement.
Many US commentators are saying that Spears' conservatorship has shone a light on what can be considered an outdated and easily exploited legal practice, with fans and citizens alike now calling for its revision in US law.
Here's everything you need to know about the Britney Spears case, what a conservatorship is and what 'Free Britney' means.
What is a conservatorship?
Under United States law, a conservatorship can be granted by a court for those who are seemingly unable to make their own decisions over serious matters such as their life, estate, finances and health.
They are often used by families or spouses for a loved one who might be dealing with an illness such as dementia, Alzheimer's or similarly severe mental health disorders.
Britney Spears' conservatorship has two parts, with her father Jamie Spears holding power over both her finances and herself as person.
While Jamie Spears ceased to be hold the latter authority over Britney in 2019, as Jodi Montgomery temporarily replaced him as Britney's personal conservator, the star is requesting that the court make this change permanent rather than temporary.
Conservatorships are seen in several other countries around the world, but operate under different names and with some major and minor differences depending on the country and legal system in question.
In the UK, England and Wales have a similar provision in the form of 'deputyship', while this is known as a 'guardianship' in Scotland.
Both allow the court to appoint an individual to make any decisions around finances and health on behalf of another person if they are seen as not having the capacity to make these decisions for themselves.
While there are more rigorous mechanisms in place in UK systems than there are in the US to avoid conservatorships from being exploited by an individual as Britney claims of her father, many people have voiced similar concerns over guardianship or deputyship and the decisions made by guardians or deputies in their name.
Why has Britney appeared in court?
Britney Spears first appeared in a Los Angeles Superior Court virtually on June 23 to ask its judge to end the conservatorship, describing it as "abusive" and saying it was forbidding her from enjoying both her personal and financial freedom.
In response, the judge has said that Spears' would need to file a formal petition for removal of the conservatorship – adding that her comments and admission of her experiences were "courageous".
These comments included Britney's shocking statement that she had been unable to remove her IUD and have children with her partner as a result of the conservatorship.