North Sea oil: Protesters act out dangers of drilling giant Rosebank field in message to Westminster in Scotland demonstration
Environmental campaigners have not given up hope of halting drilling at the largest untapped oil and gas field in the North Sea.
Demonstrators from the Ocean Rebellion campaign group gathered on the dockside in Dundee to stage a theatrical protest against the development of Rosebank, a massive reserve off Shetland that is expected to produce up to 500 million barrels of oil over its lifetime.
Dressed up in costumes with a giant effigy of a Scottish seabird for company, their aim is to draw attention to the potential environmental harms of extracting the fuel.
The campaigners are calling for the UK government, which is responsible for licensing oil and gas developments, to refuse plans to develop Rosebank because of its detrimental impacts on climate emissions and dangers to sealife.
Rosebank is more than double the size of the controversial Cambo field, which is currently on hold.
Burning the fuel it contains would produce more than 200 million tonnes of greenhouse gases, according to estimates from environmental group Uplift – equal to the annual emissions of the 28 lowest-income countries in the world.
But as well as driving climate change, the campaigners say the development could have devastating impacts on the marine environment, including protected areas, and threaten ocean creatures and seabirds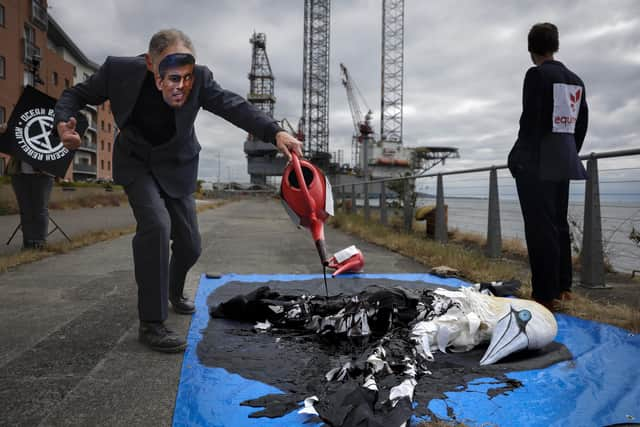 Equinor, Norway's state-owned oil giant, is awaiting a decision on its application to the UK government to exploit the reserve, with first production forecast for 2026 if it gets the green light.
However, this week the party confirmed Rosebank would go ahead if consented by the Conservatives.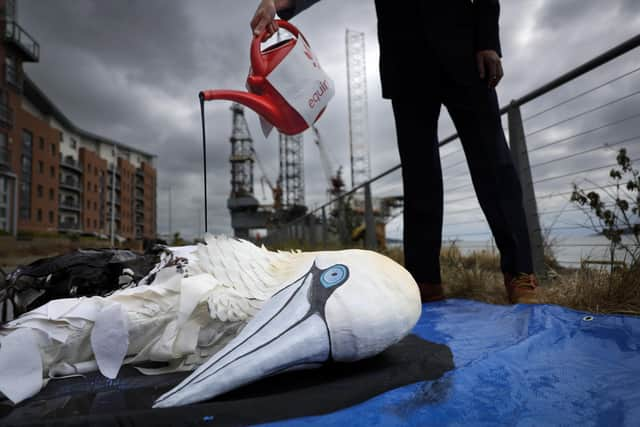 Ocean Rebellion activists say opening the oil field would be "a slap in the face" to the planet, to nature and to international experts – including United Nations secretary general António Guterres and the International Energy Authority – who have said new oil and gas developments are incompatible with the Paris Agreement targets to limit global warming.
Campaigner Mandy Cairns said: "Equinor state on their website that their environmental work is guided by their commitments to prevent harm to the environment, and yet they intend to develop an oil field which would involve a pipeline cutting through the Faroe-Shetland sponge belt, which is home to sensitive deep-sea sponges and 400-year-old clams.
"A major oil spill from Rosebank could risk serious impacts to at least 16 marine protected areas."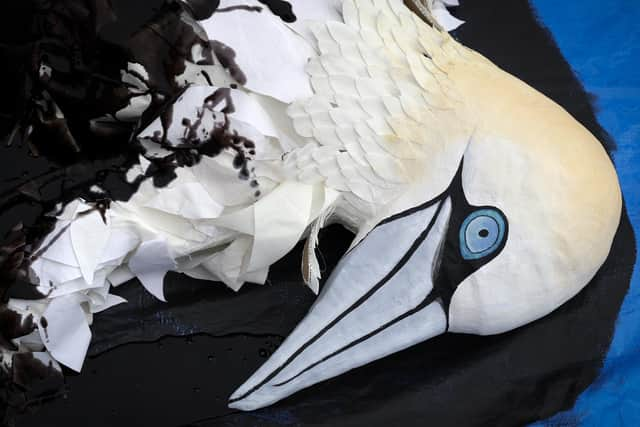 Dr Kate Treharne, a zoologist with Ocean Rebellion, highlighted the prevalence of "small but routine" oil spills in UK waters, with satellite data from 2020 to 2022 showing some slicks stretched more than six miles.
"With a million seabirds calling Shetland home, an oil spill from this field would be catastrophic to the animals and birds who live and feed in this area," she said.
Fellow demonstrator Bridget Cooper raised concerns over underwater noise, which could hurt marine mammals that use echo-location for navigation.
"All aspects of Rosebank will devastate marine wildlife," she said.
"Noise pollution can travel hundreds of miles through water, often so loudly that it disorientates, injures or kills whales, dolphins and porpoises."
The campaigners posed as Prime Minister Rishi Sunak and an oil executive, using an oversized gannet to enact the potential damage drilling could have.
Comments
 0 comments
Want to join the conversation? Please or to comment on this article.