"I'm sitting out here in the middle of the ocean and it's dying as I watch": Why a millionaire is living off-grid on a Scottish island
Ever dreamed of escaping the rat race and setting up home on a deserted island, cut off from society and the trappings of 21st-century life?
Millionaire landowner Roc Sandford, a father of four, did exactly that when he bought the tiny Hebridean island of Gometra with money inherited from a relative nearly 30 years ago.
"When I had my first child I wanted to bring him up in the wilderness, so I looked around and Gometra had been for sale for 18 months without anyone taking it on," he said. "I was lucky enough to be able to afford it."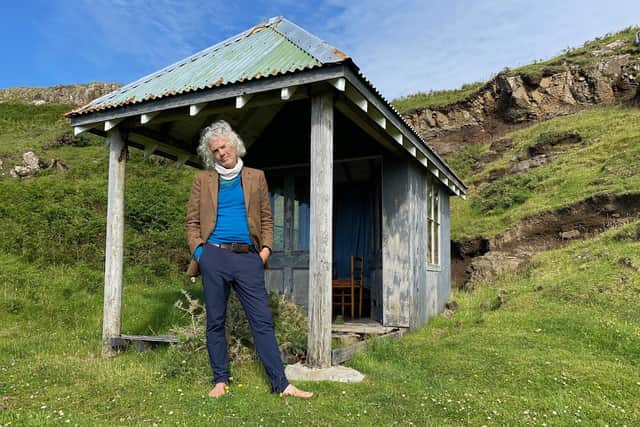 His is what he describes as a "frugal off-grid" lifestyle, with no mains electricity, no hot water, no motorised transport and little in the way of home comforts.
Mr Sandford grows his own food, grinds flour by hand to make bread and washes his clothes in a bucket.
He often goes without heating and has even given up baths.
But it wasn't always like this.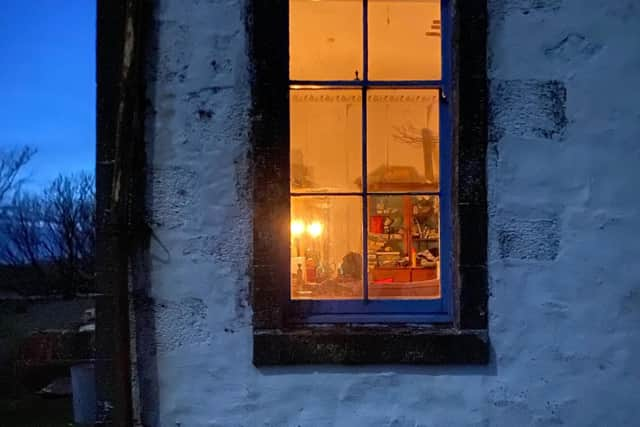 When he first moved to the island, which lies west of Mull in the Inner Hebrides, Mr Sandford only spent part of the year there and lived in much the same fashion as he did in his main home in London.
"When I first came, I took what I call a guzzling approach to off-grid," he said.
"I replicated an on-grid lifestyle, with a diesel generator, washing machine, bread machine, telly. I had a Land Rover and a quad bike.
"Gradually, as these broke – my Land Rover fell in the sea and a rat ate through the generator cable – I found I didn't need them.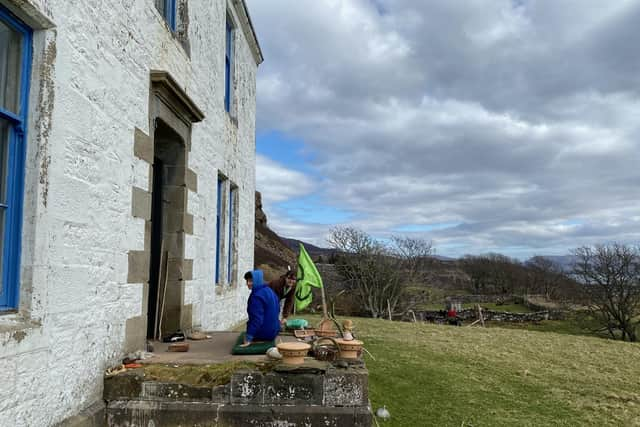 "As time has gone on, I've got better and better at what I call frugal off-grid.
"I have a hand-cranked flour mill to grind my flour and I use a thermal cooker, which is like a big thermos you can put a whole pan inside.
"I have a solar panel for my computer, my torches, my power tools. That's fantastic, except when it blows away.
"I've had two small wind turbines, but they were much less reliable than the solar panels – the wind blows too hard for them.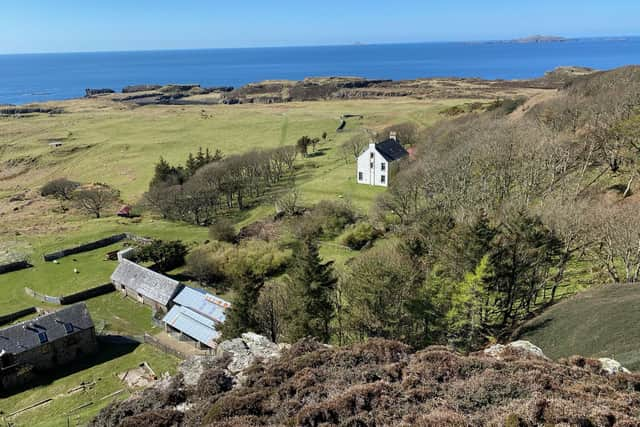 "My water comes from a spring, but that sometimes dries up by early summer, then I have to use water from the burn.
"We don't have hot water and I have been experimenting with doing without heating.
"We've never had central heating anyway, but keeping a wood burner going all day means you have to be sawing wood the whole time."
Life on Gometra might sound romantic, all breath-taking views, living off the land and nature at its finest.
But the reality of survival on a small, windswept Scottish island without the mod-cons most people take for granted can be harsh, dark, cold and lonely.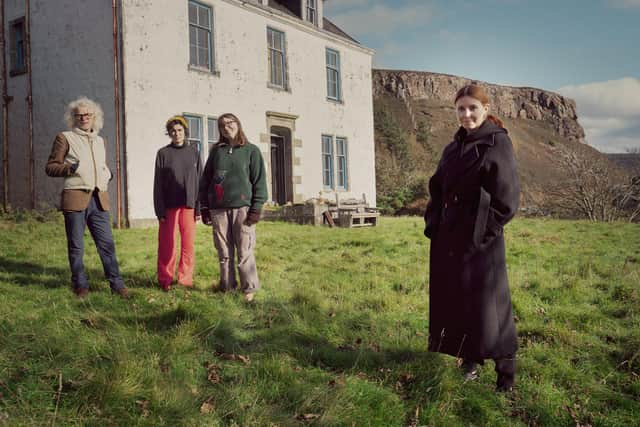 "It's wild in winter," Mr Sandford said.
"I've had to crawl home – sometimes in the dark, if my hurricane lamp blows out or my torch goes flat.
"The waves can be unbelievably high. It's all very stirring and lovely.
"And sometimes you feel very alone.
"Often the people in passing airliners five miles up are the nearest humans.
"I never envy them. I'm the lucky one down here."
Gometra has become Mr Sandford's full-time home of late. He recently left the island for the first time in more than a year to receive a Covid-19 vaccination.
Two other households reside on Gometra, helping him with his 350 sheep, tending the garden and managing holiday bothies.
"Since Covid we tend not to mix as much as we used to, but we bump into each other every few days," he said.
Mr Sandford has four children who come to stay on Gometra whenever they can, but he is largely on his own.
He admits he hadn't fully thought it out when he first embarked on his new life.
"With hindsight, it was dangerous not having a way to communicate with the outside world, especially since there's no doctor here," he said.
"Yes, this is an incredible place to live, but there are risks too and I accept that with open eyes."
So why would a wealthy 62-year-old choose to live this way?
Well it's all about the planet.
"I'm sitting out here in the middle of the ocean and it's dying as I watch," he said.
He and three of his children – Blue, Savannah and Lazer – are committed environmental activists, taking part in protests across the UK.
They have been known to make the 17-hour journey to London – involving an eight-mile walk across a causeway only accessible at low tide to neighbouring Ulva, followed by two ferries, two buses and three trains – to help lead the controversial Extinction Rebellion and HS2 protests.
Mr Sandford's environmentalism began in Scotland several years ago, when he got involved in a local campaign against a new fish farm.
Since then he has become increasingly concerned about the future.
"The science is terrifying," he said.
"People are dying from the climate and nature emergencies all over the world and I fear for my children's lives in the social collapse that the disruption of food supplies by a changing climate is already causing.
"I call it climate roulette. We are pointing a gun at our own children's faces and we go on pulling the trigger until the gun goes off.
"I don't know how you feel about children, but I'm not letting that happen to mine."
Sandford and his children are featured in the new series of television show Stacey Dooley Sleeps Over, which shines a light on unconventional families.
The Eco Warriors episode, featuring Roc Sandford, will air on W at 10pm on 17 May.
A message from the Editor:
Thank you for reading this article. We're more reliant on your support than ever as the shift in consumer habits brought about by coronavirus impacts our advertisers.
Comments
Want to join the conversation? Please or to comment on this article.