'If you love your children, you better do something about the climate crisis – because it's coming for them': Off-grid millionaire eco activist warns time for action is running out
Millionaire landowner Roc Sandford has given up a wealthy modern lifestyle for a "frugal" existence on a remote Scottish island with no mains electricity, no hot water, no washing machine and no vehicle.
Why? To save the planet – and because he doesn't need all that "stuff".
At his home on the Hebridean isle of Gometra, west of Ulva and Mull, the veteran climate campaigner depends on a solar panel for power, hand-grinds flour to bake bread and uses a thermal cooker to heat his meals.
He's constantly at the mercy of the weather, which is often wet, wild and cold – with gales strong enough to blow the windows in.
He purchased the island 30 years ago, following the birth of his first child, with money inherited from a relative. He wanted his son to grow up in the wilderness.
Now in his 60s, he divides his time between the windswept outpost and London, which he uses as a base for his environmental activism activities.
The father of four, who made his money in property, has been a member of protest group Extinction Rebellion, joining demonstrations at various locations, and is a founder of Ocean Rebellion, which uses artistic expression to highlight destruction of the marine environment.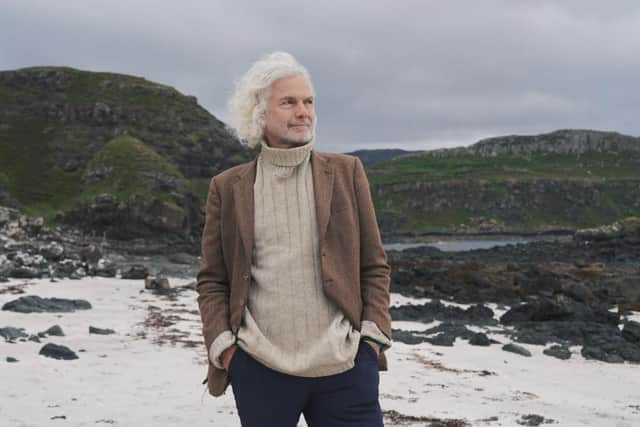 It was becoming a father that switched his way of thinking and living on Gometra increased his awareness of the perils facing the planet.
"I think possibly becoming a parent gives you a stake in the future which you didn't have before – you begin to think what sort of a future is awaiting your child," he said.
"I would definitely say coming to Gometra has changed me. I think it has made me slower and more effective, and possibly better insulated against the sort of brainwashing that you experience in our modern society.
"I just wasn't really aware of climate and nature breakdown. You're face-to-face with it here."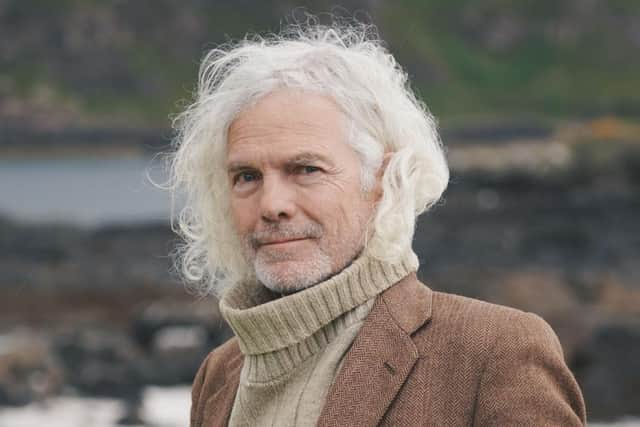 He admits he is lucky to live the way he does, being able to choose hardship with the knowledge he could throw it all in and revert to a more comfortable and convenient lifestyle.
"I've been very fortunate in being able to step away from human society, and that lets you see things in a deeper light because you're not distracted and have time to think," he said.
"I think the thing about Gometra which has helped me to understand what is happening is that it's so wild and remote that if anywhere is going to be okay, Gometra should be okay.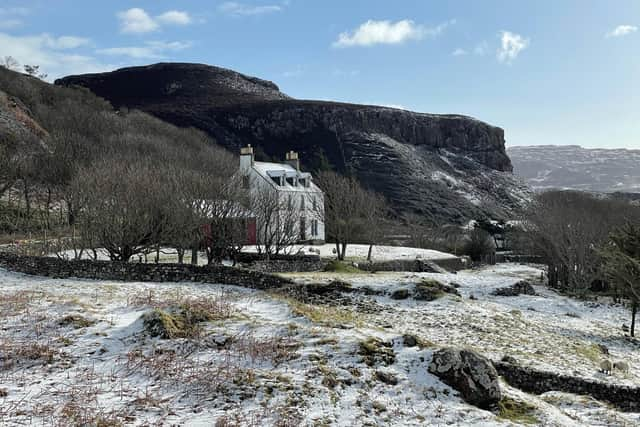 "And yet Gometra is suffering. If I look out here there used to be birds all over the place. I can't see a single bird right now. And that scares me."
He is quick to insist he's "not perfect", but has cut dramatically back on non-essentials over time.
"Gometra is off-grid because there's no mains electricity or gas or any of that, there's no ferry, no doctor, no teacher, but when I first came here I had an approach which I now call 'guzzling off-grid'.
"I thought, I'll get a Land Rover, I'll get a generator, I'll get a rib. And as time went on I just learnt – the hard way – that there's a much better way to do it.
"Gradually those things would break and I'd be in a mess because I was depending on them, but actually I didn't need them. I would adjust."
He believes you don't need to live on a deserted island to have an off-grid lifestyle – it can be done in a city or any other place.
"We can't afford to splurge and guzzle energy in the way we're doing," he said. "We also need to be careful about insulating our homes better, think about how much travelling we're doing, eat less meat and fish – there are lots of different things we can do and which we should be thoughtful about because they are harming the world we live in, and that harm is going to come home to haunt us.
"Often stuff is being forced down our throats that we don't really need, that we're programmed to think we need but don't."
But he says the most important move is to ban new production of fossil fuels and phase out existing supplies as they run out.
"Individual change has to happen," he said, "but it's not enough to solve the problem. We also need governments to actually wake up and start serving the people they are supposed to be protecting and not serving the oil and gas industry."
He has just penned a new book about life on Gometra, charting the harsh realities of survival, the wonders of nature and his own awakening to the ecological disaster unfolding across the earth.
Full of anger, wonder and philosophical musings, Burnt Rain is both poetic and enlightening, following the cycle of the year to chronicle one man's relationship with the living world and his need to defend it.
Mr Sandford has written three or four other books, which have been self-published. Burnt Rain is the first with a commercial publisher.
"They're all different," he said. "But what they all have in common is that I'm always challenging what I see as an ideology that is not necessarily correct.
"This one is challenging the ideology that we can go on burning fossil fuels and not end up in a terrible place and effectively be slaughtering our own children.
"I've noticed that if you tell people facts and figures they're very good at not hearing," he said.
"So I'm just always looking for a way to communicate the terror I feel about the future."
Asked what he would like to say to politicians, businesses and people who don't seem to be listening to warning over global warming, he said: "Decide how much you love your children, and if you love them you better do something about the climate crisis – because it's coming for them."
Comments
 0 comments
Want to join the conversation? Please or to comment on this article.