How a Scottish start-up is using wriggly sea creatures to clean up fish farm waste and provide animal feed
A pioneering Scottish biotech firm is harnessing marine worms which dine on organic debris to clean up fish farm waste and provide a new source of nutritious animal feed.
Fish farms have been using cleaner fish as a natural way of tackling parasite infestations in caged salmon for some time, in a bid to cut use of chemical treatments and lower their environmental impact.
Now, thanks to an innovative Scottish biotech start-up, marine worms can be harnessed to clean up fish sewage waste which collects at sites and can pollute the seabed.
Once they have done their job, the creatures are then turned into nutritious animal feed or bait for other fisheries operations.
The "ground-breaking" technique is the brainchild of Scottish Association for Marine Science (Sams) research associate Dr Georgina Robinson, who has founded spin-out company N-ovatio-N to develop the concept and bring it to market.
And the enterprise is already showing signs of success, recently winning a prestigious business award with a £50,000 cash prize and £20,000 of in-kind business support to drive the company forward.
As well as providing an environmentally friendly solution to the issue of organic waste in the aquaculture industry, N-ovatio-N will create high-value, sustainable feed ingredients from locally sourced marine worms, which are rich in protein, lipid and omega-3 fatty acids.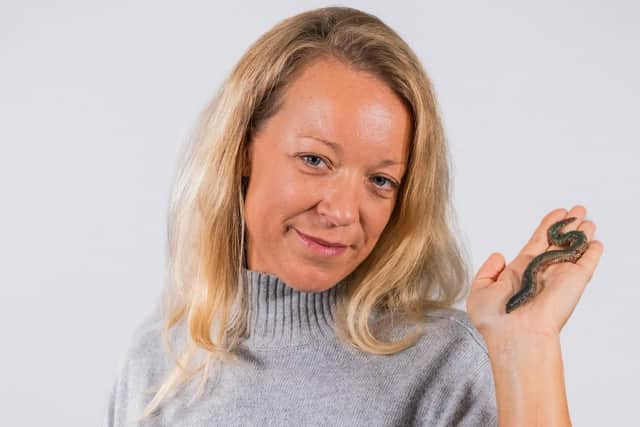 The technology can be sited alongside existing aquaculture production facilities to deliver a circular business – creating value from previously useless products, reducing waste disposal costs and impacts and providing low-carbon alternative feed ingredients – and allowing polychaete worms to be grown year-round for both UK and global export markets.
Dr Robinson has expressed her delight at winning the Challenge prize – the top accolade, given to the company that shows the greatest growth and innovation potential – at the Converge Awards ceremony in Glasgow last week.
"I was thrilled to be a finalist and win the Converge Challenge award," she said.
"We participated in Converge 2023 for the entrepreneurial training to support our spin-out journey and I want to thank Converge for its incredible support.
"I am driving the spin-out of N-ovatio-N to deliver impact and help meet Scotland's net zero targets through a circular economy solution that upcycles waste into high-value feed ingredients in the form of marine worms.
"Our solution centres around net zero solutions for the Scottish salmon farming sector and global aquaculture industry.
"We will use this cash prize to leverage non-dilutive grant funding to further build our IP portfolio."
Since launching the Sams spin-out company, Dr Robinson has secured placements on a range of accelerator programmes.
She has also secured £75,000 of funding from Scottish Enterprise's High Growth Spin-Out Support Programme to help expand the operation.
The Converge Awards, now in their 13th year, are seen as a springboard for university spin-outs and start-ups that seek to transform society, people and the planet for the better.
The Challenge category recognises novel business ideas with solid IP foundations, high commercial potential and scalability.
Successful applicants must demonstrate their prospective business's competitive advantage, market potential and expected team and resources.
Professor Nicholas Owens, director of Sams – a partner of the University of the Highlands and Islands – welcomed recognition of Dr Robinson's efforts.
"Our emerging blue economy needs innovative and creative thinkers, but the marine science knowledge behind these ideas is crucial," he said.
"Georgina is an excellent example of that.
"I look forward to seeing the evolution of N-ovatio-N and the impact it will make on aquaculture.
"This award, thanks to the backing of Converge, is a fantastic start."
Funded by the Scottish Funding Council, South of Scotland Enterprise, Creative Scotland and a network of 11 corporate partners, Converge works in partnership with all of Scotland's universities.
Since its launch in 2011, the programme has trained more than 700 aspiring founders and contributed to the creation of more than 330 companies, which have raised in excess of £320 million in follow-on funding.
Open to students, graduates and staff from across Scotland's universities, Converge supports new businesses through intensive business training, networking, 1-2-1 support, substantial equity-free cash prizes and expert advice from industry partners.
Comments
Want to join the conversation? Please or to comment on this article.