How farming tech invented by Nasa could solve some of the world's biggest food problems – and end off-season shortages on UK shelves
Greenhouse gas emissions, Brexit, war in Ukraine, the cost-of-living crisis, land use, water supplies, weather, availability of seasonal workers, pests and diseases.
There are lots of challenges involved in producing the food we eat, but an innovative Scottish company is leading the charge on tackling many of them.
Edinburgh-headquartered firm Intelligent Growth Solutions (IGS) believes its cutting-edge vertical farming technology can help future-proof the agriculture sector and ensure supplies of quality home-grown produce are available all year round at affordable costs.
Originally developed by Nasa scientists as a potential way to grow food for astronauts in space, vertical farming involves rearing crops indoors in upright stacked layers.
The environment is strictly controlled, providing the best temperature, light and water to optimise plant growth, and often incorporates soil-less techniques such as hydroponics, aquaponics and aeroponics.
Early methods were inefficient, expensive, labour-intensive and limited in scope.
But 10 years on since it was founded, ISG has invented and developed flexible modular devices that can be custom-designed to suit the needs and scale a grower requires.
With systems that can be used to cultivate more than 200 types of fruit and vegetables, safely shielded from unsuitable weather and pests, the firm already has customers on four continents, and has opened an office in the US.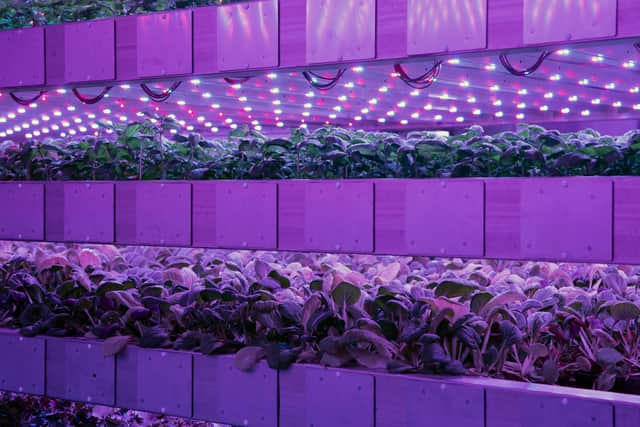 A huge range of crops – everything from tomatoes, cucumbers, broccoli and cauliflower starter crops, leafy greens and herbs to potatoes, avocados, edible flowers and botanicals for gin distilleries and perfumiers and even tree seedlings, to be used in rewilding and conservation projects in Scotland – have been successfully grown using the towers.
The technology offers myriad advantages over traditional outdoor or glasshouse agriculture, according to Andrew Lloyd, chief operations officer at IGS.
Firstly, the indoor farms can be located virtually anywhere, without a need for arable land – whether that's in cities or deserts, brownfield sites or docksides – and require only a fraction of space of an equivalent field.
'Ideal' growing conditions also ramp up growth rates, meaning crops can be harvested sooner and so more produce can be grown in a year.
There are also major environmental benefits, with the ability to achieve zero climate emissions.
Cultivation can be powered by 100 per cent renewable energy; food miles and waste can be cut if farms are located near the people they supply; water consumption is low compared to traditional growing methods – where 250 litres is needed in a field, this drops to 20 litres for a greenhouse or just one litre in a vertical farm.
Indoor conditions mean no pesticides are needed and plants are not exposed to outdoor air pollution so don't need to be washed before consumption.
The IGS team believe vertical farms will have an increasingly important role in feeding the world's rapidly expanding population – predicted to reach 10 billion people by 2050 – especially as the impacts of climate change affect the reliability of food production in the future.
It could also ensure we are not faced with bare supermarket shelves or rationing of produce like the situation that happened recently, when supplies of imported salad ingredients like lettuce, tomatoes and cucumbers were not getting through to the UK.
IGS has calculated that just 60 commercial-scale vertical farms would make the country self-sufficient in the leafy greens that have been missing from shops.
"It's becoming clear that our food supply chain is broken, and the UK has hit a breaking point," Mr Lloyd said.
"Leaning into new technology and integrating vertical farming into current food production systems will make the UK more resilient to import variations, staffing problems, disease and climate or weather events.
"Not only can our technology address today's pressing needs, but it enables our farmers to complement their business and diversify into other crops year-round."
Professor Derek Stewart, director of the Advanced Plant Growth Centre at the James Hutton Institute, has worked with ISG on its crop research.
He said: "The UK has an overall £6bn deficit for fruit and vegetables, which includes £1.7bn for protected salad crops.
"This could be reversed almost completely with the adoption of vertical farming, which has the added bonus of being able to extend shelf-life, enhance nutritional density and the taste of crops, all whilst reducing waste.
"The combined science and technology we use means we can control the growing environment. By linking to renewable energy, this will lead to significant savings in terms of water and fertiliser use, allow greater confidence in food safety and will make a major contribution to local food security."
Sustainable food producer OneFarm uses vertical farming tech at its site in Suffolk.
Mira Merme is chief executive of sustainable food producer OneFarm, which uses vertical farming at its site in Suffolk.
She said: "The accelerated growth times and consistently high-quality produce means that smart vertical farming growth towers can become a serious part of UK food production.
"Vertical farming technology in the right hands can readily work in tandem with traditional farming techniques to bolster output, introduce new crops and ensure a steady supply of high-demand items such as salad, herbs, chillies, kale or broccoli, grown locally and available to the end consumer at affordable prices."
Comments
 0 comments
Want to join the conversation? Please or to comment on this article.