Ghostly apparition appears in the mist as brocken spectre captured on famous Scottish mountain
A rare and ghostly apparition has been captured on camera on one of Scotland's best-loved mountains.
The unearthly-looking image shows a giant shadowy figure shrouded in mist and illuminated by a glowing halo of light.
The phenomenon is known as a brocken spectre, where the shadow of an observer is cast against mist or cloud below the level of a summit and surrounded by a ring of light due to the position of the sun.
It can only be seen in certain weather conditions.
It was snapped on Ben Lomond, the most southerly of Scotland's Munros, by National Trust for Scotland ranger David Allsop during what for him is an ordinary day 'at the office'.
The manifestation, which he experienced at Coire Corrach, was not the first for the Ben Lomond ranger, who posted pictures on social media.
"Got lucky this morning on the walk up to work to get a brocken spectre," he wrote.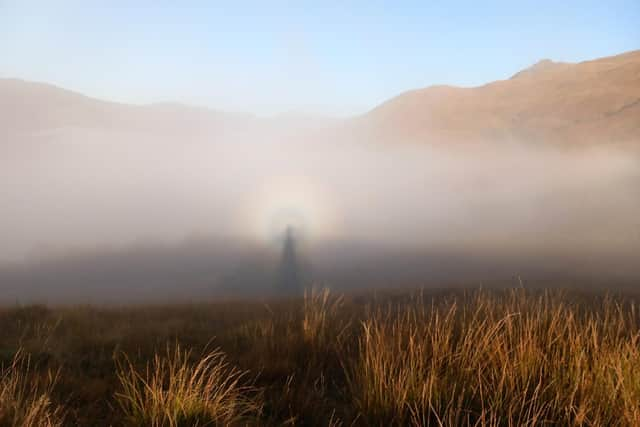 "Low down too – Coire Corrach – only my second one on the Ben.
"I was waving to myself."
The brocken spectre, also known as the brocken bow or mountain spectre, was named after the highest peak in Germany's Harz mountain range, where the phenomenon was first noted.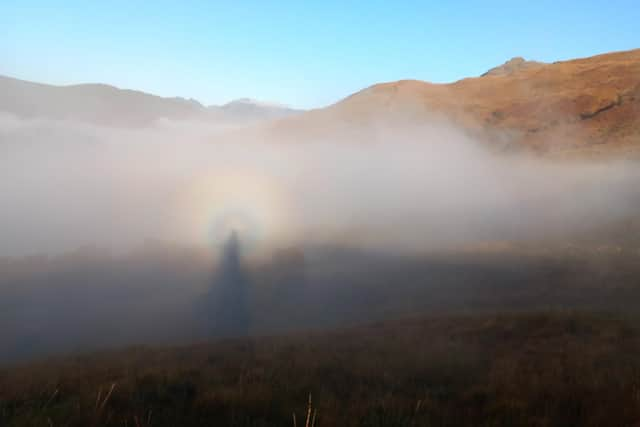 It is described as the giant shadow of an observer cast against mist or cloud below the level of a summit and surrounded by a halo-like ring of light, sometimes showing the full spectrum of colours.
The atmospheric phenomenon has been photographed on a number of Scottish peaks in years gone by, from the Cuillins on Skye to Glencoe and the Cairngorms.
It is thought by some to have inspired the myth of a Scottish Bigfoot, better known as the Big Grey Man of Ben Macdui.
Munros are hills in Scotland which stand more than 3,000ft, or 914.4m, high.
Owned by the National Trust for Scotland, it is one of the most popular Munros – attracting around 30,000 hill-walkers each year.
Coire Corrach hit the news earlier this year after the remains of an illegal whisky still, thought to date back to the early 1800s, were uncovered by archaeologists at a site there.
Comments
 0 comments
Want to join the conversation? Please or to comment on this article.