The daring canine climbers are wolfdogs – hybrids created by mixing domestic dogs with their wild wolf cousins – and they and their human companions were pushed to the limits navigating the precipitous terrain in the Cuillin mountains on the Isle of Skye.
But the effort was worth it for all involved.
Oli Barrington, based in Herefordshire in England, has been involved with wolfdogs for more than a decade and enjoys taking them mountaineering, with previous trips to both the Cuillins and the Pyrenees.
For the most recent trip he hooked up with friends to take six wolfdogs – Damek, Bella, Nina, Tundra, Rogue and Bronn – on a hair-raising ascent, and descent, of the jagged Black Cuillin.
He said: "We set off from Glenbrittle at first light and headed for Sgurr Dearg – site of the infamous Inaccessible Pinnacle. The weather was perfect and we scrambled our way up to the ridge with the dogs.
"Some of the dogs had the agility of mountain goats and others had to be helped and encouraged. The route back was more challenging as we chose one of the many stone chutes to head down, which involved carefully picking our way across a steep gradient of loose rock to get off the mountain. This part was quite stressful."
He said the trip was one he would "remember and cherish" for the rest of his life.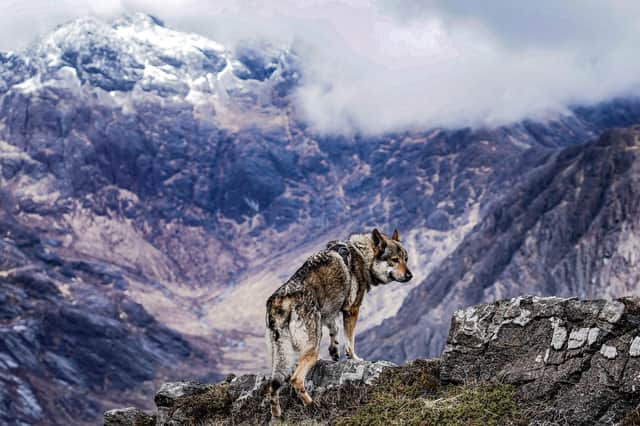 "The Cuillin provides a spectacular and challenging environment where both humans and wolfdogs are pushed physically and mentally," he said. "Dramatic peaks and knife-edge ridges, with a backdrop of the Atlantic Ocean and the islands Eigg, Rum and Canna, provide a rugged and wild beauty unique in the UK."
The pack was a mix of Czechoslovakian wolfdogs and high-content wolf hybrids – all crossbreeds, but with varying degrees of wolf genetic content.
But he warned the breed was particularly high-maintenance and caring for a wolf dog was "like having a difficult child that weighs 62kg".
Anyone hoping to take one on needs a particular set of skills.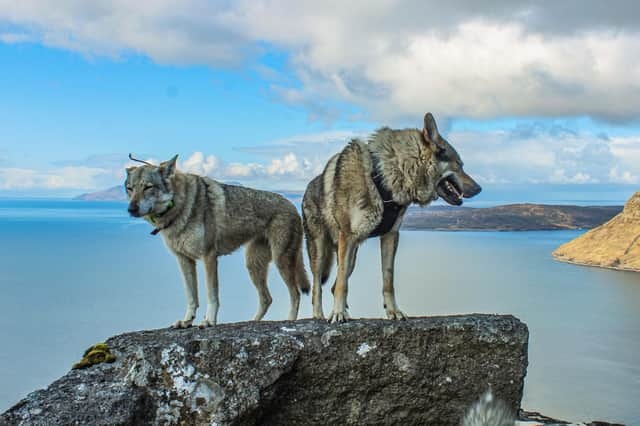 "Keeping such animals requires a huge commitment in terms of lifestyle, time and money," he said. "Any long-time owner of these animals will have a long list of sacrifices they've made to keep them.
"They are both physically powerful and emotionally sensitive – the higher the wolf content, the more sensitive and timid they are. Keeping any wolfdog requires a blend of firm leadership, love, understanding and inexhaustible patience."
Wolfdogs have seen a massive surge in popularity in recent years, partly driven by appearances in cult drama Game of Thrones and the Harry Potter films.
Official records state the last wolf in Scotland was killed in 1680 near the Perthshire village of Killiecrankie, although other reports suggest the species continued to survive north of the border until the 18th century – and perhaps even as late as 1888.
In recent years there has been much discussion over bringing apex predators back to Scotland in a bid to control deer numbers and rebalance the environment, but proposals to reintroduce wolves have generally stirred up controversy.