Police Scotland racism: Timing and resourcing questions underpin Iain Livingstone's landmark 'institutional racism' admission
Questions over why it has taken so long for force's outgoing head to address discrimination issues
It has been described as a "watershed moment" for policing in Scotland, with an admission that will resonate throughout the national force and wider civic Scotland: "Institutional racism, sexism, misogyny, and discrimination is a reality for Police Scotland."
For years, such damning assessments have been levelled at the force by some inside it, as well as others outside it. That the same conclusion has now been reached by Sir Iain Livingstone, its outgoing chief constable, is a game changer. Or, at least, it should be.
Sir Iain stressed bringing such issues out into the open was crucial to expedite real change and realise the goal of an "anti-racist service". He also pointed out his admission of institutional discrimination did not mean that individual officers or staff were racist or sexist.
Even so, he also conceded prejudice and bad behaviour within the force was "rightly of great concern", and bluntly noted people from different backgrounds, including the force's own personnel, don't always get the service that is their right.
Sir Iain's remarks at a meeting of the Scottish Police Authority came a day after a review of the culture within the force uncovered ongoing discrimination against minoritised communities, including first-hand accounts of racism, sexism and homophobia.
The review group said they had encountered a degree of scepticism, and in some cases, "outright fear" about raising concerns either formally or informally. They also flagged a perception that such action would only lead to the person being moved, and the issue being "avoided".
The immediate questions facing Sir Iain, who is set to retire in August, is why he decided to speak out now and, more importantly, why it has taken so long for him to do so, given he has led the force for almost six years?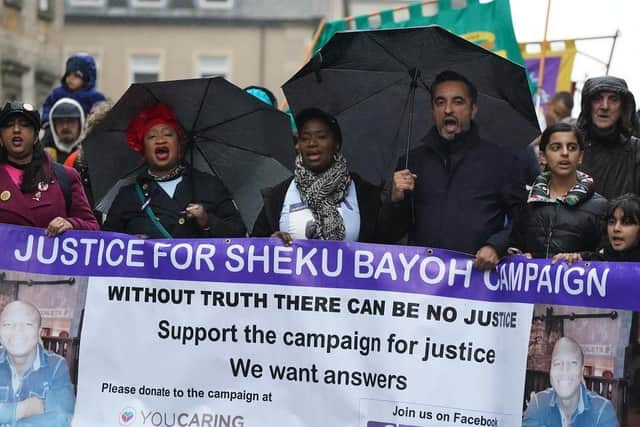 The former question is perhaps testament to the 56 year-old's political acumen. He will rightly be praised for his candour, but knows the conundrum of how to implement the major changes needed, especially at a time when the force's budget is under significant pressure, is one that will occupy his successor's in-tray. Either way, the issue of why the man in charge of Police Scotland has only spoken out now about the force's problems with racism and other forms of discrimination should attract greater scrutiny.
It should be stressed the spectre of racism and other forms of discrimination predates Sir Iain's tenure. Indeed, it has hung over policing in Scotland long before the 2013 merger of eight regional forces and two specialist agencies to create a single national entity, with the 1998 murder of Sikh waiter, Surjit Singh Chhokar, the most damning example.
His death resulted in one of the nation's longest running and most controversial investigations, which only resulted in a conviction in 2016. The failure of two prosecution cases at the turn of the millennium sparked widespread anger, with an official inquiry accusing the prosecution and the-then Strathclyde Police guilty of institutional racism.
If there were hopes that such an excoriating assessment would act as a catalyst for change in the same way as Sir William MacPherson's inquiry into the murder of Stephen Lawrence sparked debate about policing and racism, they were not realised. Further controversies lay in wait.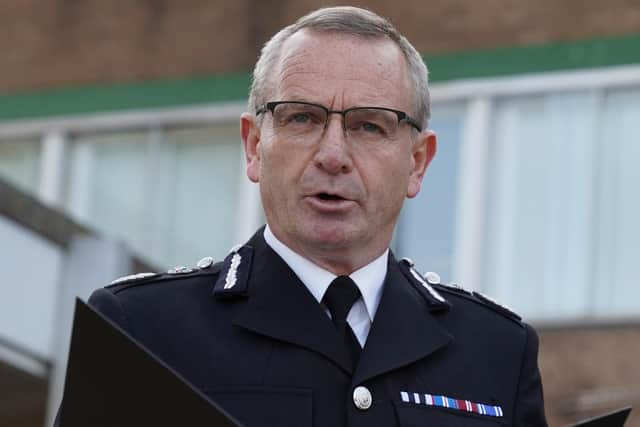 Police Scotland continues to find itself under significant pressure over the 2015 death of Sheku Bayoh, who died after he was restrained by police officers in Kirkcaldy. An ongoing public inquiry is looking at whether race was a factor. It was notable that during his address, Sir Iain made reference to Mr Bayoh's family, who have said the 31-year-old's death was the consequence of a disproportionate use of force motivated by racial bias.
The force has also come under fire for what former female police officers have characterised as a pervasive "boys' club" culture. One of them, Rhona Malone, won almost £1m in compensation last year after an employment tribunal found she had been victimised when she had raised concerns about sexism.
Beyond such individual incidents, there have also been serious concerns expressed at an institutional level. Some two-and-a-half years have passed since Dame Elish Angiolini, the former lord advocate, published a damning insight into the experience of black and minority ethnic officers in Police Scotland.
It highlighted the fact that no one from a minority ethnic background occupied a senior role in the force, and heard how when BAME officers complained of internal racism, the finding was always the same; namely, 'not found'. Her independent review of complaints handling, investigations and misconduct issues also heard that in serious misconduct cases, any racial element was "dropped" by Police Scotland's professional standards department on the basis that "it's just part of how we talk".
In the aftermath of that report, Humza Yousaf, then justice secretary, and James Wolffe, the-then lord advocate, accepted the majority of Dame Elish's recommendations. But progress in implementing them has been slow. As of last week, just 58 of the 111 recommendations laid out in her report had been delivered.
That work will continue, but the pressure will be felt not only by whoever replaces Sir Iain, but the Scottish Government. This week's review group publication noted the single biggest impediment to driving cultural change within Police Scotland was the pressure on frontline resourcing. It warned there was felt to be "little or no space" for officers to devote time to training around equality, diversity, inclusion and human rights issues.
The result, the review group, said, was what it described as "initiativitis", where a constant stream of projects and activities, all well intentioned and with merit, are simply not joined up in practice. To put it bluntly, that has to change. The problem is, the same thing has been said time and again.
Comments
Want to join the conversation? Please or to comment on this article.