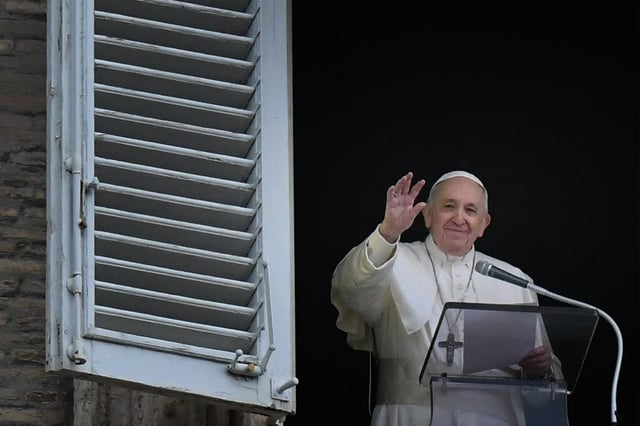 Police Scotland''s planning assumptions for the COP26 include the attendance of Pope Francis alongside world leaders at the Glasgow summit. Picture: Alberto Pizzoli/AFP/Getty
Despite continuing uncertainty of the shape and scale of the pivotal United Nations climate change conference, the force said it was planning for a host of global leaders to arrive in Scotland's biggest city this autumn.
It also said plans are in place to counter protests by "hardline anarchists" who are intent on committing "serious acts of violence," with one of the force's most senior officers pointing to the recent riots at the US Capitol.
Until now, there had only been speculation that Pope Francis would be among those in attendance at November's event, but the fact that police are actively planning for his involvement in the conference represents a significant development for the event's profile and security.
The pontiff has observer status for the UN Framework Convention on Climate Change, although it is understood that the Vatican has yet to decide on the level of its representation at the summit.
If Francis decides to be part of COP26, it would mark the first visit to Scotland by a reigning pope since Benedict XVI in 2010. It would also significantly upscale the security operation, given previous papal visits have drawn vast crowds.
With a little over seven months to go until the summit, plans are intensifying, with the Cabinet Office and Police Scotland still working towards an in-person conference.
Police Scotland said its response to the COP26 summit poses a "unique policing challenge." Picture: Jeff J Mitchell/Getty
A meeting of the Scottish Affairs Committee at Westminster heard that Police Scotland's operational plans for the summit span the whole of the country, not just Glasgow, given foreign delegations are planning to use hotels in Perthshire and Fife.
Bernard Higgins, the force's assistant chief constable, said its response to COP26, known as Operation Urram, represented "one of the biggest policing safety operations" in the UK in recent years.
He explained: "We have a set of planning assumptions which we have been working to, based on a number of world leaders coming at a particular time, who may include the president of the US, and who may include the Holy Father, Pope Francis, which would escalate the event into something not seen in the UK in many, many years."
Mr Higgins told MPs that while it was pursuing a strategy of "facilitation and engagement," he warned he would "not tolerate" extreme demonstrations, such as any protest which forced the closure of the Kingston Bridge on the M8.
He said: "Based on current intelligence, some sort of demonstration is inevitable, and I have categorised into four categories - concerned individuals making peaceful protests, people protesting certain countries, climate activists who won't be afraid to engage in direct action to disrupt, and hardline anarchists - either extreme right wing or extreme left wing - who potentially will come regardless of the substance of the conference, intent on delivering serious acts of violence and disorder.
"If you consider some of the peaceful protests we've seen recently, and then contrast that with, for example, the protests in Capitol Hill, that's how flexible the policing plan has got to be," he added. "It's got to be flexible enough to facilitate lawful, peaceful protest, but be robust enough to repel any determined violent or riotous behaviour."
A message from the editor:
Thank you for reading this article. We're more reliant on your support than ever as the shift in consumer habits brought about by coronavirus impacts our advertisers. If you haven't already, please consider supporting our trusted, fact-checked journalism by taking out a digital subscription.