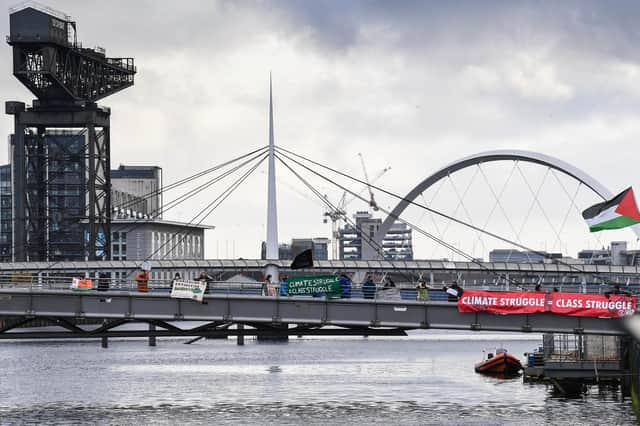 The official hotel portal for the COP26 gathering is charging visitors up to £888 a night for downmarket budget accommodation where the rate is usually as low as £50.
With delegates forced to book a minimum of a 12 night stay, and pay their entire bill upfront, it has prompted warnings that the "eye watering" costs will dissuade delegations from poorer nations and NGOs from attending COP26.
The government has also been accused of sanctioning a "monopoly" over the provision of hotel rooms in and around Glasgow through MCI Group, its "official housing agency" for COP26. It has not disclosed the value of the contract with the firm, which is based in Switzerland and controlled by Roger Tondeur, a high-ranking poker player based in Morocco, according to Companies House records.
The government said delegates were free to "book independently" instead of using the official COP26 hotel portal, despite the fact the portal itself says delegates should only use it to make bookings.
While the coronavirus pandemic has impacted on planning for the rescheduled summit, organisers are still working towards an in-person event in November.
With 30,000 visitors and hundreds of world leaders set to descend on Scotland's biggest city, some hotels and homeowners have been ramping up prices. But the rates available via MCI are among the steepest.
Its accommodation includes the EasyHotel in Edinburgh's Princes Street, which typically charges between £50 and £60 a night.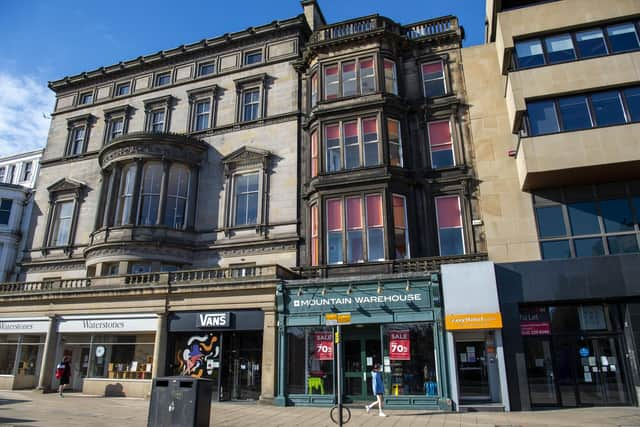 But come COP26, delegates are being asked to pay £11,989 for a stay spanning 31 October to 12 November. The bill includes £1,332 in service fees and a "tax recovery charge."
For that outlay, they can look forward to staying in a 6.5 sq m room with no window and, the website notes, no toothpaste. In-room costs £10 a day.
By comparison, nightly rates at the nearby Balmoral - one of Scotland's most sought after hotels - start from £363 in September.
The EasyHotel is among those options which requires full payment in full upfront, an issue of growing concern to those due to travel to Glasgow from developing and emerging economies.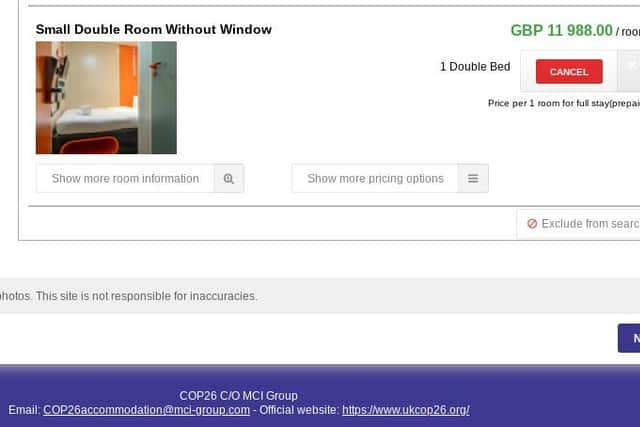 Only last month, Ronaldo Costa Filhio, Brazil's permanent representative to the UN, stressed that poorer nations must not be priced out from attending COP26.
"Given the travel uncertainties these days, some sort of flexibility for booking accommodation would be much needed," he told a virtual COP26 briefing. "The need for full upfront payment could create hindrances for the attendance of some members, especially from developing countries."
Deidre Brock, the SNP MP and the party's COP26 spokeswoman, said: "The huge increase in the room rates for hotels leaves us all wondering who is profiteering from what is, essentially, a government-sanctioned monopoly on hotel rooms and other accommodation during an international conference.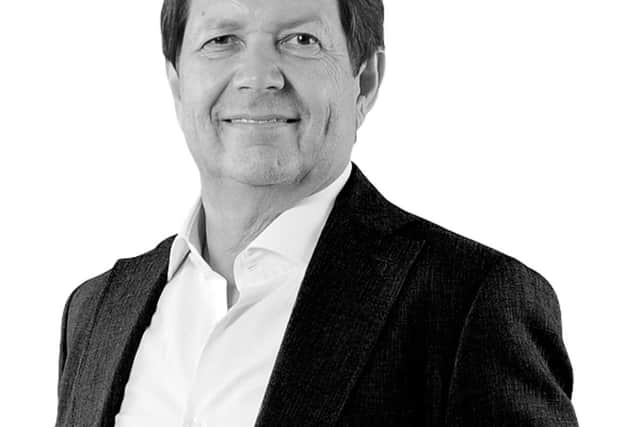 "These eye-watering extra charges will be off-putting to the delegations that we might have expected from some countries, NGOs and other organisations who have to be careful with their expenditure and individuals who might have considered attending.
"That could mean that important voices are lost from around COP26 and the chances of making true progress in Glasgow are lessened as the conference is diminished."
While a host of private firms are also offering accommodation, the MCI site warns delegates that "COP26 cannot validate hotel reservations via sources other than those presented by MCI," given it "is the only official mandated housing bureau for this conference."
It adds that in order to avoid suspect sites and "scams," delegates should "only book your accommodation" through the site.
It also stipulates that payments should be made not to hotels, but to MCI's Swiss holding company. with the option of transferring funds to its Geneva bank account.
MCI said it had been appointed by the Foreign, Commonwealth and Development Office (FCDO), but it is unclear how much the firm is being paid.
Neither the government nor MCI would say how much the deal is worth. There was no competition for the contract, as its value fell below the threshold set out in the Public Contracts Regulations 2015.
Ms Brock added: "Why bring in this Geneva-based company to run an accommodation search and booking service when Visitscotland - a public sector organisation - already has a web portal doing the job which could easily have been tweaked to cater for COP26?
"More than that, why is MCI insinuating that booking through any means other than their portal would leave conference delegates open to scams and inappropriate demands for payment?"
Upmarket hotels closer to the summit venue at Glasgow's SEC campus are also costly via MCI's site. Delegates booking the Malmaison in Glasgow city centre have to pay for at least 12 consecutive nights at a daily rate of £500.
Other hotels on the portal include the Sheraton Grand in Edinburgh. It too, requires a booking of at least 12 nights, at a daily rate of £397 for a single room.
The site includes cheaper options, such as the Coachman Hotel in Kilsyth, where a suite for the duration of COP26 will cost £900. MCI said it is working with "alternative accommodation" representatives to secure dormitories, Airbnb properties, and security-cleared hosted family stays.
A spokeswoman for the company said it offered both "pre-contracted rooms" and "full market access" via Expedia's affiliate network booking engine to provide the "widest possible choice, availability, and rates." She added that it evaluated more than 355 hotels and contracted less than half that figure.
A spokesman for the UK government said: "Our agreement with the UN requires the UK, as host country, to make arrangements with the accommodation sector to ensure accommodation is available for participants of the conference - the MCI portal facilitates this.
"Of course, delegates are free to book independently from the MCI portal."
A message from the editor:
Thank you for reading this article. We're more reliant on your support than ever as the shift in consumer habits brought about by coronavirus impacts our advertisers. If you haven't already, please consider supporting our trusted, fact-checked journalism by taking out a digital subscription.