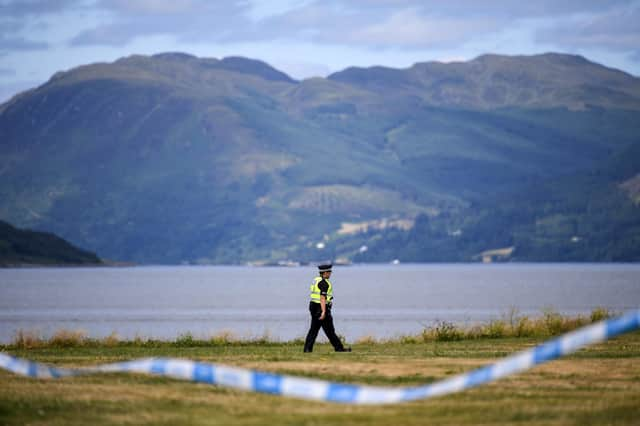 An island community has claimed Police Scotland is putting their residents at risk by using them as guinea pigs in a "money-saving" trial of reducing officer presence in the area.
Police Scotland confirmed it has revised its operating model on the Isle of Bute, which has a population of about 6,500.
The Force insisted the new system, which started on Thursday, and is being trialled over the next three months, will "ensure our policing response is effective and continues to meet all our communities' needs" while "maintaining our policing response to our communities 24 hours a day, seven days a week."
Councillors on the island have said the new model will see no active police officers on duty between midnight and 8am during the week, nor between 2am and 8am on weekends.
During those hours there will, instead, be officers on call.
'The model is ludicrous'
The Bute community said they are outraged by the new model which they say could "risk lives", and claim the newly introduced measures have been "rolled out under the radar" without any public consultation.
"The new model is ludicrous," said Isle of Bute councillor Liz McCabe.
"We are being used as guinea pigs in this money-saving exercise.
"And the worst part about it is no one in the community was consulted on it."
Ms McCabe said in January she was told by chief inspector Samantha Glasgow in an email that it was her intention to consult more widely on the specifics of the proposed model "at an appropriate juncture."
Any concerns were to then be sent to chief inspector Chris Dibbs.
"I did this, and then requested a meeting," Ms McCabe said.
"Chief inspector Dibbs told me it was only a proposal and when I asked about a public consultation he assured me the three councillors on Bute would be notified. But this did not happen.
"I have been in touch with Police Scotland since October last year about this, but nothing has happened. Then the new model starts on 18 May.
"It's quite clear it's being rolled out under the radar.
"They are trialling it with us before they use it in other rural communities."
'Puts people at risk'
Ms McCabe said she has spoken to local police officers and paramedics on the island who she claims oppose the new model.
"What if there's medical staff needing extra help with let's say a mental health case?" she added.
"Sometimes emergency services need the support of police to prevent a case escalating further.
"It's putting people at risk."
She added the island is not short of emergency incidents, adding: "In the last five or six weeks a police officer was assaulted by a man at about 5am, and another man was seriously assaulted in an unprovoked attack while walking his dog and had to be taken to hospital on the mainland."
Police confirmed in a statement the latter incident happened in the early hours of the morning in March.
Ms McCabe's concerns were echoed by Bute community council convenor and former councillor Jean Moffat.
"How they consider a sleeping policeman being part of 24 hour care, I do not know," she said.
"If there's an emergency in those hours, the 999 call would go to Inverness or Glasgow, the control room would then contact the officer on call who will then have to get out of bed, go to the police station to get their kit, then go to the incident.
"It's risky. All there needs to be is one unfortunate incident."
Ms Moffat said she understands the new modelling to reduce police presence in the area is likely due to national funding issues. But she insisted consultation was not given the role it should have in the process.
"They put this together with absolutely no input from the local community," she said. "And they certainly aren't showing any interest in talking to anyone about it.
"One resident at a community meeting we had was beside herself hearing about the new model which no one had been warned about."
Ms Moffat said the trial will very likely become permanent and rolled out to other rural communities around Scotland.
She added: "The concern for residents is, in rural communities, we don't have the extra security such as CCTV or street lighting that you might get in cities and towns to disincline certain crimes. It's opening up a window for opportunists.
"The only reason that makes sense as to why they are doing this is to axe the number of police in the area."
'Could cost lives'
Local resident Jann Hurwood said the new model "will add significant time to any emergency response".
"This is a worrying change from the current proactive policing by deterrent to a delayed response reactionary model," she said.
"A delay in responding to an emergency could costs lives and it appears Police Scotland are happy to take that risk on our behalf without asking."
Ms Hurwood said with ferries to and from the Isle of Bute stopping at 9pm, the community is wholly reliant on the previous policing model where officers were actively on duty to ensure incidents are dealt with "in a timely manner before they escalate into a major incident."
Another island resident, who preferred to remain anonymous, said crimes such as domestic abuse usually happen after dark which could put victims more at risk with no officers actively on duty in the early hours.
Police response
In response to the community's concerns, Police Scotland said similar policing models to the Bute trial are being used elsewhere in Scotland.
The force said councillors were notified of the plans on various occasions and invited to a full briefing ahead of rollout.
Chief Inspector Samantha Glasgow said: "We have revised our operating model for the Isle of Bute to ensure our policing response is effective and continues to meet all our communities' needs, and this includes increasing officer availability at key times, improving community policing and maintaining our policing response to our communities 24 hours a day, seven days a week."