Ayr bemoans latest fire to ravage landmark Station Hotel as residents say 'it looks like this could be the end'
Calls for an urgent survey of the 19th-century Ayr Station Hotel have come after the second blaze in four months
For the vast majority of its 140 years, it has stood as a proud landmark in the former Royal Burgh of Ayr, playing host to first loves and last goodbyes as generations of townsfolk flocked into its ornate interiors to celebrate their own milestones. But after a long and sorry demise, the future of the South Ayrshire town's imposing Station Hotel looks more uncertain than ever.
In the wake of the fire that tore through the B-listed structure on Monday evening, there are growing doubts over whether the grand building can be saved. Perhaps more importantly, there are mounting questions over whether it is even worth trying.
On a dreich Tuesday afternoon, nearly 24 hours after the alarm was raised, two Scottish Fire and Rescue Service (SFRS) high-reach appliances were still in attendance at the scene, with firefighters training high pressure jets on the smouldering heart of the structure. It marked a sorry sight for a building that once served as a byword for civic pride. But in truth, the hotel, designed by the noted Scottish engineer Andrew Galloway in an opulent French Renaissance château-style, has cast a long shadow for more than a decade now.
The property was acquired by Eng Huat Ung, a Malaysian businessman, in 2010. The purchase raised hopes that it would be restored to its former glory, but in reality, the reverse was true. That same year, the hotel was partly closed, and after it was shut altogether in 2012, the hotel was added to the Buildings at Risk register.
Scaffolding had to be erected on the train station platforms to protect passengers from the threat of falling masonry and, when Mr Ung failed to carry out repairs, South Ayrshire Council imposed an exclusion zone to protect members of the public from the "significant and immediate dangers" posed by the building's condition.
Amid mounting concerns the hotel's derelict state left it especially vulnerable, these were almost realised as recently as May, when a fire struck the building. It is understood the building's robust design – it was constructed using concrete jack arches and iron beam floors so as to bolster its lateral stability – helped mitigate the impact of that smaller blaze.
Ironically, it was just ten days ago that Save Britain's Heritage published a report suggesting the building – once the pride and joy of the Glasgow and South Western Railway – was in much better condition than previously thought, and could be refurbished. Four months on, it is as yet unclear whether the building has been so lucky following the latest fire. But the conservation body, which regards the hotel as "one of the region's great landmarks", is calling for an urgent survey to ascertain its structural condition.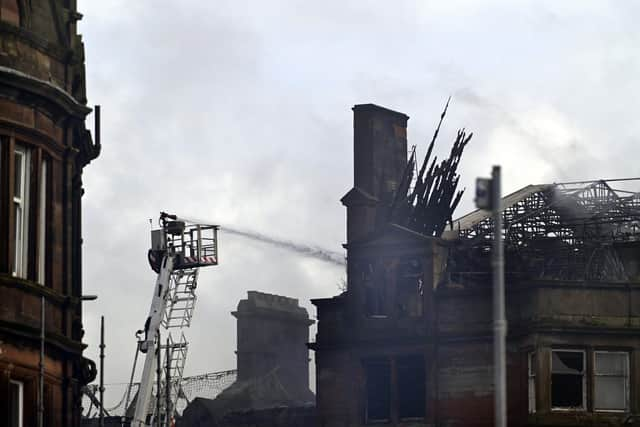 It will take time to get such answers. And there are other questions that remain up in the air, not least regarding security arrangements at the building site, and the resources available to SFRS crews called to the fire. Two male youths, aged 17 and 13, were also arrested and charged on Tuesday in connection with alleged fire-raising following the incident.
In the meantime, however, the decline of a once proud landmark struck a tragic, yet inevitable note.
Terry Mulholland, who was among those members of the public to brace squalls of driving rain to survey the damage, can recall attending dances and ceilidhs at the hotel during his teenage years. But the building's status as a centrepiece for the town's social life, he said, had long been lost.
"For a long time now it's been lying there derelict and it's cost a lot of money just to keep it the way it is and stop it getting worse," he said. "I think there's been a lot of toing and froing with lawyers. But if you ask me, something should have been done before this happened. The government could have stepped in and took it over.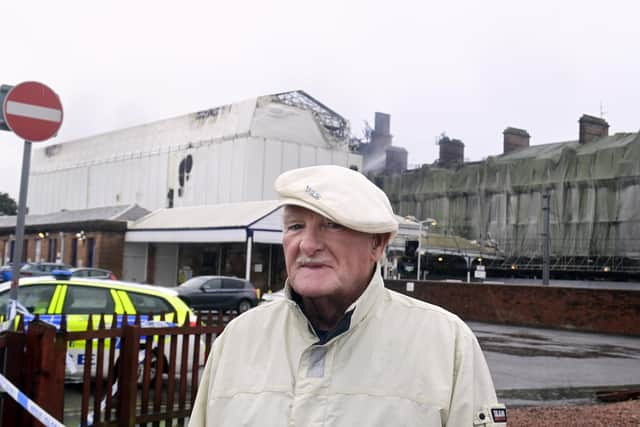 "It was a prominent feature of the town for 100 years, but it's been an eyesore for a few years now. I think they'll need to bring it down. It's been swinging that way for a wee while."
Ann Convery is another Ayr native with long-standing connections to the building. She first passed through its doors as a 17-year-old for a Hogmanay dance in the mid 1960s. At a time when the historic town was thriving, the hotel, she said, "felt like it could have been in Paris or London".
She recalled: "It was a rare place, a very special place. You'd dress up to go there and it was always a great night. I have a friend who met her husband at a dance there, so it means a lot to a lot of people.
"It's just a shame what's happened to it. No one seems to be able to save it and it looks like this could be the end. It's just very sad."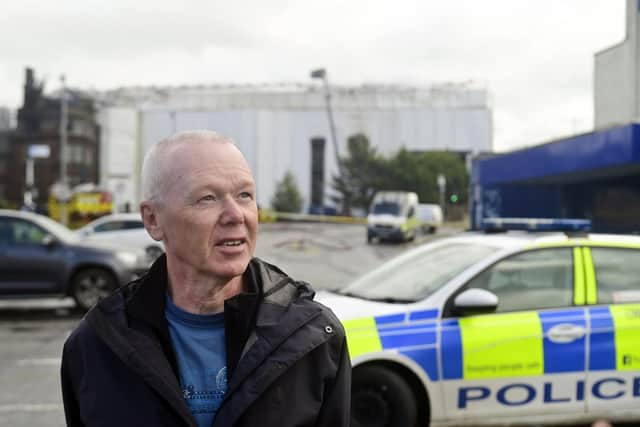 For others in the town who do not have the same emotional ties to the Station Hotel, the conclusion is similar. Clive Drummond moved to Ayr a decade ago and, while he can appreciate the building's heritage and history, believes it is time for a fresh start.
"To be honest, it's been an eyesore and an embarrassment for a long time," the 65-year-old said. "If something was going to change, it would have happened by now, but there have been so many things against it, from the ownership issues to the fact it's right next to the railway line. I think some of those problems, like the ownership, needs changes in the law to address.
"It's a beautiful building and if it was located anywhere else, it could have been saved. But I'd like to see it replaced now with a new, modern building, something that brings people into the town instead of being a constant burden on the council. Just having the protective tarpaulin around the hotel was costing something like £60,000 a month."
Comments
Want to join the conversation? Please or to comment on this article.