Travel: Anantara Vilamoura Algarve Resort, review - a luxury five-star hotel beside the Portugal Masters golf course
There's plenty to do on this destination's doorstep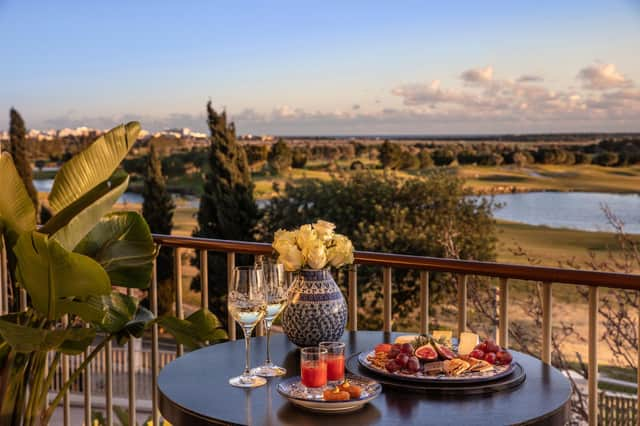 Luxury resorts can be like a bubble.
You go there, stay put, and have a glorious time, but you could be anywhere in the world.
It's not like that at Portugal's five-star Anantara Vilamoura Algarve Resort, which is about 25-minutes drive from Faro airport.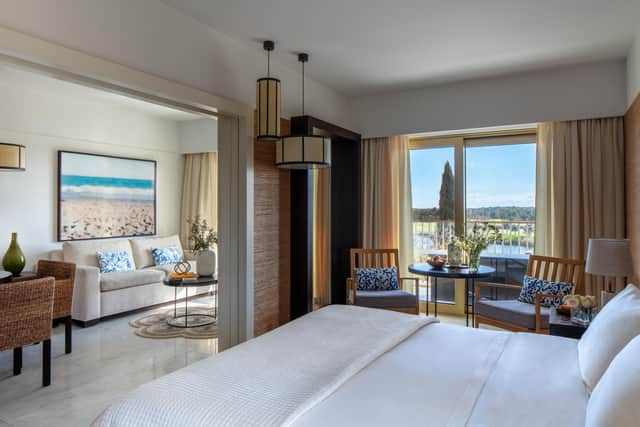 There is a concerted effort to connect guests to its location.
To be fair, we could've happily spent hours on a lounger, listening to the Saturday poolside DJ and letting our milk-bottle-white bodies turn puce. Or, hung out in one of the seven restaurants, if not on the balcony of our peaceful Golf View Suite, with its rolling green view.
That's especially appealing, since the immaculate hotel was revamped earlier this year, and there are now child-friendly Swim-Up Rooms, new suites, and the building has been divided into distinct adults-only areas and those for families, with a pool each, so never the twain shall meet.
However, this is only my second time visiting Portugal. I want to get my bearings. As it says on the keycards here; "Life is a journey".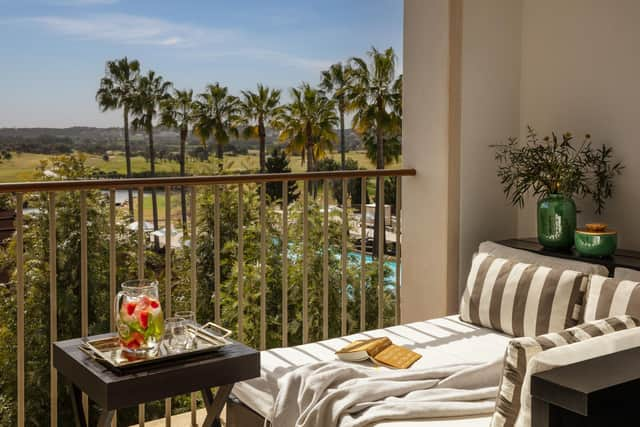 The hotel offers a selection of exclusive experiences, which can be organised by their Journeys Expert, situated in the lobby.
On day one, we're taken out in a 4x4 by Mateus for The Flavours of the Algarve tour. The original plan is to visit the nearby weekend market at Loulé, but we go slightly off piste.
Mateus grew up in a fishing village nearby, and he's encyclopaedic, when it comes to the area. He points in the direction of where the wildfires were burning in the summer, and tells us about driving through that area recently. Everything was blackened. Thankfully, it's still lush where we are. The air is balmy and fragrant, and there are figs, oranges, almonds, melons, pomegranates and avocados growing at local farms. There are also carob trees. According to Mateus, this harvest is currently worth more than gold, thanks in part to it being a popular ingredient in Asia, and we spot locals harvesting these black scabbard-like pods. (That night, in the hotel, carob chocolates are left on our pillows at turn down).
There are also cork trees, with bark across their middles partially stripped, so they look like they're wearing socks with shorts. The older the cork, the more likely it'll be bought by a top Champagne house as a stopper for their finest vintage. There's also a brief trip to the pretty village of Alte, and, on the way there, we look at the old windmills on the hillsides, see a hoopoe and an ibis, and stop at the cottage business that is J.R. Aguardente de Medronho, where they create the local 'firewater'.
When we get back to the hotel, our brains are buzzing. The excursion is all we can talk about over our casual Palms Pool Bar lunch and the same when it comes to dinner at their seafood restaurant, RIA, where my sea bass is filleted beside our outdoor table as an inky dusk falls, to the strains of their live singer's Lady Gaga rendition.
There is more to see the next day, with a whistle-stop tuk-tuk tour, taken by Katja, to the red cliffs at the incredibly beautiful Falésia Beach, where the peachy sands are punctuated by cobalt parasols and cabanas. On the way back, the wind is in our hair, as she jets along, with stops en route, including one to a local honey farm.
Now that we've orientated ourselves, we feel more deserving of the relaxation element.
I spend my afternoon in the top floor Anantara Spa, where there's a pool, sauna, steam room and a wrap-around rooftop terrace that offers views of the neighbouring Victoria Golf Course, home of the Portugal Masters. After a welcoming foot ritual, using orange-scented salts, the therapist pummels away my residual stress, with the full body Anantara Signature treatment.
That evening, there's a goldfish bowl's worth of G&T at their gin bar, Botanic. On a shelf above the bar, you'll find Scottish spirits, like Edinburgh Gin and Hendrick's, but we're very unpatriotic and go for the Portuguese Black Pig variety. It's a preprandial treat before a six-course dinner at Sensai - their Asian-influenced restaurant, where dishes include miso-marinated salmon, sushi and massaman slow-cooked beef cheeks. However, you could also do Italian at La Cucina, or try the very upmarket Spice Spoons, among other eating offerings.
So, yes, exploring is essential, but you've got to luxuriate in that bubble too.
Anantara Vilamoura Algarve Resort, www.anantara.com. Room rates for the Golf View Suite start from €787 (including taxes and breakfast - same price for single/double occupancy). The Flavours of the Algarve tour consist €415 and the Tuk-Tuk Tour is €25 per person.
Comments
 0 comments
Want to join the conversation? Please or to comment on this article.