Hotel Review: K West Hotel & Spa, London - Scotland on Sunday Travel
A chilled-out West London hotel with rock roots, in a great location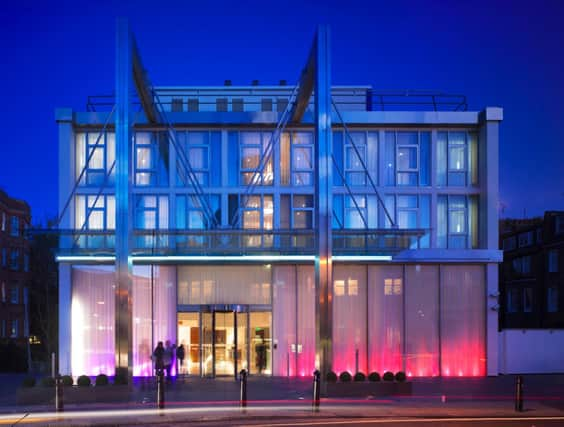 Housed in a building with a distinctive glass and metal angular exterior, K West Hotel and Spa is found in a residential area just a few minutes' walk from the Shepherd's Bush transport mega hub in west London, and on a site with a prestigious rock'n'roll history.
It used to be home to BBC offices and recording studios, welcoming the likes of Bob Marley and The Kinks through its doors. The hotel still offers the chance to enjoy the thrill of music with Shepherd's Bush Empire nearby, for example - which in the next few months is set to host performances such as Nik Kershaw and Embrace.
Another advantage of K West's location is the ability to indulge in some browsing/spending at behemoth shopping centre Westfield that is also just a few minutes' walk away.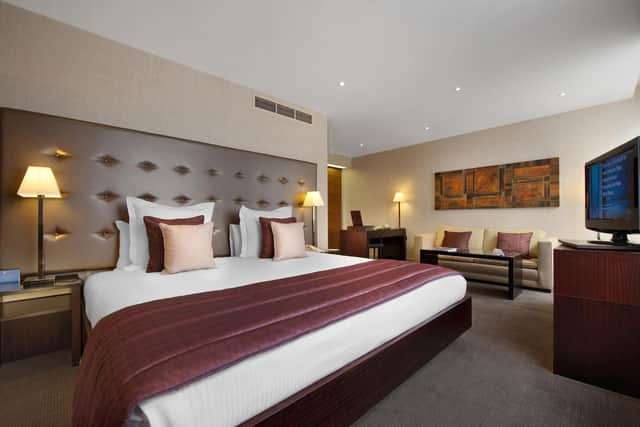 And if all that rock'n'roll'n'retail proves draining, the hotel has an in-house spa to destress and avoid the urge to throw a telly out of the window.
The property has 219 guest rooms and mine is found along a corridor decorated with trendy artwork including a multicoloured collage of photos of cassette tapes.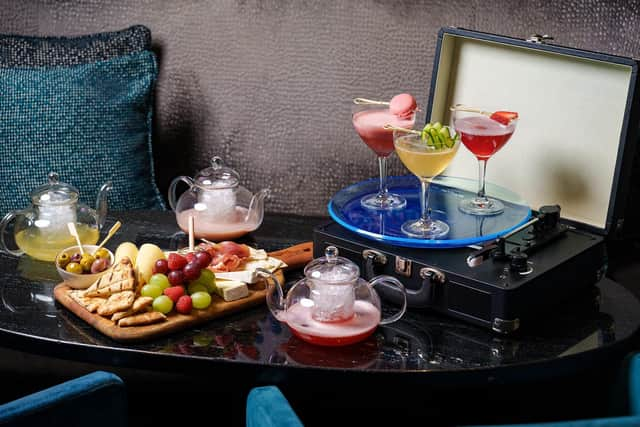 The colour scheme of the room is pretty neutral, largely a trio of cream, blue, and brown, punctuated by touches of (deep?) purple in the cushions seen on both the bed (which has a lightly iridescent headboard) and the sofa, while there is a coffee table and a decent-sized desk.
The white bathroom is kitted out with White Company Noir toiletries, while I am relieved that I am staying on my own as the bathroom door is made of transparent glass with a few small frosted panels, not making for much privacy. The room also points guests to its AeroGuest app enabling you to check out, order food, and more.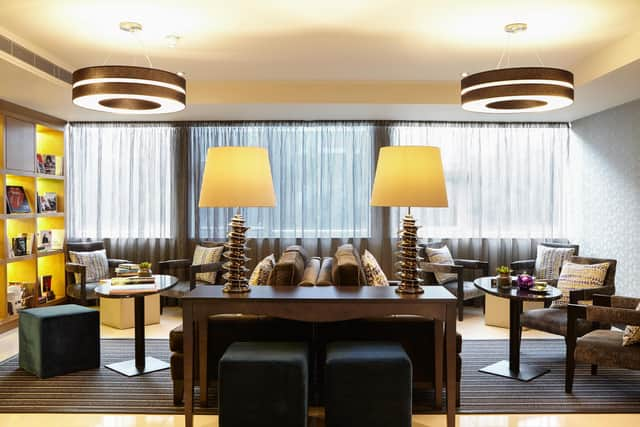 The Studio Bar on the ground floor includes chairs and sofas that "wore blue velvet", to paraphrase the song, with more browns too, and a black granite bar. It serves food and drink, including the hotel's Tipsy Tea, which is for a minimum of two people and costs £59 per person. It includes three types of gin "mar-tea-ni" cocktails, which are served on a converted record turntable. Faced with a choice of flavours – Victoria sponge, strawberry jam, and cucumber sandwich - I sample the latter, which is light and zingy, made with peppermint-infused Hendrick's, apple and lemon juice and fresh cucumber, and somehow tastes exactly like cucumber sandwiches. The Tipsy Tea also comes with a high-calibre charcuterie platter, and after I plough through this as my starter, I follow it up with a super salad as my main course, a "choir" including radicchio, orange, pomegranate, and fried feta cheese bites. There are other larger dishes such as steak, fish and chips, and burgers.
Breakfast is served in the mezzanine area and I leap on the chance to have waffles to give me energy for getting out and about in the city.
Worth getting out of bed for
There is a cinema very near the hotel, while West London gems Notting Hill, Holland Park, and Ladbroke Grove, and their lovely restaurants, boutiques, and chances of celeb-spotting, are all within reasonable walking distance.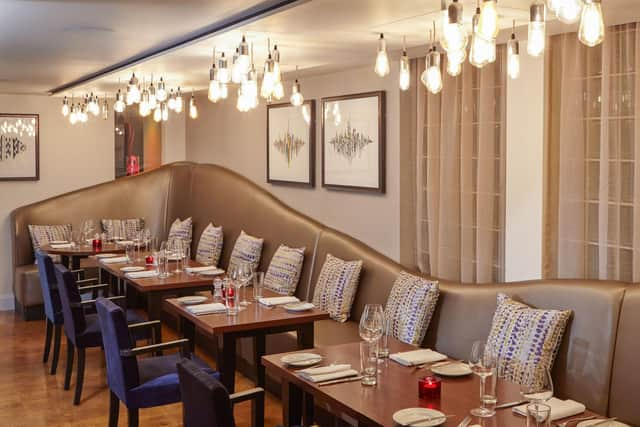 The first stop on my itinerary after I check out, however, is the V&A museum (which is now running its Chanel exhibition) in Kensington, and a bus leaving near the hotel takes me right there.
A budget price point for a good location in London.
The hotel is home to K Spa, a "secret paradise" that in addition to treatment rooms has a hydrotherapy pool, aromatic herbal steam room, Scandinavian sauna and sanarium, as well as "London's first snow paradise" to get that hardy Scandi vibe, and a "dry flotation" room. Guests need to pay to visit the spa, while it can also be booked by non-guests. There is also a gym, known as K Fit, although I prefer to walk around London and get my 10,000 steps in.
A chilled-out West London hotel with rock roots that has substituted jam sessions for jam-infused cocktails and sheet music for bedsheets.
Rooms start at £119 per night. K West Hotel & Spa, ‍Richmond Way, London, W14 0AX (020 8008 6600, www.k-west.co.uk)