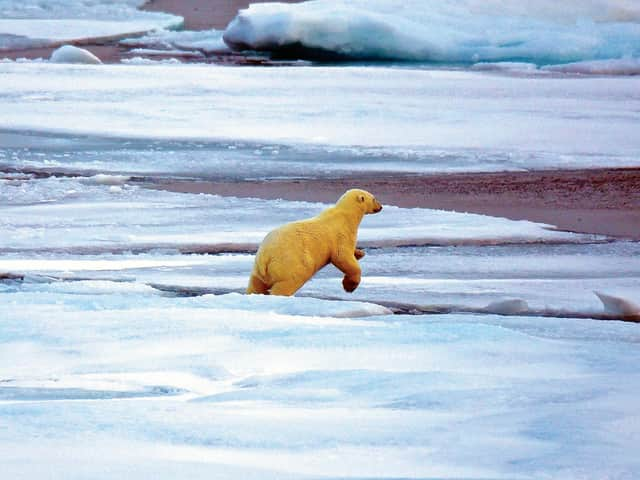 Sir John Franklin's expeditions
The winter's first snow fell around us as our ship got under way, and the wind screamed down the water as we stood on deck in the dark, whisky in hand, to toast Sir John Franklin and his lost crew with a drop offered to the sea, as we sailed over the spot where one of his vessels, HMS Terror, lay beneath us.
The Northwest Passage was sought for centuries, a time-saving sea route from Atlantic to Pacific through the waters of the Canadian Arctic. Scores of mariners returned baffled, or perished as their ships were trapped or broken up by the relentless ice.
In 1845 British explorer Sir John Franklin and a crew of 129 attempted the passage, sailing from England on HMS Erebus and HMS Terror. Their ships became ice-bound and had to be abandoned. Subsequently all the men died.
The treacherous route was not successfully discovered until 1854, when Scottish explorer and surgeon, John Rae (from Orkney), found the last portion of the Northwest Passage (confirmed by Amundsen in 1906). Rae also discovered the fate of the Franklin expedition. His ships Erebus and Terror were only found in 2014 and 2016.
I was on a 17-day Out of the Northwest Passage cruise with Adventure Canada, visiting the sites where Franklin's voyage ended and experiencing one and a half million square kilometres of the Canadian Arctic. An adventurer's paradise, icy and treeless but rich in history, culture and wildlife, with stunning views, our expedition took us to its heart.
We started in Edmonton, boarding a chartered flight to Kugluktuk, an Inuit community at the mouth of the Coppermine River on the Coronation Gulf then transferring in Zodiacs (inflatable boats) to our ship, the Ocean Endeavour. Carrying 198 passengers, a 1B Ice Vessel, she can explore the Arctic during the summer, carrying 20 Zodiacs, for exploration. Not luxurious, but comfortable, the food was good and the open bridge policy means passengers can join the captain and crew 24/7.
During our voyage the daily programme featured talks from explorers, writers, geologists and Inuit specialists. Celebrated Canadian writer Michael Crummey was also on board.
Franklin sailed east to west, but we were travelling the other way, heading west to east towards Bellot Strait, Beechey Island, across Baffin Bay, and down Greenland's west coast.
We sailed through the night, along Queen Maud Gulf and Simpson Strait, along the shore of King William Island to its only settlement at Gjøa Haven, where an ice-bound Roald Amundsen, honed his Arctic skills.
In the Inuktitut language Gjøa Haven is called Uqsuqtuuq (a place with plenty of blubber). Amundsen was stranded here from 1903 to 1906, and learnt Inuit survival skills which later helped him to reach the South Pole ahead of Scott.
Our first landing was at Anderson Bay, where we surfed ashore on Zodiacs in a biting wind. The land was flat and boggy, but it felt good to be trekking in the fresh Arctic air and we found interesting fossils, including sea fans and coral.
Then a storm began, with winds whipping up to 45 knots (83kph) and big waves, and our landing at Gjøa Haven was cancelled.
As Jason, our expedition leader said, "This is an 'expedition' and things can change at the last minute in the face of ice, wind and snow, or the presence of a polar bear." Expect almost daily changes to the agenda as safety is put first, and expedition leaders make hard decisions, quick to sort out alternative stops.
Polar bears, walrus and whales
The storm raged for two days as we continued north towards the Bellot Strait, a narrow channel separating the northernmost tip of continental North America from Somerset Island.
We kept a watch for bears, walruses, whales and killer whales. Less ice due to global warming means that whales can travel further north, and are becoming more common in the Arctic, which is warming twice as fast as the rest of the earth, with an impact on the whole planet's climate.
At the end of the Strait is the old trading post of Fort Ross, where we explored the two buildings standing in the snow, with their poignantly dilapidated furniture.
On to Beechey Island, we overnighted in Erebus and Terror Bay, going ashore the following morning. A chilling place – we were greeted with snow a metre deep – it's where Franklin's party overwintered and wooden headstones mark the graves of three of his men. The piercing wind ripped across my face as I trudged to the graves and the ruins of Northumberland House, built from salvaged timber by a search party, in case Franklin's lost party might shelter there.
Back on board the following morning we woke to news of a polar bear on an ice floe ahead. It was thrilling watching it leap across the ice, then dig a hole and curl up in a ball for a snooze.
Vast areas of pack ice threatened our landing at the Inuit community of Arctic Bay, at the top west side of Baffin Island, but we made it to the tiny, picturesque town, and met some inhabitants.
Throughout that night we broke through thick ice on our way through Lancaster Sound. As it banged and bumped against the hull while we nudged through, I wondered how much battering the ship could take, until we exited safely at sunrise.
Next we sailed along the shore of Devon Island with its intimidating cliff faces to the derelict outpost village of Dundas Harbour. When the call to go ashore fed through the speaker in my cabin, I was well rehearsed, and quickly threw on my warm layers.
I slogged through more deep snow to abandoned wooden houses, where an old stove, decaying armchairs, tin cans, a sewing machine and a cast iron frying pan were some of the rusting items lying around. Wintering here must have been tough. History tells us one resident had to fight off a walrus, then accidentally shot himself in the head.
Greenland's fishing communities
Ice cut off our next stops and we sailed on to Kap York, Upernavik, the spectacular Karrat Fjord and Icefjord, where we cruised in Zodiacs to appreciate the massive icebergs, then visited the bustling town of Ilulissat (Iceberg), with its busy harbour, typical of the fishing communities that make up West Greenland's coastline along with islands and waterways.
On we sailed towards the town of Sisimiut then down another long fjord to Kangerlussuaq, Greenland's primary flight hub, where we disembarked and transferred to the airport for our return flight.
The Greenland Ice Cap cloaks the country and, flying out of Kangerlussuaq, seeing it from the plane window, I was staggered by its size. I felt enriched by my visit to the north, with its wild, intimidating and inspirational beauty. The scenery and magnitude of this changing landscape will endure in my memories.
Clockwise from above right: the Fort Ross trading post; a Zodiac by the Ocean Endeavour; a polar bear; the Qaanaaq community;
Adventure Canada: www.adventurecanada.com
Out of the Northwest Passage: 1 September, 2021 to 17 September, 2021, prices start from $10,995, currently on sale at $9,346
All shipboard meals, including on-deck barbecues and afternoon tea, 24-hour coffee, tea and snacks included.
Not included: pre- and post-trip hotel accommodation; international/commercial and charter flight costs; alcohol and soft drinks, massage, gratuities (suggested at $15 per person per day).
Getting to Canada from the UK: British Airways and Air Canada fly from the UK to Ottawa (Canada).