Passions: I have Lidl muesli at home every day, so a hotel breakfast seems like a lavish treat - Gaby Soutar
Bircher's muesli, croissants, smoked salmon and toast-racks. There is nothing finer.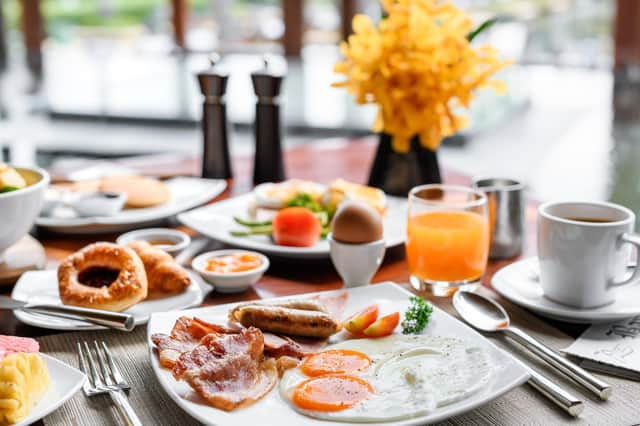 When I'm at home, I have a Groundhog Day breakfast
It's muesli, but my bespoke layered formulation. I start with a base of cheap supermarket mix, then put some fancier nut-heavy stuff on top before adding a bit of luxe-y granola in there.
I never get bored. However, having the same daily meal has compounded my love of an occasional hotel breakfast.
Once in a while, I like to break out of the predictable routine.
As well as getting to use napkins, teapots and the best cutlery, I enjoy having an hour or so set aside to eat, instead of the usual weekday 15-minute oat inhaling session.
Mind you, I'm not any more adventurous than I usually am.
While, at dinner, I'll try the most exciting thing on the menu, at a hotel breakfast, I tend to go for the same. I'm not that bothered about kippers, or congee. I'd never order a full Scottish, because it's just too meat heavy in the morning, and, if you get porridge, there's always too much, or too little.
The thought of pancakes or waffles, I find, is always better than the reality.
My favourite, along with apple juice and tea, is smoked salmon and scrambled eggs, with or without that fancy half lemon wrapped in linen.
Before that arrives, I'll make a beeline for the Bircher's muesli and fruit. If there's none of that available, it'll be the most brown-sugar-laden granola they have - so what, I'm on holiday - with a dollop of plain yoghurt and maybe some honey. I'll add a sprinking of goji berries, if I'm feeling fancy.
I'll ask for a side of brown toast, preferably served in a rack, then wait until it goes cold before spreading on a thick layer of salted butter and marmalade that's been eked out of one of those little pots that make a sucky 'pop' sound when you unscrew the lid.
My concluding course is pastries. Most hotels have mini ones, so I'll maybe pick up a Liliputan Danish or pain au chocolat, to dip into the dregs of my cappuccino, then I'll finish up any remaining marmalade by smearing it onto the undercarriage of a titchy croissant.
As far as pleasures go, this experience is up there with the finest.
I'd take it over lunch or dinner anytime.
I even prefer it to the bed part of the arrangement. Forget B&B, just one B will do.
Comments
 0 comments
Want to join the conversation? Please or to comment on this article.