We experience Invisalign braces at Edinburgh's New Town clinic The Row Dental
I found them sore to wear for the first few days, but it gets easier quickly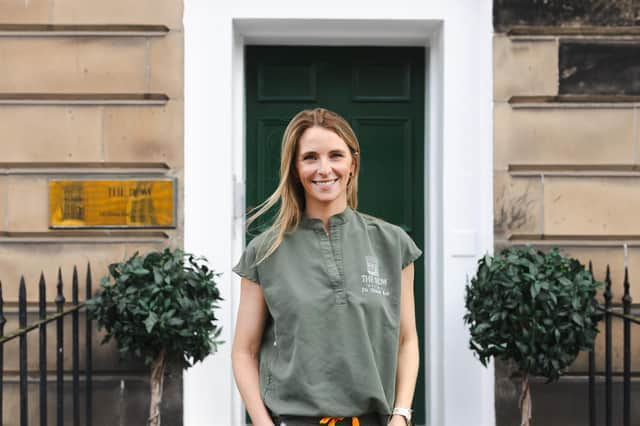 Before visiting private practice The Row Dental, I knew virtually nothing about Invisalign braces.
I wasn't even much of a flosser, so the world of cosmetic dentistry was a mystery to me.
Then I met founder and cosmetic dentist Dr Slaine Ker. At my appointment, she showed me a before and after picture of what could be done with my squint, beige and crowded gnashers, and it was a done deal.
Although I was excited about the results, I'm a bit of an odontophobe, so I tried not to overthink it on the run up to my fitting appointment.
Thankfully, the process is easy. They do it by computer here, so there's no actual moulds. I had been warned that, if teeth are very close together, the enamel may need to be filed - a process called proximal reduction. Thankfully, I didn't need that, though they reassured me that it's painless and quick.
Mine had plenty of space to move, so fluoride 'buttons', which allowed the retainers to grip, were blobbed onto my teeth, then the clear and virtually invisible trays were clipped over the top.
They have to be in for as close to 22 hours a day as possible, and the first week was slightly tricky. They ached a bit and gave me flashbacks to having metal braces aged 14. Also, they created a couple of tender ulcers on the inside of my mouth. Then there's getting familiar with taking them out to eat or drink anything other than water, and brushing before putting them in again. My jeans feel a bit slacker at the waist, because of the unintentional weight loss.
They say it takes about 10 weeks to create a habit. Invisalign courses vary, with some lasting for about a year or so. However, mine is for 20 weeks (with an additional 10, if tweaks are needed) and I'm onto my sixth set of retainers, which are swapped for a new set every week.
They don't feel like such a big deal anymore and I'm motoring through it. I've had my first follow-up appointment, which confirmed that my teeth are obediently slotting into place. The pain has gone, apart from a vague ache when I put a new set of retainers in, and I'm used to popping them in and out. I'm also now a champion flosser and expert in inter-dental brushing.
My smile is gradually looking straighter, and broader, as they slowly correct my bite. Only 14 weeks to go, and I'm counting down.
Comments
 0 comments
Want to join the conversation? Please or to comment on this article.