Edinburgh's new clinic The Row Dental shows us how to clean our teeth and get a Made in Chelsea smile
It recently opened in the New Town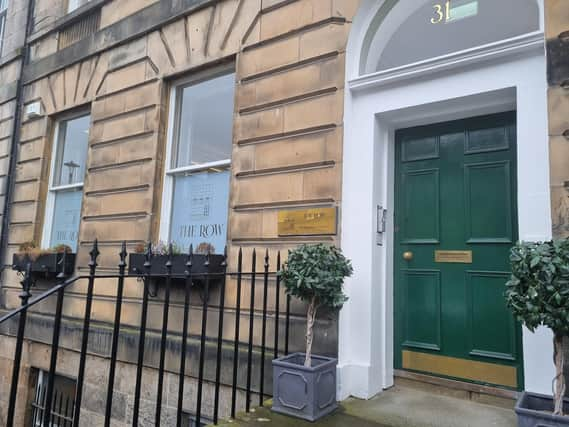 I thought I wasn't that bothered about my looks.
However, now that I've reached a certain age, there's been something of a U-turn.
I'm definitely in the market for a few 'tweakments' to tide me over into the rocky depths of middle age.
That's partially how I find myself at the new private clinic The Row Dental, which was founded by cosmetic dentist to the stars, Dr Slaine Ker, formerly of London's Harley Street. Her client list includes much of the Made in Chelsea cast, who are known for their gleaming chompers. Now, she's picking up Made in Edinburgh clients.
She's in for a treat with my visit. I haven't been to the dentist for about five years, since I have a bit of a phobia.
My jitters are eased by the glamour. Their waiting room features fresh flowers and a modern chandelier, and there's fancy hand soap in the loo. This is a far cry from my NHS dentist's lair. I can't hear any drills, and there is no disinfectant smell.
Once I'm upstairs, Ker gives me a full consultation, which includes a check-up and X-ray. Thankfully, there are no cavities, despite my rum and raisin fudge habit. The exciting bit is the digital scan. This involves passing a probe across my teeth and gums to generate a 3D image.
Then Ker can suggest treatments. It turns out that my bite is quite small and crowded, and some teeth are smaller than the others, so Invisalign, composite bonding and whitening are recommended.
But, first, dental therapy with Sophie Ma, in another of the clinic's smart rooms.
If my childhood dentist had been as lovely as Ma, we wouldn't be in the pickle we're in now.
She thoroughly examines my gums, with some areas getting a dodgy score, then gently guides me through new ways of cleaning. After highlighting the plaque-riddled areas using disclosing powder, Ma shows me the 'push technique' with my electric toothbrush, and demonstrates cleaning interdental areas with mini brushes and picks.
I'm grateful for the back-to-basics guidance.
Then there's a deep cleanse thanks to Guided Biofilm Therapy, which involves a mixture of powder and water, before I get a scale - slightly more uncomfortable, but fine - then more of the powdery technique and a fluoride application.
I feel in control of everything, as Ma constantly checks on me and tells me to put my hand up if I want her to stop. Afterwards, my teeth are pearlescent and Mr Sheen shiny.
This visit has been enlightening, when it comes to improving one's aged smile.
After putting up with my yellowing gerbil-y teeth, I feel determined to improve my routine, and maybe sign up for a few of those dental tweaks.
New Patient Cosmetic Consultation, £100, and Comprehensive Hygiene Therapy, £155: The Row Dental, 31 Albany Street, Edinburgh (0131 210 0103, www.therowdental.com)
Comments
 0 comments
Want to join the conversation? Please or to comment on this article.